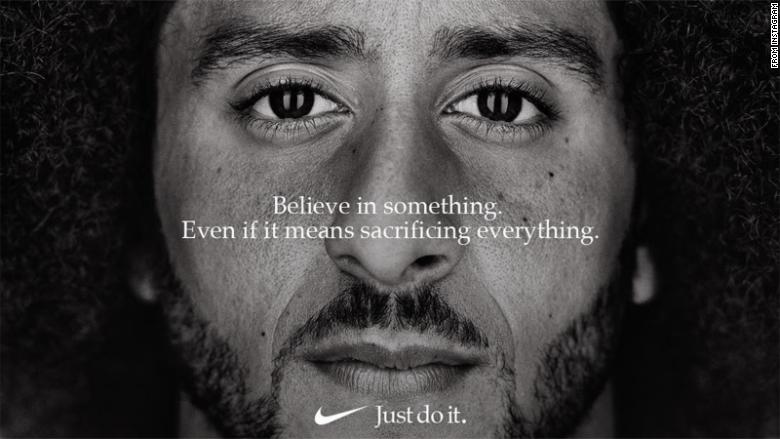 I'm so thrilled to learn this news. The company Nike's executives are stepping into the political fray to back Colin Koepenick for his courage to risk it all by standing up for what he believes to be right and true. They have selected him to be the face of their 30th year anniversary.
Colin Kaepernick was the San Francisco 49ers' football quarterback who by peacefully kneeling in protest against the injustice of police officers' over-usage of excessive force towards unarmed men of color, during the playing of the national anthem at the beginning of football games in 2016, set off a culture war utilized by the republican President Donald Trump and his supporters to accuse the kneeling NFL players as being unpatriotic and disrespectful to the US flag.
Since 2017, Mr. Kaepernick has been black-balled by the NFL team owners who have been signing up quarterbacks with much less impressive records while still leaving him as a free agent. In short, the NFL owners gave in to the the president and his followers' demands to censor these players.
It was a former Seattle Seahawks player Nate Boyer, who had served as a Green Beret in U.S. military actions in both Afghanistan and Iraq who had advised Colin Kaepernick that the kneeling as a form of protest during the playing of the national anthem would be a respectful way to bring attention to the issue of too many police killings of African Americans.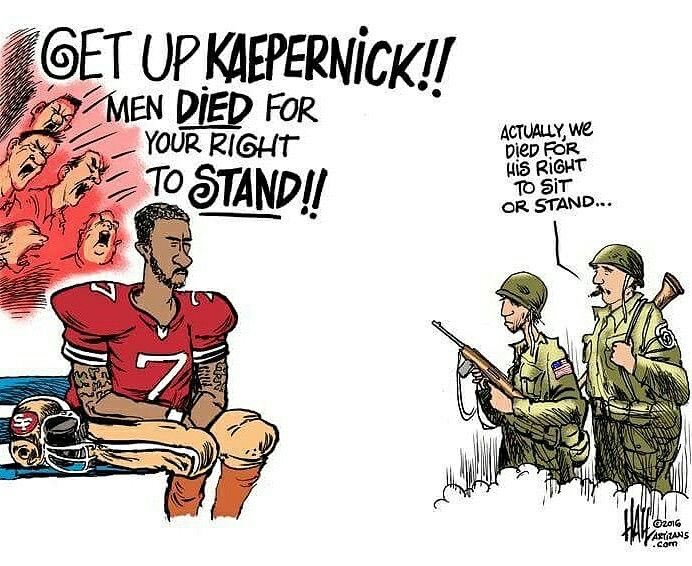 As per the October 15, 2017 Washington Post report by Mark Maske, "Kaepernick refused to stand for the national anthem before games last season (2016) to protest, he said, racial inequality and police mistreatment of African Americans in the United States. Those protests were taken up by other players and the controversy over them has been amplified this season even with Kaepernick out of the league."
"President Trump called on NFL owners to "fire" players who protested during the anthem, referring to such a player as a "son of a bitch." Vice President Mike Pence walked out of a game last week between the 49ers and Colts in Indianapolis, citing players' protests. Trump indicated that he had orchestrated that plan."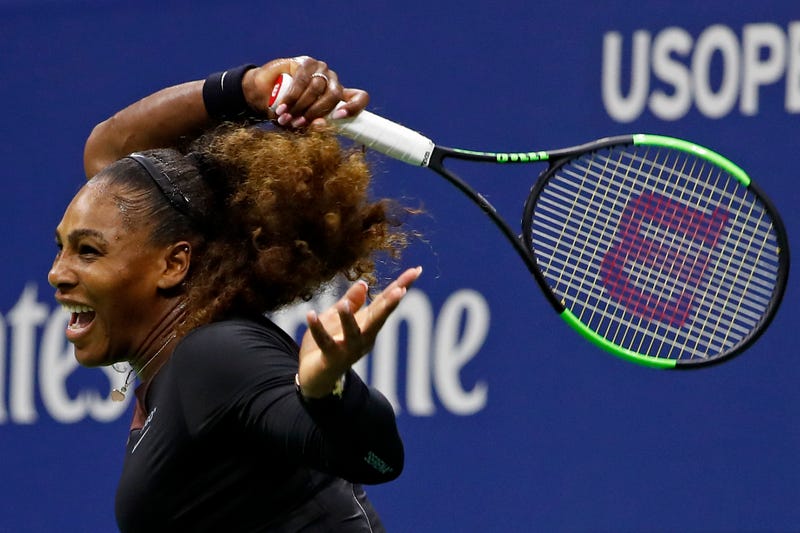 As per a September 1, 2018 AP report, – Serena Williams said every athlete "should be completely grateful and honored" for the protests started by former NFL players Colin Kaepernick and Eric Reid."
Kaepernick and Reid, two former San Francisco 49ers now out of the league, were each given huge ovations when they were introduced and shown on the big screen during the match between Serena and Venus Williams at the US Open on Friday night. Reid raised his fist and Kaepernick smiled for the fans."
"Kaepernick tweeted a photo of his young niece with Serena and wrote, "Lani lost it when Serena surprised her after the match!!! Thank you so much Serena !!!"
I know today will motivate Lani to be great! She couldn't contain her excitement watching her favorite players @serenawilliams and @Venuseswilliams. Thanks Serena for surprising her after the match!
"Serena said she was grateful for the stand they took that has seen both players take on the NFL. An arbitrator is sending Kaepernick's grievance with the NFL to trial, denying the league's request to throw out the quarterback's claims that owners conspired to keep him out of the league because of his protests of social injustice. A similar grievance is still pending by unsigned safety Eric Reid, who played with Kaepernick in San Francisco and joined in the protests."
"I think every athlete, every human and definitely every African-American should be completely grateful and honored how Colin and Eric are doing so much more for the greater good, so to say," Serena said. "They really use their platform in ways that is really unfathomable. I feel like they obviously have great respect from a lot of their peers, especially other athletes, people that really are looking for social change."
As per the April 21, 2018 Amnesty.org press release, "The award was officially presented at a ceremony in Amsterdam, Netherlands, on 21 April 2018, to coincide with the 50th anniversary of the opening of Amnesty International's national section in the country."
"The Ambassador of Conscience award celebrates the spirit of activism and exceptional courage, as embodied by Colin Kaepernick. He is an athlete who is now widely recognised for his activism because of his refusal to ignore or accept racial discrimination," said Salil Shetty, Secretary General of Amnesty International.
"Just like the Ambassadors of Conscience before him, Colin Kaepernick chooses to speak out and inspire others despite the professional and personal risks. When high profile people choose to take a stand for human rights, it emboldens many others in their struggles against injustice. Colin Kaepernick's commitment is all the more remarkable because of the alarming levels of vitriol it has attracted from those in power."
Here's the rest of the story…
On September 3, 2018, Nathaniel Meyersohn of CNN Money penned the following report, "Nike takes sides, tapping Colin Kaepernick for new 'Just Do It' ad" ("Companies and brands often attempt to avoid taking strong public positions out of fear of alienating customers, but Nike is running straight into the political fray.")
"Four days before a new NFL season gets underway, Nike is throwing its weight behind one of the most polarizing figures in football, and America: former San Francisco 49ers quarterback Colin Kaepernick."
"Kaepernick will be one of the faces of Nike's 30th anniversary commemoration of its iconic "Just Do It" slogan. The campaign will also feature athletes such as Serena Williams, NFL wide receiver Odell Beckham Jr., and Shaquem Griffin, a rookie linebacker for the Seattle Seahawks whose left hand was amputated when he was a child."
"Kaepernick tweeted out a photo from the campaign on Monday (9/3/18). Over a black-and-white picture of his face, a caption reads, "Believe in something. Even if it means sacrificing everything."
"In backing Kaepernick, whom the company has sponsored since 2011, Nike is making a high-stakes gamble that its customers support his protest, or at least that enough of them do. The company is also betting its brand can withstand criticism from conservative corners, including the White House."
"Kaepernick has not played in the NFL since the 2016 season. That year, he began kneeling during the national anthem to raise awareness about police brutality against African-Americans and other racial injustices. Dozens of other players also began joining Kaepernick, and he has grown into a symbol of dividing lines over race in America."
"In 2017, he filed a grievance against the NFL, alleging the league conspired to keep him out because of his protests. An arbiter last week denied the NFL's request to throw out the grievance, allowing the case to proceed to a trial."
"The protests have divided the league, often pitting a conservative white owner base against the NFL's mostly African-American players."
"The owners voted in May to approve rules that would have required players to stand on the sideline during the anthem or or remain in the locker room. Teams would be fined if players did not stand during the anthem, and the rules allowed individual teams to set their own policies."
"Those rules are on hold while the league and the players' association negotiate."
Link to entire report: Nike takes sides, tapping Colin Kaepernick for new 'Just Do It' ad