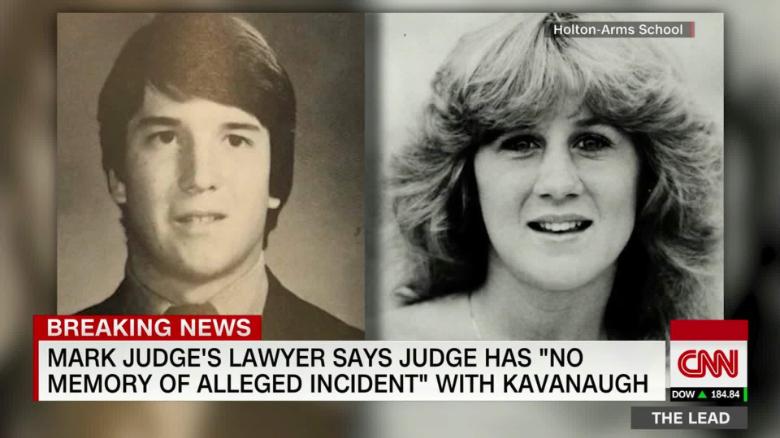 There's this saying, 'birds of a feather flock together.' The same Supreme Court nominee Judge Brett Kavanaugh who's claiming that he never attended the kind of parties where teenagers became drunk and misbehaved around 1982 to where he could have attempted to sexually assault a young lady, as described by Dr. Christine Blasey Ford in 2018, used to hang out with a buddy, Mark Judge who wrote a book about his drunken orgy party days when he was attending the same high school.  Dr. Ford places Mark Judge at the scene of the assault that she's alleging.
Here's the rest of the story as per Mark Judge, himself…
As per September 22, 2018 Intercept report by Peter Maass, "NOT LONG AFTER Mark Judge graduated from Catholic University, he attended the rehearsal dinner for a close friend's wedding in Washington, D.C. The dinner was in a private room above an Irish bar, and as soon as Judge arrived, he downed a shot of bourbon — and another and another."
"The next thing he knew, it was the morning and he was in a friend's house. He woke up in his disheveled suit from the night before. His head ached, and he could barely open his eyes."
"I had blacked out again," Judge recalled in a memoir about his troubled youth. "I didn't remember anything after doing the shots."
"He asked his friend, Denny, what had happened."
"You put on quite a show," Denny said. "After doing all those shots, you tried to get up on the table and started taking your clothes off, but Shane and I pulled you down. You also tried to make it with one of the bridesmaids."
"Judge was surprised."
"I tried to make it with a bridesmaid?" he said. "Please tell me I didn't hurt her."
Denny reassured Judge that he hadn't harmed the bridesmaid, though he had made a "serious lunge" at her and started kissing her toes. His friends had pulled him off and got him out of the bar and took him to Denny's home a few blocks away.
This passage from Judge's long-forgotten memoir is newly relevant in light of the accusation that Judge was in the room when Supreme Court nominee Brett Kavanaugh assaulted Christine Blasey Ford in 1982, when she was 15 years old. Kavanaugh and Judge were about 17 years old at the time, classmates at the all-boys George-town Preparatory School. Ford, now a professor in clinical psychology in California, has accused Kavanaugh of drunkenly locking her in a room at a house party and trying to tear off her clothes while holding his hand over her mouth as she screamed in protest. According to Ford, a drunken Judge was also in the room, watching and laughing. Kavanaugh has denied the accusation, and so has Judge, who stated in a letter that "I have no memory of the alleged incident. … I never saw Brett act in the manner Dr. Ford describes."
Here is the rest of the story…
On September 21, 2018, Marc Fisher and Perry Stein of the Washington Post penned the following report, '100 Kegs or Bust': Kavanaugh friend, Mark Judge, has spent years writing about high school debauchery'
Excerpts:
"As Christine Blasey Ford tells it, only one person can offer eyewitness confirmation of her account of a sexual assault by Supreme Court nominee Brett M. Kavanaugh: Mark Judge, Kavanaugh's friend and classmate at Georgetown Prep."
"Ford says Judge watched Kavanaugh attack her at a high school party in the early 1980s and then literally piled on, leaping on top of her and Kavanaugh. Judge says he does not remember the party and never saw his buddy behave like that. Ford's legal team has asked the Senate Judiciary Committee to compel Judge to testify."
"A review of books, articles and blog posts by Judge — a freelance writer who has shifted among jobs at a record store, substitute teaching, housesitting and most recently at a liquor store — describes an '80s private-school party scene in which heavy drinking and sexual encounters were standard fare."
"Judge wrote about the pledge he and his friends at the all-male school on Rockville Pike in North Bethesda, Md., made to drink 100 kegs of beer before graduation. On their way to that goal, there was a "disastrous" party "at my house where the place was trashed," Judge wrote in his book "God and Man at Georgetown Prep." Kavanaugh listed himself in the class yearbook as treasurer of the "100 Kegs or Bust" club."
"I'll be the first one to defend guys being guys," Judge wrote in a 2015 article on the website Acculturated. He described a party culture of "drinking and smoking and hooking up." During senior year, Judge said he and his pals hired a stripper and bought a keg for a bachelor party they threw to honor their school's music teacher."
"I drank too much and did stupid things," he said in his memoir."
"Most of the time everyone, including the girls, was drunk," Judge wrote in "Wasted: Tales of a Gen X Drunk," a memoir of his alcoholism and recovery. "If you could breathe and walk at the same time, you could hook up with someone. This did not mean going all the way . . . but after a year spent in school without girls, heavy petting was basically an orgy."
"While many of his classmates moved on to careers in law, politics, business and education, Judge seemed to some friends to stay fixed in the experiences of his adolescence. Over time, his politics shifted from left to right, and his writing often focused on his view of masculinity ("the wonderful beauty of uncontrollable male passion") and his concern that gay culture was corroding traditional values."
"In one column for Acculturated, Judge wrote that it is "important that for some brief moments in his life — preferably when he is young — a man should be, at times, arrogant, a little reckless, and looking for kicks."
"Judge — who did not respond to emails and phone calls requesting comment and who has deleted his Twitter account and taken down videos from YouTube and Vimeo — is a recovering alcoholic who has traveled a rocky road since high school. He took seven years to earn his bachelor's degree at Catholic University — a delay he attributed to "my fondness for bars and rock and roll."
"I was ready to destroy the world," he wrote of life in his 20s. "I didn't disbelieve in God — I hated him. . . . I was destroying myself."
"Maryland state Sen. Richard S. Madaleno Jr. (D-Montgomery), one of Judge's classmates at Georgetown Preparatory School, recalled him as "an unhappy person who was happy to make other people unhappy. 'Bully' may be an overused term, but he regularly belittled people he perceived as being lower on the high school hierarchy."
"Judge has remained close to some of his Prep friends, who describe supporting Judge through some of his difficult passages."
"Three days after President Trump nominated Kavanaugh to fill the vacancy on the Supreme Court, Judge posted on Twitter a beat-up old snapshot of eight shirtless teen boys posing on a beach: "Members of the mighty GP [Georgetown Prep] class of 1983," the tweet said. In the center of the photo: Judge and Kavanaugh."
"From high school onward, Judge has been, by all accounts, a rebel — outspoken, profane, sometimes boorish, but also surpassingly loyal to his friends."
Link to entire article: '100 Kegs or Bust': Kavanaugh friend, Mark Judge, has spent years