As of around 11:00 this morning, on the 28th of September and after listening to the GOP US Senate Judiciary Committee members pontificating on why they were scheduling a time at 1:30 PM (eastern time) for them to vote in favor of the Supreme Court nominee Judge Brett Kavanaugh to where the rest of the US Senators could complete the process on 9/29/18, I had given up hope that these senators would do what is right for the country by upholding the principles of justice versus pointing fingers at each other for not honoring the process.
It wasn't looking good for those more sober minded senators who were pushing for a more intensive background check on Judge Kavanaugh based on Dr. Christine Blasey Ford's sexual assault allegations against him while they were in high school. While the GOP judiciary committee members kept pointing to the fact that Judge Kavanaugh had passed 6 prior FBI background checks, it is very unlikely that all these checks had included his early years in high school and college. In addition, the FBI does make mistakes.
So, I said to myself, it's going to take a miracle for these senators to do what is obviously, the right thing to do. In the meantime, I decided to take my daughter-in-law out to lunch in St. Cloud, Mn.
Upon my return from a lovely outing, I was ecstatic to learn the good news. One GOP Republican Senator Jeff Flake of Arizona had the 'profile in courage' moment to where he stepped up to the plate to do the right thing by all the parties involved. He was able with his voice to make all the US Senate lawmakers have to delay their final voting until after a more intensive background check is conducted by the FBI.
As per the 9/28/18 NY Times report, "The Senate Judiciary Committee voted along party lines Friday to advance Judge Brett M. Kavanaugh's nomination to the full Senate, but in a dramatic reversal, Senator Jeff Flake of Arizona said he would not support final confirmation until the F.B.I. investigates accusations of sexual assault leveled against Judge Kavanaugh."
Link to article: Senate Panel Approves Kavanaugh, but Flake Wants F.B.I .
Alleluia and thank you Lord for miracles!
UPDATE 9/28/18: The republican President Donald Trump has ordered an extended FBI background check to be done on the Supreme Court nominee Judge Brett Kavanaugh.
Here's the rest of the story…
On September 28, 2018, Jennifer Haberkorn of the LA Times penned the following report, 'Flake, Murkowski join Democrats in calling for FBI probe of sex assault allegations against Kavanaugh'
Excerpts:
"In a surprise turnaround, Sens. Jeff Flake (R-Ariz.) and Lisa Murkowski (R-Alaska) joined Democrats in calling for a one-week delay in final voting on President Trump's Supreme Court nominee, Brett Kavanaugh, to allow for an FBI probe into the sexual assault allegations against him."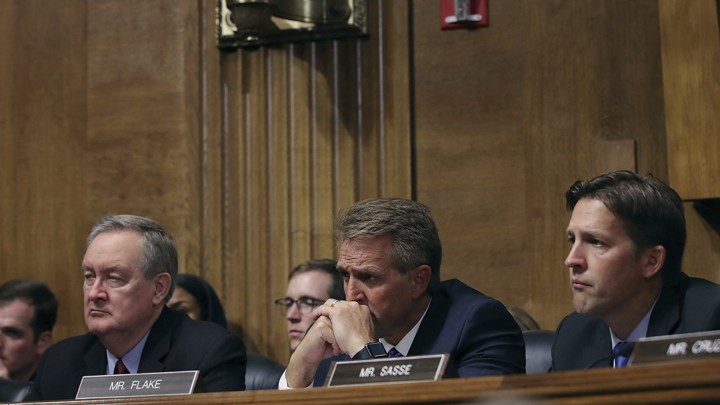 "I think it would be proper to delay the floor vote for up to but no more than one week," Flake said at a Senate Judiciary Committee hearing, after huddling with Democrats. Murkowski, who had previously called for an FBI probe, quickly joined him."
"The concerns of the two key Republicans likely ends hopes by GOP leaders to confirm Kavanaugh by next week."
"Flake noted the deep divisions that had been exposed by Thursday's powerful testimony from Palo Alto professor Christine Blasey Ford, who said she was "100%" certain that Kavanaugh sexually assaulted her when they were both in high school in the early 1980s. Kavanaugh emotionally and strongly denied the allegation."
"This country is being ripped apart here, and we've got to make sure that we do due diligence," said Flake, who is retiring from the Senate in January and has frequently butted heads with President Trump."
"Despite Flake's new position, the Judiciary Committee proceeded to approve Kavanaugh's nomination by 11 to 10, with strong objections from Democrats."
"A preliminary vote by the full Senate was originally planned for Saturday, and Republicans were optimistic of Kavanaugh's confirmation."
"But Senate Majority Leader Mitch McConnell (R-Ky.) must now decide whether to hold the floor vote as planned. Republicans cannot afford to lose more than one of their members, assuming all Democrats vote against Kavanaugh."
"Asked about the delay, Trump said, "I'm going to let the Senate handle that. They'll make their decisions. I'm sure it will all be very good."
"The president also praised both Kavanaugh and Ford. "I thought her testimony was very compelling, and she looks like a very fine woman," Trump said."
"Thursday's hearing laid bare the deeply divisive politics at stake in Kavanaugh's confirmation battle. Democrats accused the GOP of rushing through a nominee under a "dark cloud of suspicion [that] will forever change both the Senate and our nation's highest court," according to Sen. Patrick Leahy (D-Vt.)."
"Republicans blasted Democrats for a "smear campaign" against the nominee and Sen. Lindsey Graham (R-S.C.), too, warned would permanently change the way the Senate treats judicial nominees."
"Earlier in the day, Flake said he would vote to approve Kavanaugh, a key gesture of support that made the nominee's confirmation more likely."
"Flake said he left Thursday's hearing with "as much doubt as certainty." But, "I believe that the Constitution's provisions of fairness and due process apply here as well. I will vote to confirm Judge Kavanaugh."
"But after coming under intense criticism from protesters in the Capitol, Flake appeared to have second thoughts about voting this weekend. During the committee hearing in the morning, Flake abruptly left with Sen. Chris Coons (D-Del.) to huddle outside the room."
"Meanwhile, a key Democrat — Sen. Joe Donnelly of Indiana — said he would oppose Kavanaugh's nomination. The move by Donnelly, who supported Trump's first Supreme Court nominee, Neil M. Gorsuch, further increased the partisan tone of Kavanaugh's nomination. It also increases the pressure on key Republican holdouts to support the nomination if it is to be successful on the Senate floor."
"I have deep reservations about Judge Kavanaugh's nomination to this lifetime position," Donnelly said, echoing calls from other Democrats for an FBI investigation into Ford's allegation. "Only 113 people have ever served on the Supreme Court, and I believe that we must do our level best to protect its sanctity."
Link to entire article: Flake, Murkowski join Democrats in calling for FBI probe of sex assault ..
See video: Two sexual assault survivors confront Sen. Flake over Kavanaugh vote