On the 4th of October 2018, the news outlets reported that the Democratic Party candidate Senator Heitkamp who is losing her Senate race in the State of North Dakota where its residents strongly favor the republican President Donald Trump and the confirmation of the US Supreme Court nominee Judge Brett Kavanaugh.
It took courage for Senator Heitkamp to take this principled stand and I for one, am grateful.
As per the 10/4/18 Hill report by Justin Wise, "Sen. Heidi Heitkamp's (D-N.D.) brother on Thursday (10//4/18) praised the senator's decision to oppose Supreme Court nominee Brett Kavanaugh, saying the decision may cost her reelection, but that she needs to "like the person she sees" in the mirror."
"Who knows, she may lose," Joel Heitkamp said on MSNBC, adding that the Kavanaugh vote will be important for voters in North Dakota. "But in the morning, when she's brushing her teeth, she needs to like the person she sees. In my opinion, she's voting right, that's the key."fJoel Heitkamp made the comments just moments after his sister, Heidi Heitkamp, announced on a North Dakota radio station that she would vote "no" when the Senate votes on Supreme Court nominee Brett Kavanaugh."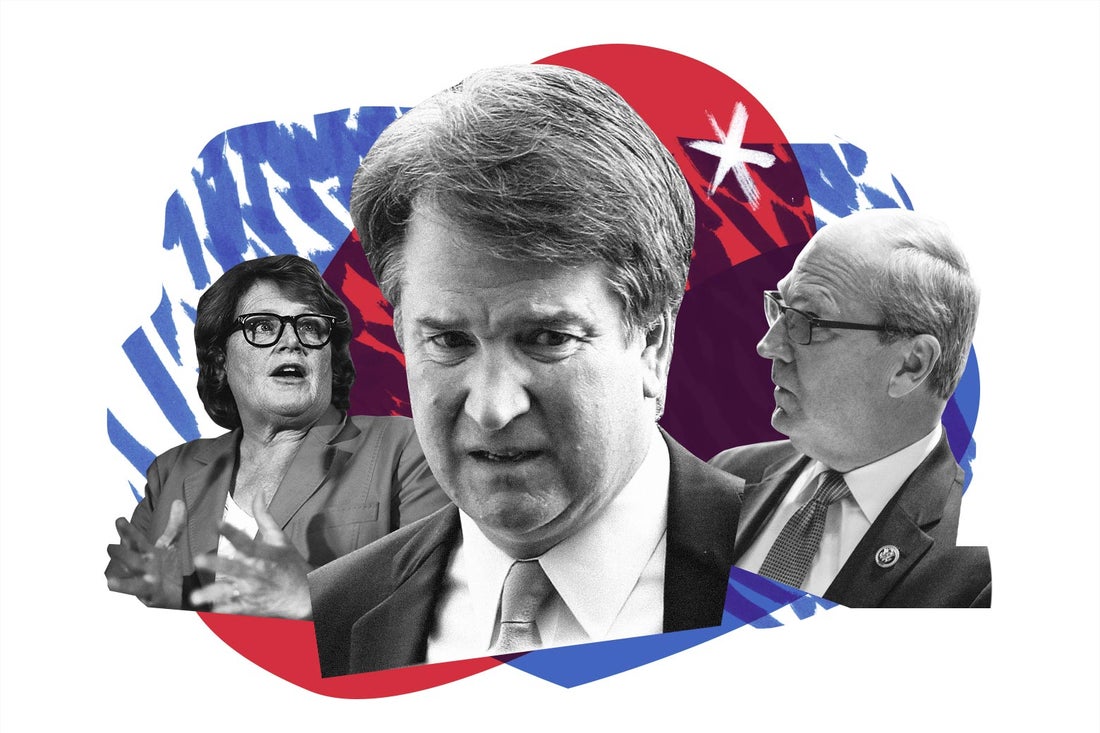 As per the 10/3/18 Politico report by James Arkin, "New Fox News polls of five battleground Senate races show three key states too close to call, while North Dakota has trended sharply in favor of Republicans and the GOP has opened a narrow edge in Tennessee."
"Republican Rep. Kevin Cramer has a double digit lead over Democratic Sen. Heidi Heitkamp in the North Dakota poll, with 53 percent of likely voters picking the Republican and 41 percent supporting the Democrat. Last month, Cramer led Heitkamp by 4 points in a survey of the race."
Here's the statement she released to the press which I found on her website:
Oct 04 2018
WASHINGTON, D.C. – U.S. Senator Heidi Heitkamp today announced she will vote against confirming U.S. Court of Appeals for the D.C. Circuit Judge Brett Kavanaugh to the U.S. Supreme Court.
"As I said after Judge Kavanaugh was nominated, and as I've continued to say throughout this process, I consider vetting nominees to serve on the U.S. Supreme Court as one of the most important jobs of any U.S. senator – and I take that job very seriously," said Heitkamp. "That's what North Dakotans expect of their senators, which is why I met with Judge Kavanaugh, closely watched his hearings, and reviewed his available record during this evaluation process – including the nonpartisan FBI investigation which I called for. After doing my due diligence and now that the record is apparently closed, I will vote against his confirmation."
"We need to take politics out of the Supreme Court as much as possible, and it takes Republicans and Democrats in the Senate, the administration, and individuals around the country to help make that possible. We live in a very divisive time, but we can change that. Both sides horribly handled the process around this nomination. We must learn from these mistakes."
"I voted for Justice Gorsuch because I felt his legal ability and temperament qualified him to serve on the Supreme Court. Judge Kavanaugh is different. When considering a lifetime appointment to Supreme Court, we must evaluate the totality of the circumstances and record before us. In addition to the concerns about his past conduct, last Thursday's hearing called into question Judge Kavanaugh's current temperament, honesty, and impartiality. These are critical traits for any nominee to serve on the highest court in our country."
"There has been much public debate about Thursday's hearing, and it has furthered a national discussion about stopping sexual assault that is long overdue and we must continue to have. I have spent much of my time in public service – including as North Dakota's Attorney General – focused on combating domestic violence and protecting women and children from abuse. Our actions right now are a poignant signal to young girls and women across our country. I will continue to stand up for them."
"When I served as North Dakota's Attorney General, I helped implement the original Violence Against Women Act and I saw how it helped survivors and victims across my state. As a U.S. senator, the reauthorization of the law was the first bill I helped pass, and I insisted that it include increased protections for Native American women and girls. My lifetime of work, advocacy, and commitment to these issues, and to these women and girls, helped inform my decision today."
"Dr. Ford gave heartfelt, credible, and persuasive testimony. It took great courage and also came at great personal cost. She had nothing to gain and everything to lose by coming forward with her deeply personal story. It was clear that she was testifying not because she wanted to, but because she felt it was her civic duty. When I listened to Dr. Ford testify, I heard the voices of women I have known throughout my life who have similar stories of sexual assault and abuse. Countless North Dakotans and others close to me have since reached out and told me their stories of being raped or sexually assaulted – and expressed the same anguish and fear. I'm in awe of their courage, too. Some of them reported their abuse at the time, but others said nothing until now. Survivors should be respected for having the strength to share what happened to them – even if a generation has since passed. They still feel the scars and suffer the trauma of abuse."
"There are many extremely qualified candidates to serve on the Court. I'm ready to work with the President to confirm a nominee who is suited for the honor and distinction of serving this lifetime appointment."