The Democratic Party US Senator Heidi Heitkamp of North Dakota is running for reelection in 2018 for the State of North Dakota which is in pro-President Trump camp. She has been behind in the polls to her republican opponent Rep. Kevin Cramer, who has been a strong supporter of the republican President Donald Trump which includes backing the controversial nomination of Judge Brett Kavanaugh to become the next US Supreme Court justice.
Despite the fact that her decision to not vote in favor of confirming Judge Brett Kavanaugh to become a US Supreme Court justice may very well cost her the election, she didn't hesitate to say, NO!
She has stated for the record that, "when considering a lifetime appointment to Supreme Court, we must evaluate the totality of the circumstances and record before us. In addition to the concerns about his past conduct (sexual assault allegations by Dr. Ford), last Thursday's (9/27/18) hearing called into question Judge Kavanaugh's current temperament, honesty, and impartiality. These are critical traits for any nominee to serve on the highest court in our country."
Her opponent has pounced on her for her stance. He has made some foolish comments regarding her decision. The following report tells how Senator Heidi Heitkamp has been responding to the likes of her opponent who has taken on the mantel that men are vulnerable to being victimized when any woman wants to make a complaint about being sexually assaulted.
On October 8, 2018, Jonathan Martin of The New York Times penned the following report, "#MeToo Is a 'Movement Toward Victimization,' G.O.P. Senate Candidate Says"
Excerpts:
"Representative Kevin Cramer of North Dakota has repeatedly made headlines this year in his race against Senator Heidi Heitkamp because of off-the-cuff comments that range from inflammatory to indelicate. But his latest provocation on sexual misconduct sparked a furious and tearful rejoinder from Ms. Heitkamp on Sunday, one day after she voted to oppose the Supreme Court nomination of Justice Brett M. Kavanaugh."
"In an interview, Mr. Cramer, a Republican, sought to explain why his bombast from issues like tariffs to how he treats people had not undercut his challenge against Ms. Heitkamp, the most endangered Senate Democratic incumbent. Mr. Cramer is leading Ms. Heitkamp in public opinion polls."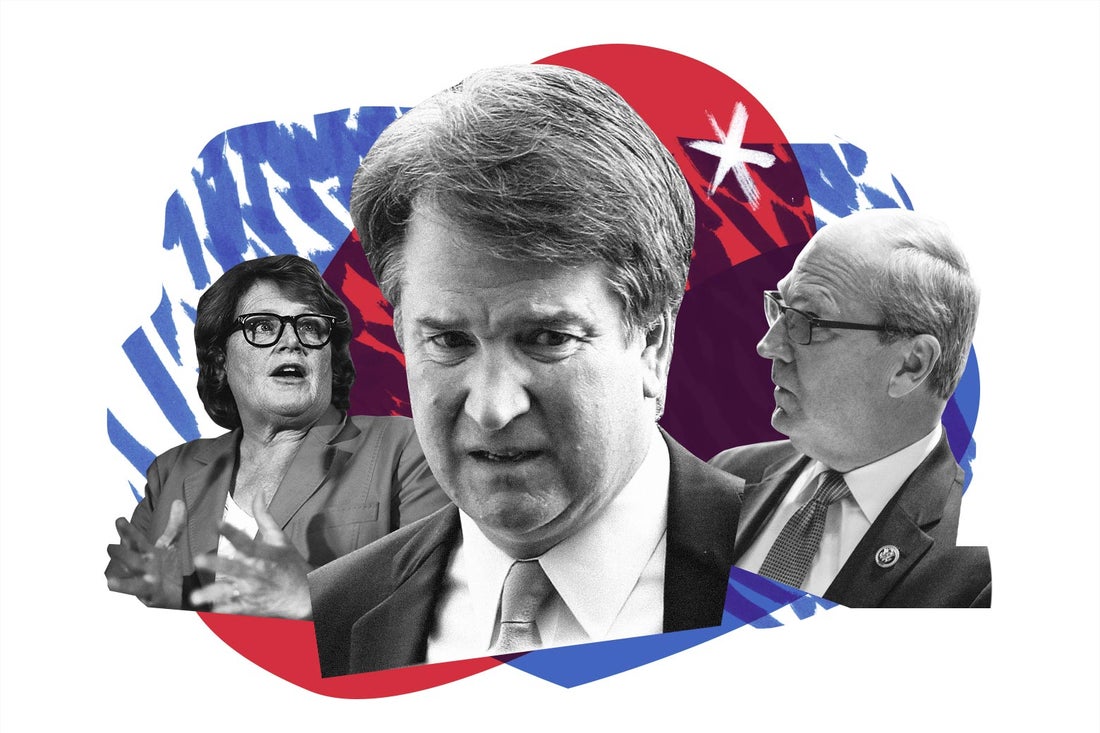 North Dakotans, he said, appreciate the value "of saying what a lot of other people don't dare say — but think."
"Asked for an example of what he meant, he ripped into the #MeToo movement."
"That you're just supposed to believe somebody because they said it happened," Mr. Cramer said, alluding to Christine Blasey Ford — who has accused Justice Kavanaugh of sexually assaulting her when they were teenagers — and, more broadly, women who have come forward to claim that they were sexually abused or assaulted."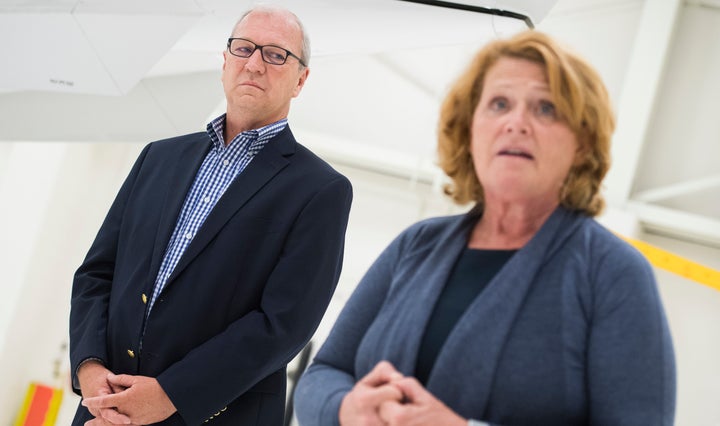 "Invoking his wife, daughters, mother and mother-in-law, Mr. Cramer said: "They cannot understand this movement toward victimization. They are pioneers of the prairie. These are tough people whose grandparents were tough and great-grandparents were tough."
"Suggesting that the #MeToo movement had created a backlash as the left tried to torpedo Justice Kavanaugh's nomination, Mr. Cramer added, "The world got to see close up how ugly it can be when you go too far."
"But by Ms. Heitkamp's lights, it was Mr. Cramer who went too far."
In an interview at a Scandinavian festival in Rutland, N.D., she reacted angrily to his dismissive assessment of women who say they have been sexually assaulted.
The better part of my career in public life has been working with victims," said Ms. Heitkamp, a former state attorney general. "Did you ask him how many victims during this process he actually sat down with, and survivors he sat down with, and visited with personally?"
"I think it's wonderful that his wife has never had an experience, and good for her, and it's wonderful his mom hasn't," she said. "My mom did. And I think it affected my mom her whole life. And it didn't make her less strong."
"With tears welling in her eyes, Ms. Heitkamp stared intently at a reporter and continued: "And I want you to put this in there, it didn't make my mom less strong that she was a victim. She got stronger and she made us strong. And to suggest that this movement doesn't make women strong and stronger is really unfortunate."
"Ms. Heitkamp's mother, Doreen, died in April at 88 on what would have been her 66th wedding anniversary. The senator said her mother was sexually assaulted as a teenager."
"The raw back-and-forth was a searing illustration of the deeply personal nature of the #MeToo movement and its collision with Justice Kavanaugh's nomination and the midterm elections."
"It was not the first time Mr. Cramer had made an incendiary comment about the Kavanaugh case. Last month, he dismissed Dr. Blasey's charges because the alleged attack "never went anywhere."
"His comments were all the more striking because there are five federally recognized tribes in North Dakota and sexual violence against Native American women is epidemic: they are two-and-half times more likely to be sexually assaulted than nonnative women.Mr. Cramer is open about his capability to offend, and other Republicans are matter-of-fact about it. "Sometimes he says stupid stuff," said Ed Schafer, the former governor of North Dakota. (Before Mr. Schafer offered that assessment, and unbeknown to him, Mr. Cramer slighted the former governor: "I know this state better than her, John Hoeven, Jack Dalrymple, and every former governor added up," referring to Ms. Heitkamp and two former Republican governors.)"
"Ms. Heitkamp faced considerable pressure from voters in her state, which President Trump carried by 36 points, to support the Kavanaugh confirmation. She backed Justice Neil M. Gorsuch last year, but Ms. Heitkamp said Dr. Blasey's charges and Justice Kavanaugh's conduct made it impossible for her to support him."
"Ms. Heitkamp has won plaudits from the left, as well as an infusion of small-dollar contributions, for her "no" vote. And she sat for an interview that aired on "60 Minutes" on Sunday."
"But the nomination clash was plainly a wrenching episode for her. When a little girl handed her some crayon-drawn pictures of sunshine after she marched in the parade in Rutland, Ms. Heitkamp thanked her effusively and taught her how to sing "You Are My Sunshine."
"Did you know I needed a little sunshine in my life, is that what you knew?" the senator, kneeling down, asked the girl. "And I did, didn't I?"
Mr. Cramer's comment clearly affected Ms. Heitkamp. When she spied a reporter in line at the Scandinavian food buffet, she demanded: "Did he really say that?"
"On Sunday night, addressing a couple hundred supporters at a bratwurst-and-beer fund-raiser in Wyndmere, N.D., Ms. Heitkamp acknowledged "it has been a tough week for me."
"But she won a standing ovation from her supporters by invoking her parents."
"Ray and Doreen Heitkamp didn't raise me to vote a certain way so that I could win, they raised me to vote the right way," she said."
"Then she climbed down from a makeshift stage and joined a duet, one person on guitar and the other on fiddle, to offer her Janis Joplin-inspired version of Kris Kristofferson's "Me and Bobby McGee."
"Freedom's just another word for nothing left to lose," sang the senator up for re-election next month."