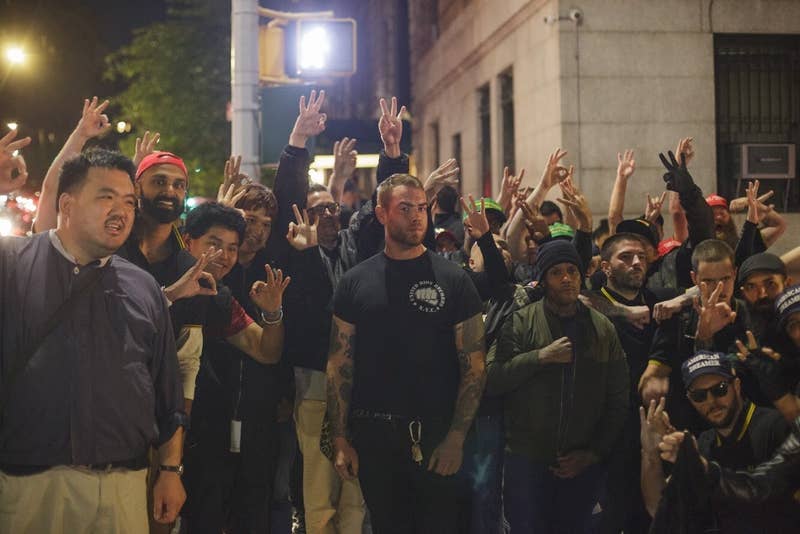 This is so sick. There was a meet of White nationalists called the "Proud Boys" on Friday night that appears to have been a set up where these guys could claim to be beat up by Antifa leftists, where 3 were actually arrested. But what was missed by police, was that these young nationalist thugs beat up for kicks some protesters/ bystanders while calling them names like like faggots. At one point, a police officer did intervene, but the question is, why weren't there any arrests of these "Proud Boys" who were criminally assaulting folks.
Dear Republicans, You are not in a position to accuse Democrats of being "mob like" while you groom thugs like "The Proud Boys." The Democrats are not even in the same ball game.
Meanwhile the right wing media outlet, FOX TV pundits were doing their thing by portraying those liberals as being violent while they were protesting these White Nationalists.
After outrage from the local community, NYPD officials announced that an investigation will be conducted regarding the events on 10/12/18 surrounding these "Proud Boys' members' activities.
This seems like a rerun of a right wing's previously poorly produced reality shows that occurred in Washington DC when about 200 protesters were arrested on President Trump's inauguration Day on 1/20/17; and then in Charlottesville, VA with the Unite the Right rally in August 2017.
It looks to me, like the US president wants to stoke those racists' impulses to get them motivated to vote in November, and so, here we go again.
Here is the rest of the story…
On October 13, 2018, Zack Ford of Think Progress penned the following report, "Mob of white nationalist 'Proud Boys' brutally beat several men: 'Are you brave now, faggot?!'("Meanwhile, Fox News is still trying to paint liberals as the violent mob.")
Excerpts:
"The Proud Boys took Manhattan Friday night (10/12/18), attending a lecture by their founder, Gavin McInnes, at the Metropolitan Republican Club of New York City."
"Following the event, the white nationalist group took to the streets, brutally beating and kicking several individuals while shouting "faggot" and "cocksucker," reportedly because one of them stole one of their MAGA hats. Fox News responded by only reporting on anti-fascist vandalism that had taken place at the venue, while continuing to portray Democrats as the real angry mobs."
"McInnes' lecture was about Otoya Yamaguchi, who himself was a member of an extremist right-wing group in Japan. In 1960, Yamaguchi stabbed Japan Socialist Party leader Inejiro Asanuma to death, and he has been celebrated as a hero of extreme nationalist groups."
"McInnes claimed on Instagram that he would actually be "re-enacting this inspiring moment" at the event. That the Proud Boys were hyped to engage in violence of their own afterward appears to be no coincidence."
Twitter user and photojournalist Shay Horse followed the Proud Boys after they left the event and documented a group of about 30 Proud Boys "pummeling a guy on the ground screaming, 'Are you brave now faggot?!'" He later noticed from his own photographs that several fights were playing out simultaneously. He also showed the Proud Boys proudly flashing white power hand symbols afterward.
The Proud Boys even waited to do a group photo after the fights. They were hyped the fuck up after that. Flashing their white power hand symbol before marching towards a downtown train. pic.twitter.com/JP6jiM8Yud

— Shay Horse (@HuntedHorse) October 13, 2018
Filmmaker Sandi Bachom documented the beatings as well, reporting that after "a protester tried to take their MAGA hat, they were brutally kicked and punched."
(As per 1013/18 Huffington Post report by Christopher Mathias, "Footage posted online by video journalist Sandi Bachom shows a group of men who appear to be Proud Boys — a misogynistic and anti-Muslim fraternity known for committing acts of political violence across the country — kicking and punching three apparent anti-fascist protesters as they lay prone on the sidewalk.
"Do you feel brave now, faggot?" one of the attackers yelled, according to Bachom and another journalist, photographer Shay Horse. Another video shows multiple attackers yelling "faggot.")
"Christopher Wright, who describes himself as a "conservative in NY" who has walked away from "the Democrat Plantation," was among the Proud Boys who attended the event and was present for the beatings. His Facebook live video shows perhaps the closet view of the attacks, as well as how hyped the Proud Boys were after they walked away."
"In his video, in which he claims members of Antifa attempted to jump them, the Proud Boys can be heard calling the victims "faggot" and "cocksucker." The group also chanted, "I like beer!", referring to Justice Brett Kavanaugh's testimony when he denied sexually assaulting Christine Blasey Ford. One individual can be heard boasting, "I kicked him right in the fucking head!" and "Dude, I had one of their fucking heads and was just smashing it in the pavement!" Another replies, "Whoo, yeah!"
"Once again, you see who the enemy is," Wright says of the victims who were far outnumbered as they were brutally beat and kicked. "That's the enemy of the country back there. That's the enemy of the state. That's fascism back there, and you saw where it ended up: on the ground! Where they belong, like the bunch of little punks they are."
"Fox News' coverage of the event, however, did not in any way highlight the Proud Boys' gang violence. Instead, it focused exclusively on the Antifa vandalism that targeted the Metropolitan Republican Club in advance of McInnes' lecture, framing the anti-fascist group as responsible for instigating violence."
Antifa attacks again — swords and vandalism at New York GOP office @FoxNewsNight pic.twitter.com/N4Q5MWKuK0

— Fox News (@FoxNews) October 13, 2018
"Elsewhere on the network, pundits continued to echo the Republican drumbeat that it's liberals who are an "intimidating" political "mob."
.@JesseBWatters on political "mob" behavior: "This is uncivil disobedience and the American people don't have the stomach for it." pic.twitter.com/iZVpWlElGM

— Fox News (@FoxNews) October 13, 2018
"As ThinkProgress has reported, the Proud Boys have a penchant for violence at their events, seeming to even delight in initiating it. McInnes himself has told his followers that "fighting solves everything."
"Several people have pointed out that the police appeared to protect the Proud Boys in these altercations. Indeed, Rebecca Kavanaugh, senior staff attorney for The Legal Aid Society, confirmed on Twitter that three arrests were made, but all three were anti-racist protesters — none of them members of the Proud Boys."
"As Huffington Post National Reporter Christopher Mathias pointed out, U.S. media would describe the Proud Boys' behavior as a fascist gang in any other country, but somehow their extremism continues to be downplayed."
"If U.S. media were describing an event like this in another country, it'd be written as a "violent pro-Trump street gang" or a "fascist gang."

"Yet outlets here will still describe the Proud Boys as a "right-wing group" & its founder, Gavin McInnes, as a mere "provocateur" https://t.co/ZzkoeFe23E

— Christopher Mathias (@letsgomathias) October 13, 2018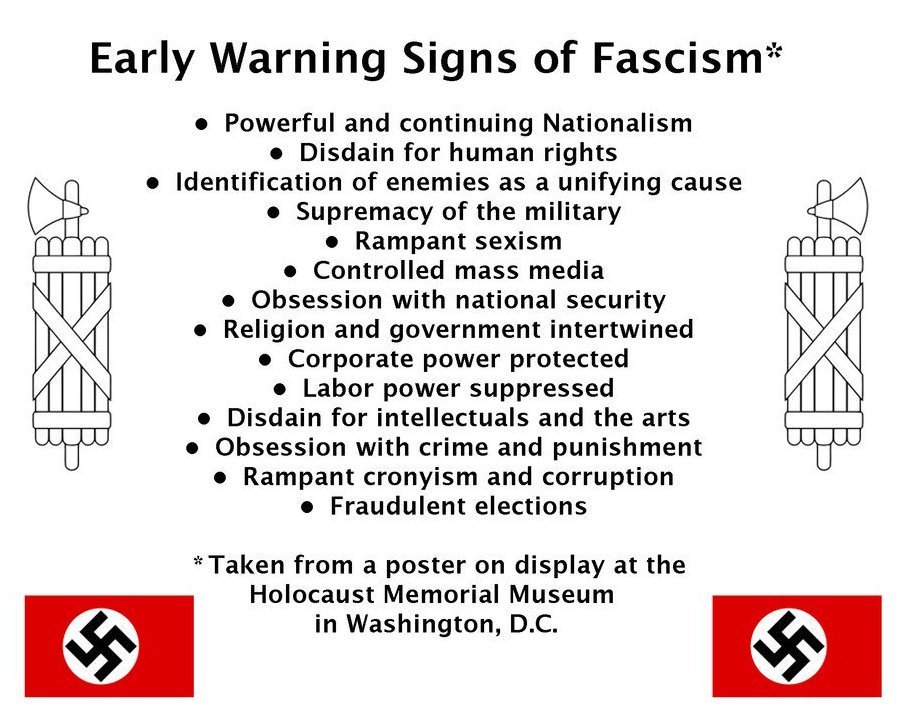 "Despite claims by the Proud Boys that they are not a racist organization, the Southern Poverty Law Center identifies them as a hate group and has documented their affinity for white nationalism and association with other racist groups, including their participation in the Charlottesville "Unite the Right" rally."
Link to BuzzFeed report: The Proud Boys, a far-right men's group, violently beat up protestors after an event in New York on Friday night. They weren't arrested, and New York police won't say why. https://t.co/ogtWfoDnik
NYPD NEWS‏Verified account @NYPDnews  (tweeted around 3:00 pm on 10/13/18)