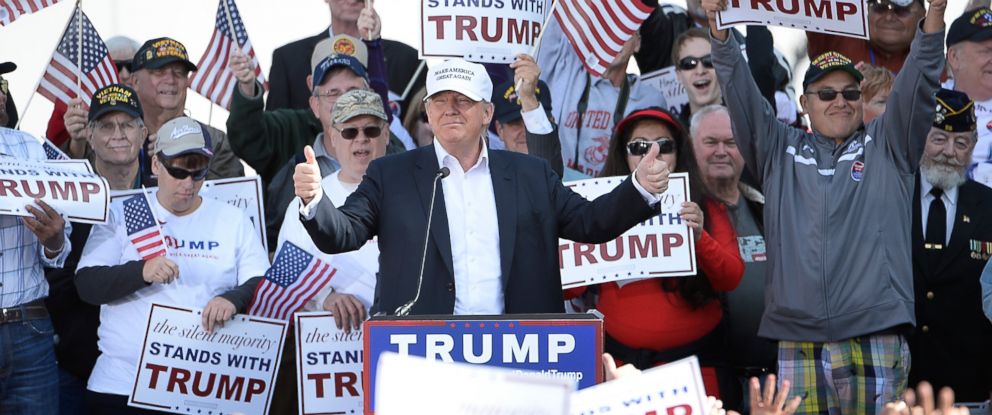 How desperate is the republican President Donald Trump for monies to where he would sell the data of his supporters to others for profit? He's willing to sell his highly prized data to help other republican candidates in the upcoming elections/ reelections in November 2018.
He's been acting manic, unhinged, spouting his tirades at his supporters at about 6-7 rallies in the first week of October 2018, to cater and to motivate his base to get out to vote for republican candidates by November 6, 2018.
He's been advised of the inevitable regarding the upcoming November 2018 elections, where it is highly likely that the democratic party candidates will become the majority party in at least the US House of Representatives. This means that the committee chairs who will all be democrats will be in a position to finally honor their oversight duties over the executive branch, which means that one of them will subpoena the president's tax records.
He's done everything possible to avoid his tax records becoming part of the public record which is his tell, that this is where the bones are buried. We'll find out soon enough.
Here is the rest of the story…
On October 13, 2018, Kenneth P. Vogel and Maggie Haof the New York Times penned the following report, "Now for Rent: Email Addresses and Phone Numbers for Millions of Trump Supporters"
Excerpts:
 "Early in his presidential campaign, Donald J. Trump dismissed political data as an "overrated" tool. But after he won the Republican nomination, his team began building a database that offers a pipeline into the heart of the party's base, a comprehensive list including the email addresses and cellphone numbers of as many as 20 million supporters."
"Now, consultants close to the Trump campaign are ramping up efforts to put that database — by far the most sought-after in Republican politics — to use, offering it for rent to candidates, conservative groups and even businesses."
"It is an arrangement that has the potential to help the Republican Party in key midterm races, while providing a source of revenue for President Trump's campaign and the consultants involved."
"It has also set off concerns about diluting the power of one of Mr. Trump's most potent political assets, while raising questions about whether his team is facilitating the sort of political profiteering that he disparaged."
"It is not unusual for candidates to rent supporter data to — or from — other campaigns. The new effort by Mr. Trump's team, however, appears to be the first time the campaign of a sitting president facing re-election has opted to market its list."
"Federal election law allows campaigns and political action committees to sell or rent their lists, provided that the payments received are fair market value."
"In recent weeks, Mr. Trump's campaign, which is not known for its adherence to political norms, quietly signed a contract with a newly formed Virginia-based company called Excelsior Strategies to market the emails and cellphone numbers — what is known in the political industry as first-party data."
"Excelsior is offering the chance to email Mr. Trump's supporters at a rate of $35 per 1,000 addresses — or more if the renter also wants to push posts into the Facebook timelines of supporters — according to interviews and marketing emails obtained by The New York Times. The firm has also explored the possibility of clients' being able to send text messages directly to the phones of Mr. Trump's supporters, according to the marketing emails and interviews."
Those contacts could be of tremendous benefit to Republican candidates or political groups around the country seeking to capitalize on their base's enthusiasm for the president.
"Republicans have suffered from being behind in small-dollar fund-raising, and the president, over the course of the campaign and his presidency, has built the largest Republican first-party data list," said Mr. Trump's campaign manager Brad Parscale, who engineered the agreement. "So giving other candidates and groups access to that data through a legal means to rent it was one of the best things I could do for the Republican ecosystem. And the campaign makes a little money, too. It's a win-win."
"So far, parts of the list have been rented to a number of Republican candidates — including the gubernatorial campaign of Ron DeSantis in Florida and the Senate campaign of Josh Hawley in Missouri — as well as nonprofit groups advocating the confirmation of Brett M. Kavanaugh to the Supreme Court, and even to an author promoting a pro-Trump book, according to people familiar with the arrangement."
"Digital files of supporters' data have become indispensable tools of modern campaigns, relied upon for fund-raising, mobilizing volunteers and rallying supporters to get out to vote. And they have become valuable currency in their own right, sometimes reaping millions of dollars in rental fees for the campaigns that built the lists and the list brokers who arrange the rentals."
"It is not uncommon for former candidates to rent or sell their lists to pay down debts, or for active campaigns to swap parts of their lists with those of ideologically aligned party or campaign committees to build their networks."
"The Trump campaign maintains ownership of the list as well as veto authority over all rentals, according to interviews and the marketing emails. One such email indicates that "as long as the political group, org, nonprofit or business is not hostile to the president, then they are most likely able to use the data with no problem."
"It is not clear whether the president, who is known to abhor the prospect of others' profiting from their affiliations with him, is aware of the details of the arrangement."
"The people familiar with the arrangement said that the rentals so far had been sparing, but that the volume began increasing in recent weeks as key midterm races began heating up."
Link to entire report: Now for Rent: Email Addresses and Phone Numbers for Millions