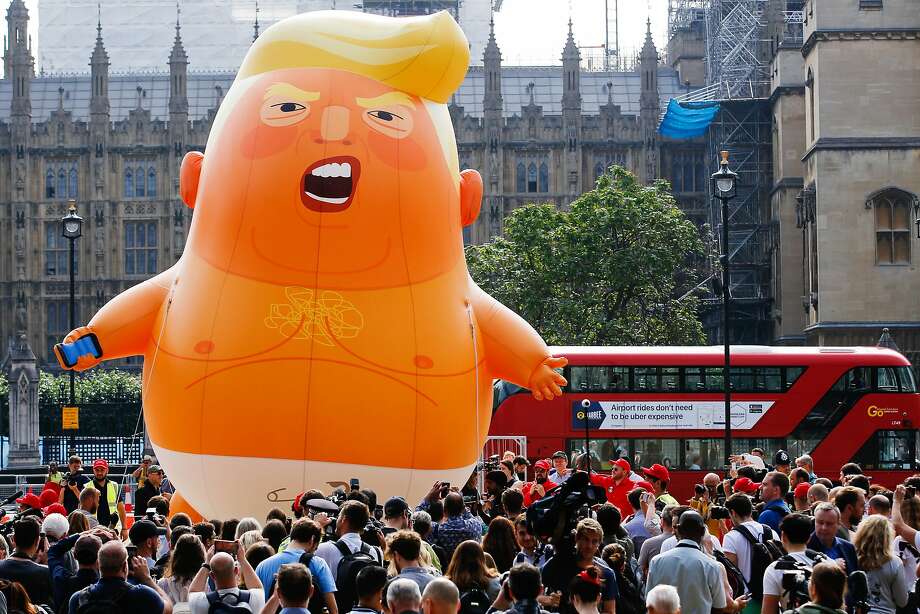 Anyone who has watched any TV news shows in the past couple of days has been forced to listen to snippets of the republican President Donald Trump's interview with the journalist Lesley Stahl of the popular Sunday TV news show, "60 Minutes."
My biggest take-away from this interview was his comments along the lines, "I'm not a baby!' Maybe he was thinking of that huge blimp showing him as a baby in diapers being used at protest rallies.
This was just one of the president's efforts he's made to maximize his TV/ media exposure in October 2018. He's already conducted 8 campaign rallies; published an op-ed piece on USA Today; did a couple of phone-in interviews with TV news hosts, answered impromptu questions by the press on at least 20 occasions. He's on a mission to mitigate for the expected loss of republican seats in the US Congress House of Representatives, this upcoming November 2018.
As per a 10/12/18 New Yorker report by Susan B. Glasser, the President has already done six (rallies) so far, as the election draws near, spending, as the Washington Post put it, "sixty percent of the evenings in October so far" speaking to big crowds in Trump-friendly places like Johnson City, Tennessee; Southaven, Mississippi; Topeka, Kansas; Rochester, Minnesota; Council Bluffs, Iowa; and Erie. He has two more planned for this weekend. Trump is generally onstage for more than an hour, so that's a lot of Trump. Six hours and fifty-one minutes of Trump, to be precise.
Here is the rest of the story regarding his "60 Minutes" interview…
On October 15, 2018, Kate Lyons of The Guardian penned the following report, "Donald Trump's 60 Minutes interview: eight takeaways"
Excerpts:
"The US president spoke at length, usually before interviewer Lesley Stahl had finished her question."
"Donald Trump sat down for a wide-ranging interview with 60 Minutes, in which he was pushed on China, Russia, climate change, his mockery of Christine Blasey Ford, and whether, as he came toward the end of his second year in office, he had any regrets. Here are eight key takeaways:"
Climate views unaffected by recent hurricanes
"Interviewer Lesley Stahl began by talking about the recent season of hurricanes, including Hurricane Michael, which devastated Florida last week, claiming at least 19 lives. She asked Trump whether he still thinks climate change was a hoax and while he said he did not think climate change was a hoax, he also told her that did not think it was man-made, or would have permanent impacts."
"I think something's happening. Something's changing and it'll change back again. I don't think it's a hoax, I think there's probably a difference. But I don't know that it's man-made," said Trump."
"Trump also accused scientists who say hurricanes are getting more frequent and intense because of climate change of having "a very big political agenda".
Doesn't want to stop selling arms to Saudi Arabia
"Asked about Jamal Khashoggi, Trump said that if the attack was found to be a state-sponsored murder, there would be "severe punishment" for those involved, saying there is "something really terrible and disgusting" about murdering a reporter – a view Trump himself said people might be surprised to hear from him. But, when asked whether he would consider stopping sales of weapons to Saudi Arabia, Trump seemed unwilling.
"I tell you what I don't want to do. Boeing, Lockheed, Raytheon, all these com(panies) – I don't want to hurt jobs. I don't want to lose an order like that. There are other ways of punishing."
Refuses to rule out reinstating child separation policy
"Trump was repeatedly and expressly asked whether he would reinstate the policy of separating immigrant parents and children at the US-Mexico border, but would not give a straight answer, saying "we're looking at a lot of things." When pushed, Trump said: "You can't say yes or no. What I can say is this: There are consequences from coming into a country, namely our country, illegally."
"Trump said if he had not made that speech, "we would not have won" and defended Kavanaugh as an "extraordinary" man.
"Why did you have to make fun of her?" asked Stahl."
"I didn't really make fun of her," Trump replied, adding he thought Ford had been treated "with great respect" despite the fact "there are those that think she shouldn't have".
We can expect more people to depart the White House
"Trump said he suspects his defense secretary, General Jim Mattis, might be a Democrat and "could be" heading for the exit."
"Responding to a question about whether Matthis was going to leave, Trump said: "It could be that he is. I think he's sort of a Democrat, if you want to know the truth. But General Mattis is a good guy. We get along very well. He may leave. I mean, at some point, everybody leaves. Everybody. People leave. That's Washington."
Trump said that while he thinks he has a "great cabinet" there are some people he's not happy with. He agreed with comments made by his wife Melania in a ABC interview last week, that there are some people in the White House who weren't trustworthy, saying: "I'm not a baby. It's a tough business. This is a vicious place."
Trump reiterated his standard foreign policy views: China is bad, the EU treats the US like chumps, Trump will stick with Nato as long as other countries pay more towards it, Russia might have meddled in the US election but they're not that bad, and he has "great chemistry" with North Korean leader Kim Jong-un.
Trump accepted that Vladimir Putin was "probably" involved in assassinations and poisonings. As for Russian meddling in the 2016 presidential election, Trump said he believed they meddled, but China meddled, too. "And I think, frankly, China is a bigger problem," said the president.
Trump, the great interrupter
The tone of the interview was often tense, with Trump telling Stahl at one point "I'm president and you're not". While Trump was not as openly hostile to Stahl as he has been to some other journalists, he rarely let her get out a full question, before jumping in to begin his answer or contradict her, meaning the transcript makes for fairly choppy reading.
His biggest regret
Finally, the president revealed his capacity for self-reflection and humility when Stahl asked him if there was anything he wished he hadn't said or done in his almost two years in office.
One regret sprang quickly to mind: the press's treatment of him.
"So when I won the presidency – the press treats me terribly – I thought very strongly that, you know, the one great thing will happen is the press will start treating me great. Lesley, they treat me worse. They got worse instead of better. Very dishonest."
"I regret that the press treats me so badly," he said.