As the republican President Donald Trump continues his scorched earth tactics by spewing forth words inciting hate, divisiveness, his demonizing of other like the press, law enforcement entities like the FBI, US Department of Justice (DOJ) and others who simply disagree with him, it has led to a toxic political environment.
At his rallies and elsewhere whenever he's on the public stage, he has a habit of touting violence like bragging about a US Congressman physically attacking a journalist; stating that he'll pay the legal bills if his followers hurt a heckler in their midst.
During the 2018 election season, the president and other GOP leaders have deployed their tried and true, Southern Strategy" tactic to win by doing the siren song to those who participate in Neo-Nazis and White Supremacist type groups.
But here's the rub. These GOP elders can't then claim that they want no part of antisemitism. This becomes a false claim because those White Supremacist members are also virulently antisemitic. It is this group of folks who are more prone to resort to violence than any other terrorist group within the USA.
In addition, these White Supremacists are the ones who are most likely to be anti-immigration which is why the president has honed onto the Honduran refugee caravan that is walking about 20 miles per day towards the US -Mexican border via Guatemala and Mexico.
These peoples of color will be nowhere close to the US-Mexican border by the US election day of November 6, 2018 but anyone who listens to FOX News and the president would never know this.
The conspiracy theories promulgated by the right, regarding this caravan of refugees are off the charts, laden with outright falsehoods. Supposedly the Jewish billionaire George Soros is sponsoring/ financing this expedition; there are criminals and middle eastern terrorists traveling with the caravan; and the refugees/ INVADERS will be spreading diseases like leprosy, small pox and TB.
Despite the fact that the refugee caravan will be nowhere near the Mexican-US border until about the first week in December, the president has ordered over 5000 active military personnel to the border. But this makes him look good to his racist/ anti-immigration/ antisemitic faction of his base to where they will be motivated to get out and vote for republican candidates.
This is important because starting on October 22, 2018, there have been at least 2 serious acts of domestic terrorism/ violence by mentally challenged White men who relied on this crap and then acted out. There was the nutcase who started his reign of terror by mailing manila envelops with pipe bombs to several Democratic Party icons and CNN, which have all made it into President Trump's hit list, those he loves to rant against when in a public forum. The first bomb that was found, just happened to be in the mailbox belonging to George Soros.
Then another fool decided to go on a shooting spree on the 28th of October 2018, at the Tree of Life Synagogue located in the Squirrel Hill neighborhood of Pittsburgh, PA, where he proceeded to fatally wound 11 worshipers while injuring others.
As per the 10/27/18 NYT article, "For months, Robert D. Bowers had been spewing his anger on the web, calling immigrants "invaders," distributing racist memes and asserting that Jews were the "enemy of white people."
In short, the Republican Party members can't claim to be strongly against antisemitism if they continue to provide red meat to their followers, some of whom are racists and anti-immigration zealots.
Here is the rest of the story…
As per a 10/29/18 VOX report by Emily Stewart:
President Trump, you are not welcome in Pittsburgh until you fully denounce white nationalism.

President Trump, you are not welcome in Pittsburgh until you stop targeting and endangering all minorities.

President Trump, you are not welcome in Pittsburgh until you cease your assault on immigrants and refugees.

President Trump, you are not welcome in Pittsburgh until you commit yourself to compassionate, democratic policies that recognize the dignity of all of us.
"Thus far, more than 20,000 people have signed on to the letter."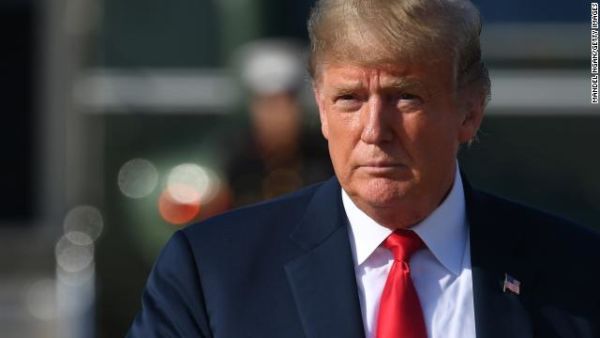 "We feel like there have been multiple communities under attack in the United States from the vitriol that the president has been spreading," Josh Friedman, one of the leaders of Bend the Arc's Pittsburgh chapter, told the Washington Post. "It was the Jewish community's turn. Blowback from his words came and cost people's lives, and we said enough is enough."
"Not all Jewish leaders in Pittsburgh agree with its push to keep Trump away. A Tree of Life rabbi said more than once on television on Monday that Trump was welcome to visit."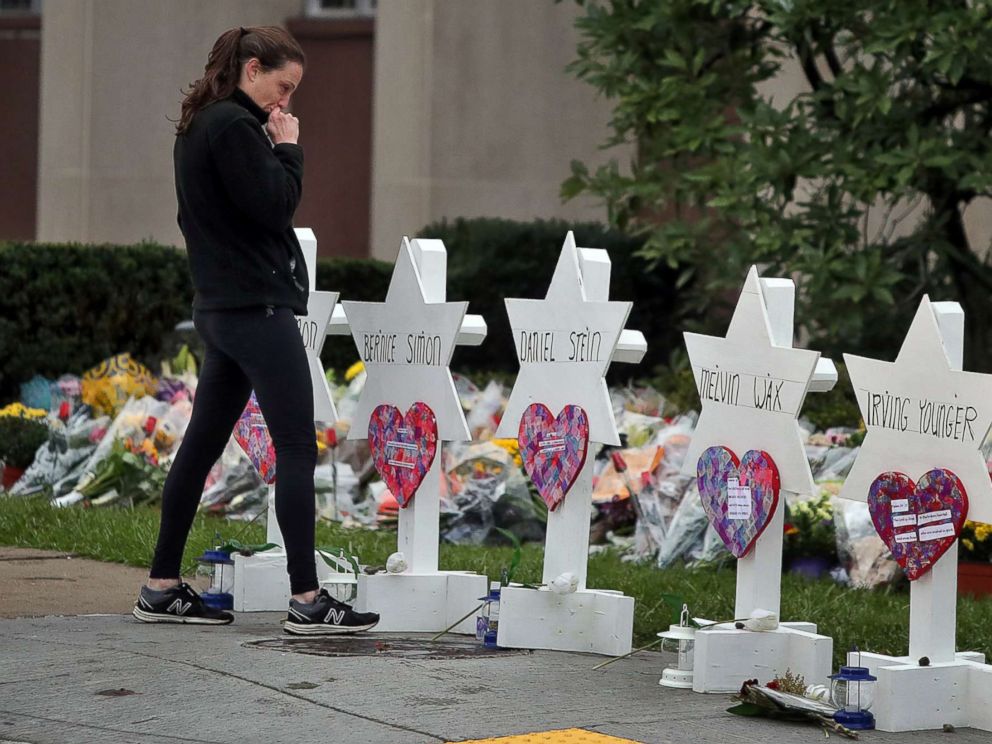 On October 28, 2018, Morgan Gstalter of the Hill penned the following report, "Progressive Jewish leaders tell Trump he's not welcome in Pittsburgh until he denounces white nationalism"
Excerpts:
 "A group of progressive Jewish leaders told President Trump that he is no longer welcome in Pittsburgh until he denounces white nationalism following the shooting at a synagogue there over the weekend."
"Eleven members of the Pittsburgh affiliate of Bend the Arc: A Jewish Partnership for Justice penned a letter to Trump following the Saturday shooting at the Tree of Life Synagogue."
"Our Jewish community is not the only group you have targeted," the group wrote. "You have also deliberately undermined the safety of people of color, Muslims, LGBTQ people, and people with disabilities. Yesterday's massacre is not the first act of terror you incited against a minority group in our country."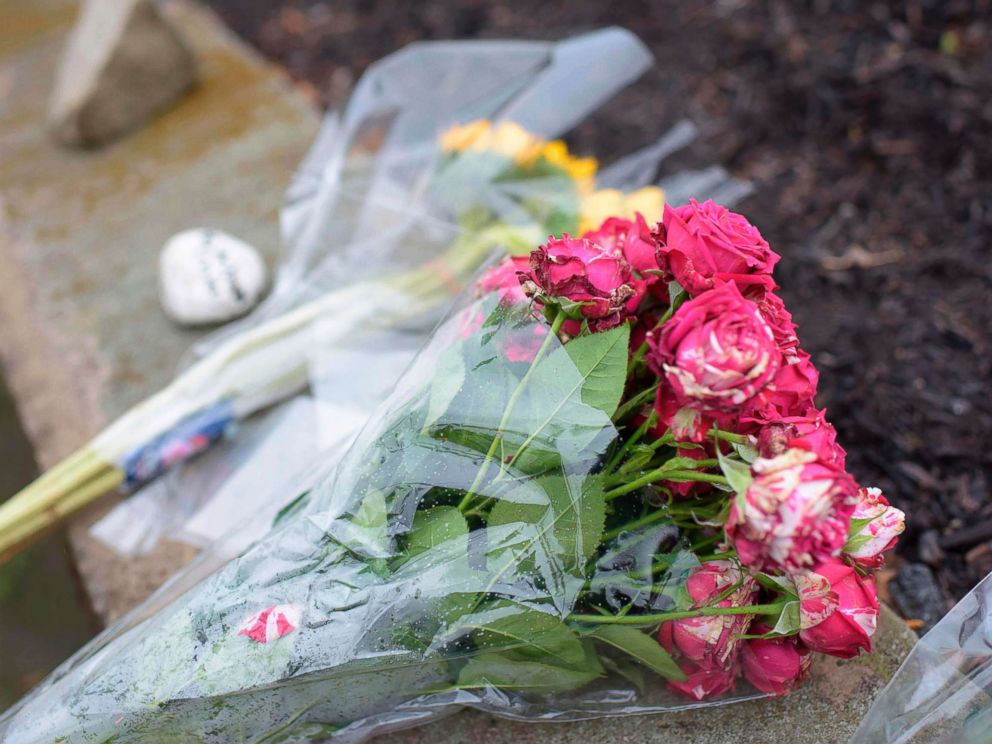 "Trump was fiercely criticized after he failed to condemn white supremacy and asserted that there is "blame on both sides" after last year's deadly white supremacist rally in Charlottesville, Va."
"The group said Trump is not welcome in the city until he also stops targeting minorities, immigrants and refugees."
"The president has "spread lies and sowed fear about migrant families in Central America," the group wrote."
"The Torah teaches that every human being is made b'tzelem Elohim, in the image of God. This means all of us," the leaders wrote. "In our neighbors, Americans, and people worldwide who have reached out to give our community strength, there we find the image of God."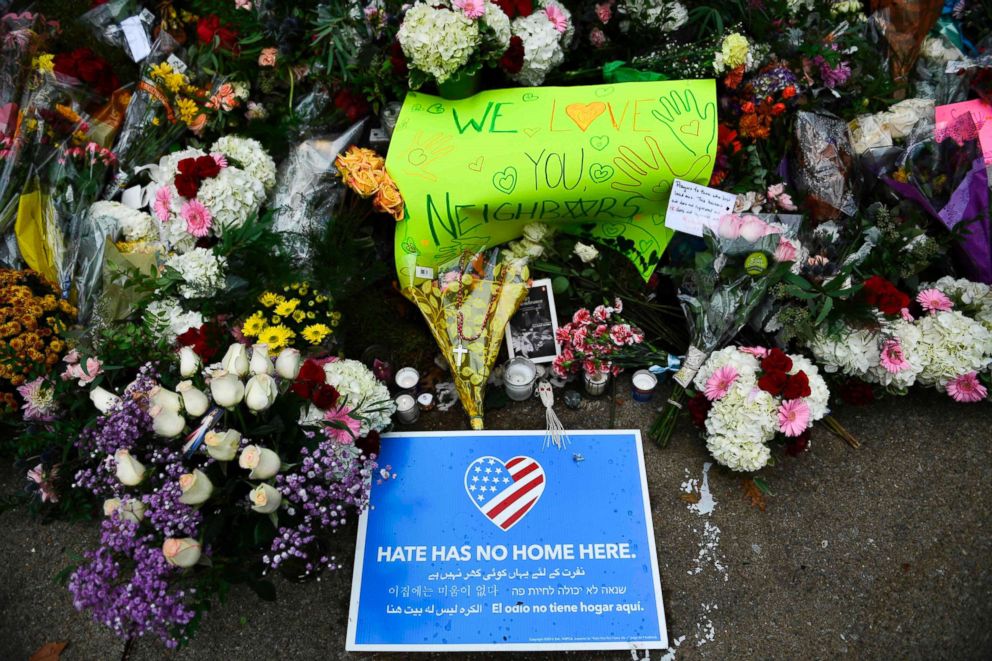 "They noted how Squirrel Hill, the Pittsburgh neighborhood where the attack took place, was once the neighborhood where children's television host Fred Rogers lived."
"Here in Mr. Rogers' neighborhood, we express gratitude for the first responders and for the outpouring of support from our neighbors near and far," they wrote."
"Robert Gregory Bowers, 46, has been arrested and charged with the deaths of 11 worshipers at the Tree of Life Synagogue."
"The attack on the synagogue is the deadliest anti-Semitic attack in U.S. history."
"Trump condemned the attack as "an assault on humanity."
"It will require all of us working together to extract the hateful poison of anti-Semitism from our world. This was an anti-Semitic attack at its worst," Trump said during a rally Saturday night."
"He condemned the gunman as a "wacko" who should get the death penalty and suggested that an "armed guard" at the synagogue could have prevented the attack."