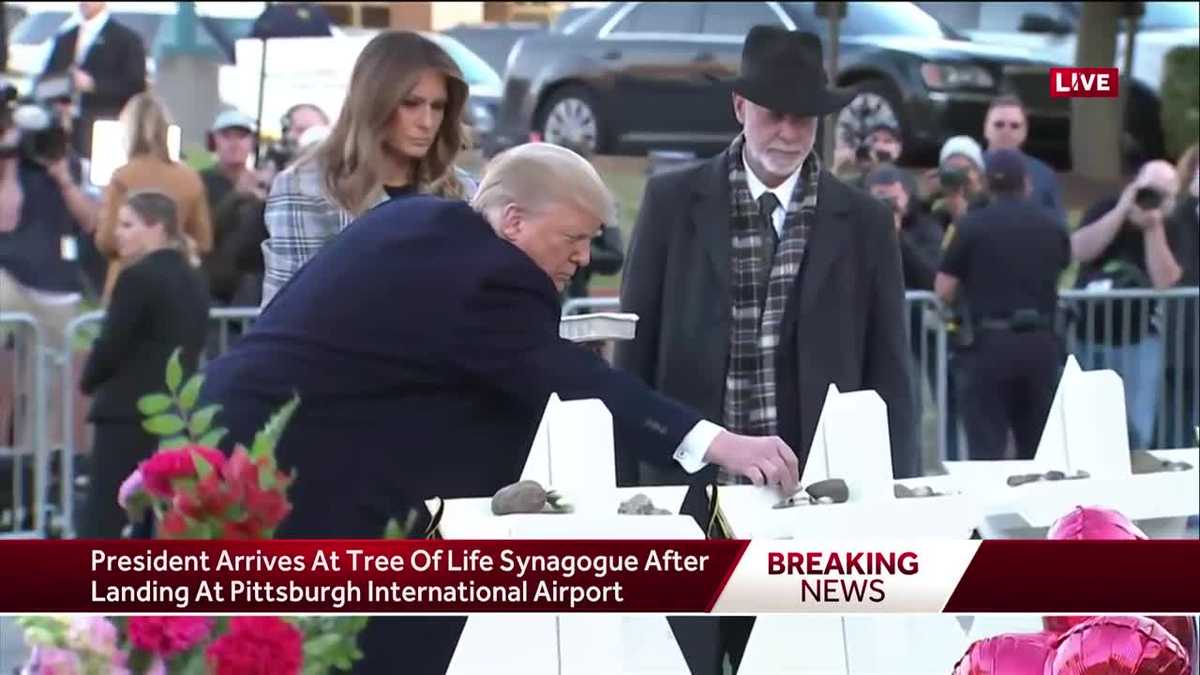 Today, the 30th of October 2018, a miracle happened. There was a rare show of solidarity as lawmakers, leaders from both the left and the right refused to accompany the republican President Donald Trump in his trek to visit the Squirrel Hill neighborhood in Pittsburgh, PA, as its residents are in the throes of mourning the loss of their loved ones due to the mass shooting event on the 28th of October 2018.
The Pittsburgh mayor had asked President Trump to postpone his planned visit to the Squirrel Hill community until after the local residents had a chance to grieve and bury their loved ones, but the president ignored this request.
It turns out that the mass shooter had acted out in response to the conspiracy theories promulgated by the right, regarding the caravan of Honduran refugees, some of whom are expected to arrive at the US-Mexican border around the first week in December 2018. These conspiracy tales are off the charts, laden with outright falsehoods. Supposedly the Jewish billionaire George Soros is sponsoring/ financing this expedition; there are criminals and middle eastern terrorists traveling with the caravan; and the refugees/ INVADERS will be spreading diseases like leprosy, small pox and TB.
As the president with his GOP cronies provide a safe haven for the racist members of White Supremacist type groups in their ranks, they are also providing cover for these Neo-Nazis who are most likely to be anti-immigration and anti-Semitic and who aren't reticent to use violence as a tool.
Here is the rest of the story…
On October 30, 2018, Moriah Balingit, Avi Selk and Mark Berman of the Washington Post penned the following report, "Shooting victim's family shuns President Trump in Pittsburgh as top officials decline to join him"
Excerpts:
"A mourning family doesn't want to meet him. Leaders of his own party declined to join him. The mayor has explicitly asked him not to come. Protesters have mobilized. And yet President Trump visited this grief-stricken city Tuesday, amid accusations that he and his administration continue to fuel the anti-Semitism that inspired Saturday's massacre inside a synagogue."
"The president and first lady Melania Trump arrived in Pittsburgh on Tuesday afternoon, not long after the first funerals began for the 11 victims of the mass shooting at Tree of Life synagogue. More than 1,300 people have signed up for a demonstration at the same time — declaring Trump "unwelcome in our city and in our country."
"Congressional leaders from both parties — Senate Majority Leader Mitch McConnell (R-Ky.), House Speaker Paul D. Ryan (R-Wis.), Senate Minority Leader Charles E. Schumer (D-N.Y.) and House Minority Leader Nancy Pelosi (D.-Calif.) — have all declined invitations to join Trump on his visit, according to officials familiar with matter. (McConnell's office said the Kentucky senator "has events in the state and was unable to attend.")"
"Trump offered to visit with the family of Daniel Stein, a 71-year-old who had just become a grandfather when he was gunned down at Tree of Life. Stein's nephew, Stephen Halle, said the family declined in part because of the comments Trump made in the immediate aftermath of the shooting, when he suggested the synagogue should have had an armed guard."
"Everybody feels that they were inappropriate," Halle said Tuesday. "He was blaming the community."
"Stein's funeral was one of four scheduled for Tuesday. In the late morning, hundreds of mourners lined up to see the coffins of Cecil and David Rosenthal — two brothers gunned down at Tree of Life three days earlier, as they celebrated the Jewish Sabbath with Stein and the other victims.
The city's Democratic mayor, Bill Peduto, had asked the White House to consider "the will of the families" before visiting — as well as the resources of a city straining under the deadliest attack on Jews in U.S. history.
"All attention should be on the victims," Peduto said Monday. "We do not have enough public safety officials to provide enough protection at the funerals and … at the same time draw attention to a potential presidential visit."
"After Trump confirmed his visit anyway, the mayor's office said Peduto would not appear with the president. Neither will Allegheny County Executive Rich Fitzgerald, who lives near the synagogue, his office said."
"Tree of Life Rabbi Jeffrey Myers — who called out "hate" in U.S. political speech after the shooting — has said he plans to welcome the president. "Hate is not political," he told The Washington Post. "It is not blue or red, it's not male or female, it doesn't know any of those divisions."
"Trump visited the Tree of Life synagogue on Tuesday, according to the White House pool report, going inside with his daughter Ivanka Trump and his son-in-law Jared Kushner, both of whom are Jewish and serve as top White House aides. News cameras then captured Trump and the first lady outside the synagogue, placing flowers and stones at memorials to the victims. He then went to a hospital to visit some of the wounded, a pool report said."
"The White House said Trump met with doctors and members of law enforcement at the hospital Tuesday, and spent about an hour with the widow of Richard Gottfried."
"She said that she wanted to meet the president to let him know that people wanted him there," Sarah Huckabee Sanders, the White House press secretary, told reporters aboard Air Force One. Gottfried, 65, and his wife, Peg Durachko, had just celebrated their 38th wedding anniversary and were planning to retire soon."
"Sanders said that the president came to Pittsburgh in the face of opposition because some had wanted him there."
"About an hour before Trump arrived in the area, more than 100 people had jammed onto a street corner in Squirrel Hill, the predominantly Jewish neighborhood where the synagogue is located and many victims lived. The number swelled as Trump's visit neared, with some marching through the neighborhood streets and declaring themselves angry that he would come to their community."
"This didn't happen in a vacuum,"Ardon Shorr said. "There is a growing trend of white nationalism. And that has been enabled by Trump, who traffics in the kind of conspiracy theories that we know were foremost in the mind of the shooter last Saturday."
"Shorr added about Trump's visit. "He's not tolerated here, and we didn't consent to him coming."
"Others gathered to protest echoed Schorr's sentiments in criticizing Trump and questioning his visit."
"He's done nothing but stoke the type of fear and hatred that led to this," said Ben Case, 34. "And he's coming here for a photo op and to check it off his list. But we know he's not part of the solution."
"Marchers in Squirrel Hill sat down in the middle of a street near the synagogue while Trump was in the area, purposely facing away from him so as to turn their backs on the president.
"As Trump left Washington for Pittsburgh, Kara Bernstein was on her way to protests in Squirrel Hill. Bernstein, who lives near Tree of Life and was at another house of worship during Saturday's massacre, went with two friends in part to urge people to vote. Her second motivation, she emphasized, was speaking out against Trump.
"I personally hold Trump and his rhetoric accountable for the tragedy that occurred," she said. She believes his visit is a "distraction from the grieving."
"Tree of Life has been closed since Saturday's rampage, which was allegedly carried out by a man who had ranted online that Jews were bringing "invaders in that kill our people."
"The suspect, Robert Bowers, was referring to a Jewish group that works with refugees in the United States. Trump has repeatedly referred to migrants as dangerous invaders, and did so again in a tweet on Monday. The president has also repeatedly denigrated "globalists" despite warnings from Jewish groups that the word is code for Jews in anti-Semitic circles, and appeared in one of Bowers's online rants."