On November 10, 2018, Rep. Dana Rohrabacher who is well known for his pro-Russia stance, has lost the congressional seat he held for 30 years to a Democrat Harley Rouda, a stunning defeat for Republicans in what had long been the deepest red part of the county.
Then there is a close race in Arizona for a US Senate seat. The Democratic Party candidate Kyrsten Sinema is currently ahead in the vote count against her opponent McSally by 30,000 ballots but there are still more ballots to count. It is expected that Kyrsten Sinema will win.
At this point in time, the Republican Party has the possibility of adding two flipped seats to its roster in the US Senate, if the Florida Governor Rick Scott wins the US Senate seat against the incumbent Democratic Party candidate, Bill Nelson.  But the race between the two is so close, by .15% that a recount is in process.
To drive the top brass of the Republican party absolutely nuts, the ballot count for the Florida governorship between the Democratic Party candidate Mayor Andrew Gillum and the former republican US Rep. Ron DeSantis has tightened to where the spread is less than .5%, which by Florida rules, triggers an automatic machine recount. On the evening of the 6th of November 2018, Mayor Gillum conceded the race to Mr. DeSantis, but on November 10, he walked back this concession as he demanded that every vote be counted.
Both republican contenders Ron DeSantis and Rick Scott have already declared victory.
There will also be a recount for Florida's agriculture commissioner. This is a big deal as agriculture is big business in Florida.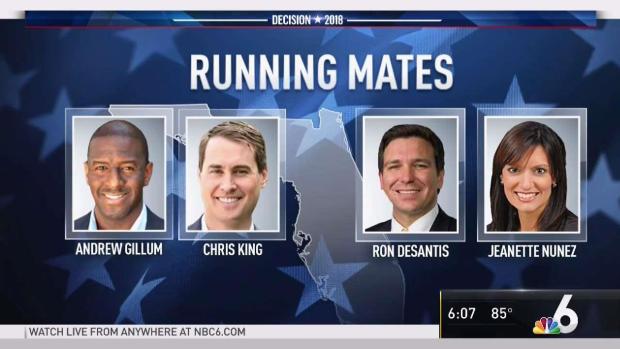 Of course, the republican President Donald Trump, Florida's Governor Rick Scott, Florida's republican US Senator Marco Rubio and other GOP who's who, have been crying foul, using words like fraud, stealing, cheating, etc. Governor Rick Scott has even called upon law enforcement to conduct an investigation.
But the Florida Department of Law Enforcement (FDLE) has declined to act, stating there is no evidence bolstering Governor Scott's claims of fraud or anything of a nefarious nature but the lawyers with lawsuits will have their hands full for awhile.
It is my opinion, that Governor Scott had 8 years to fix the voting infrastructure within the State of Florida. But he chose not to act, and so that any incompetence in the voting process can be laid right where it belongs, at his feet. He needs to look in the mirror.
"As per the 11/10/18 LA Times report by Joe Mozingo, "Real estate entrepreneur Harley Rouda's win comes after 2 decades of erosion in the Republican base and at a time when Rohrabacher's friendliness to people with links to Russia has become more controversial."
"Rohrabacher, 71, has represented the region since 1988, when he left a job in the Reagan White House to run for Congress. Rouda, 56, a former Republican, said he left the party as it became stridently partisan in the mid-1990s."
"Democrats earlier won the seats of GOP Reps. Darrell Issa of Vista, who declined to seek reelection, and Steve Knight of Palmdale, who was ousted by Katie Hill."
In the Georgia governor's race, Brian Kemp, the Republican, has been ahead of his Democratic opponent, Stacey Abrams, by about 59,000 votes. If Mr. Kemp who is also Georgia's Supervisor of Elections, wins the state by less than 50%, then there will another run-off election. Despite lots of outside pressure, Stacey Abrams has refused to concede the race to her republican opponent, as she demands that every vote gets counted.
Here's the rest of the story in Florida…
On November 10, 2018, Frances Robles and Patricia Mazzei of the New York Times penned the following report, "Florida Begins Vote Recounts in Senate and Governor's Races"
"Florida began the first full, statewide vote recount in its history on Saturday (11/10/18) after authorities found that tallies submitted by its 67 counties left the contests for Senate, governor and agriculture commissioner too close to call."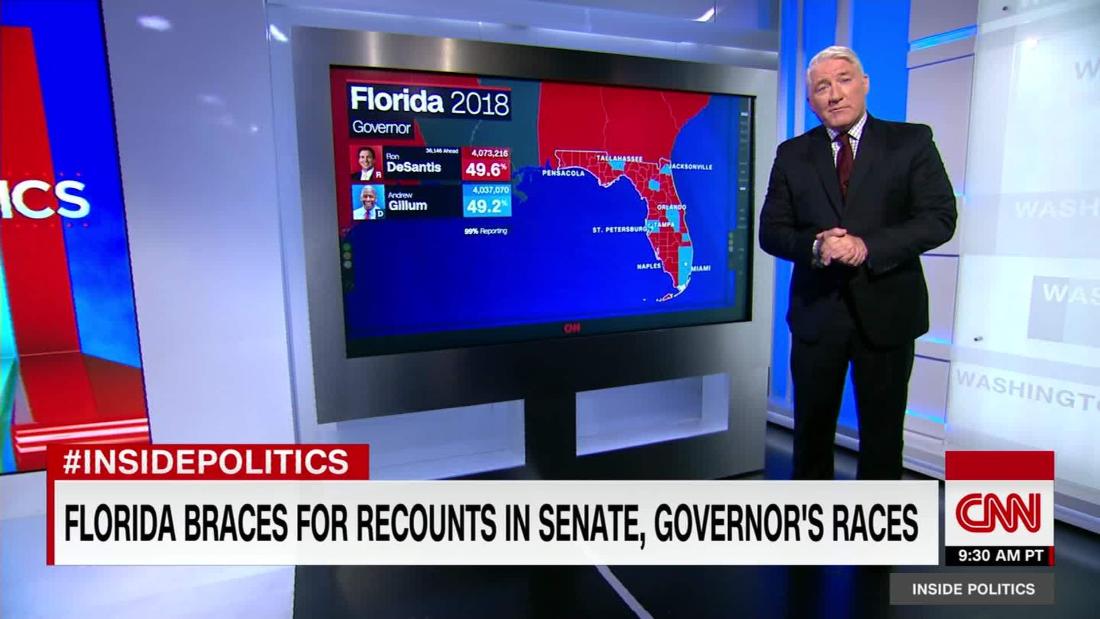 "Recounts were also ordered in a State Senate race and two contests for the State House, a measure of the slender margins in the nation's largest swing state that have left two of the most closely watched races in the country still undecided, four days after the midterm elections."
"After unofficial results came in shortly after noon on Saturday, Gov. Rick Scott's edge in the race for the Senate had slipped to nearly 12,600 votes over the Democratic incumbent, Bill Nelson. Andrew Gillum, the Democratic Tallahassee mayor who on election night had conceded his loss in the governor's race to Ron DeSantis, rose to within 33,600 votes, and retracted his earlier concession."
"Florida has never had a full statewide recount. It's about to have three," Andrew Weinstein, the national chairman of the Democratic Lawyers Council, said on Twitter. "Buckle up."
"The sight of grim-faced candidates, shouting protesters outside the Broward County elections office and lawyers flown in from Washington evoked memories of Florida's hotly contested recount over the 2000 presidential election between George W. Bush and Al Gore and capped off one of the most bitterly divisive midterm election seasons in years."
"Across Florida, elections office employees already exhausted after processing thousands of ballots since Tuesday geared up for a new round of tabulations, this time with a tight deadline that requires results by Thursday."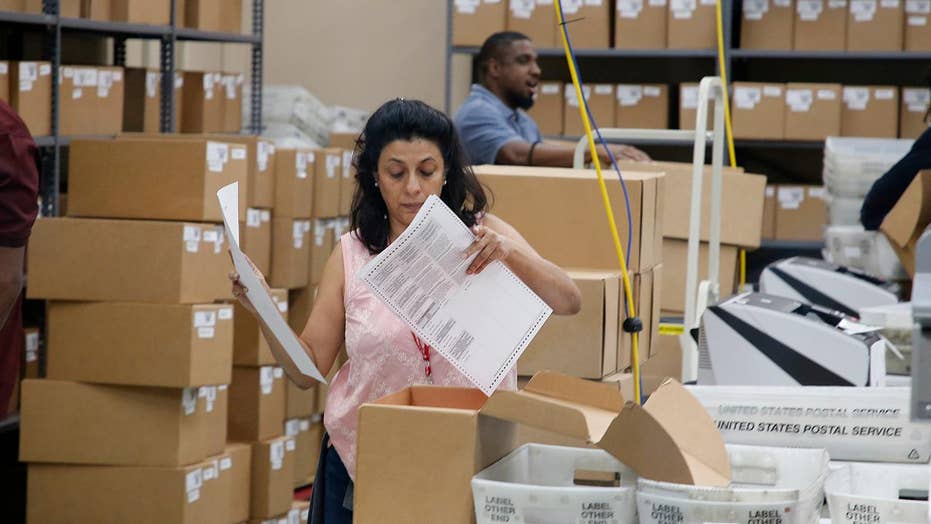 "The Miami-Dade elections office will have to work around the clock, in daytime and overnight shifts, to conduct the recount, said Suzy Trutie, a spokeswoman. The office, which normally relies on six ballot-counting machines, has rented an additional four machines, scheduled to arrive on Monday from Omaha, Neb."
"Broward County officials said they were not prepared for the voting-machine calibration test they had planned for Saturday afternoon and were recessing until 7 a.m. Sunday, when they would commence working two 12-hour shifts a day."
"Mr. Scott, who has filed lawsuits against elections officials in Broward and Palm Beach Counties over the handling of ballots, made it clear that he was not expecting to relinquish the seat he claimed on Tuesday night and suggested the latest results filed on Saturday had reconfirmed it."
"Mr. Nelson showed little willingness to take Mr. Scott up on his offer (to concede). "This process is about one thing: making sure every legal ballot is counted and protecting the right of every Floridian to participate in our democracy," he said. "We believe when every legal ballot is counted, we'll win this election."
"In the governor's race, the margin was narrow enough to prompt an automatic recount but wide enough for The Associated Press on Saturday to declare Mr. DeSantis the winner. The A.P. retracted the call a short time later, when Mr. Gillum, speaking to reporters in Tallahassee, defiantly announced that his earlier concession no longer applied."
"He said efforts by Mr. Trump, Mr. Scott and Senator Marco Rubio, a Republican, to question the counting of votes before the tallying was complete was akin to voter suppression. "I'm replacing my words of concession with an uncompromising and unapologetic call that we count every single vote," he said."