Whoever decided to advise the republican President Donald Trump' s former National Security Adviser General Mike Flynn to question the FBI's treatment of him when he was originally questioned by the FBI regarding his contacts with Russian officials during the 2016 presidential campaign time frame and shortly, afterwards, made a big mistake.
Today, on December 18, 2018, he appeared in a US federal court to be given the expected sentencing based on the prosecutors' recommendation, which was for General Flynn to serve no prison time in exchange for his cooperation with the FBI in its Trump-Russia probe. About a year ago, he had been required to plead guilty to lying to the FBI.
But in a memo this week seeking leniency, his lawyers revealed details from the interview that stoked an unfounded  right wing conspiracy theory that Mr. Flynn's demeanor during the initial questioning indicated that he did not understand that he was being formally investigated. They also blamed the F.B.I. for not informing Mr. Flynn ahead of time that lying to agents is illegal — an argument that prosecutors repudiated.
Frankly, his actions are NOT  those of a man who is alleging that he has taken full responsibility for his behaviors." The judge was not having it. The judge said, "Arguably you sold your country out."
As per the 12/14/18 NY Times,  "A sitting national security adviser, former head of an intelligence agency, retired lieutenant general and 33-year veteran of the armed forces knows he should not lie to federal agents," prosecutors for the special counsel, Robert S. Mueller III, wrote in court papers. "He does not need to be warned it is a crime to lie to federal agents to know the importance of telling them the truth."
When it seemed like the judge overseeing the court hearings on 12/18/18 regarding the sentencing of General Flynn, did not take a kindly view towards the general's recent attacks on the FBI and the 'rule of law' to where he was inclined to impose some prison time, the defense agreed to postpone this sentencing hearing for at least 90 days.
See: Mueller memo summarizing FBI's interview with Michael Flynn/ CNN
Here is the rest of the story…
On December 18, 2018, Sharon LaFraniere and Adam Goldman of the New York Times penned the following report, "Judge Postpones Sentencing of Michael Flynn After Harshly Rebuking Him"
Excerpts:
"A federal judge on Tuesday (12/18/18) postponed the sentencing of Michael T. Flynn, President Trump's first national security adviser, after warning Mr. Flynn that he could face prison for lying to federal investigators about his conversations with the Russian ambassador during the presidential transition and hiding his role lobbying for Turkey."
"At Mr. Flynn's sentencing hearing in Federal District Court in Washington, Judge Emmet G. Sullivan called Mr. Flynn's crimes "a very serious offense" and said he was not hiding his "disgust" at what Mr. Flynn had done."
"All along you were an unregistered agent of a foreign country while serving as the national security adviser," the judge told Mr. Flynn. "Arguably that undermines everything that this flag over here stands for. Arguably you sold your country out."
But Judge Sullivan gave Mr. Flynn the option of delaying the sentencing until he had completed his cooperation agreement with federal prosecutors. "I cannot assure that if you proceed today you will not receive a sentence of incarceration," Judge Sullivan told Mr. Flynn."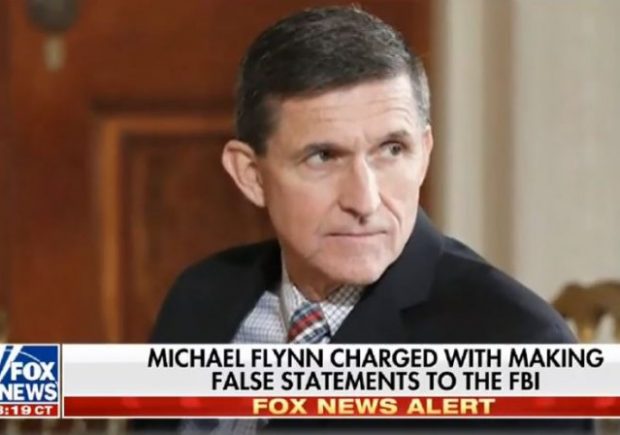 "After a short recess, Mr. Flynn returned to the courtroom to take the judge up on his offer."
"Mr. Flynn faces up to six months in prison, but federal prosecutors have recommended a lenient sentence, including the possibility of probation, because Mr. Flynn has provided "substantial help" with multiple criminal inquiries."
"During the sentencing hearing, Judge Sullivan questioned Mr. Flynn and his lawyer about their earlier suggestion that F.B.I. agents might have tricked Mr. Flynn by failing to inform him before they interviewed him nearly two years ago that lying to them would constitute a federal crime."
"Mr. Flynn told the court that he was not challenging the circumstances of the interview and that he knew lying to the F.B.I. was a crime. In doing so, Mr. Flynn distanced himself from Mr. Trump's efforts to suggest misconduct by the F.B.I. in the investigation by the special counsel, Robert S. Mueller III."
"Earlier, Mr. Trump had wished Mr. Flynn "good luck" in a Twitter post."
"Prosecutors have refused to disclose publicly the details of how Mr. Flynn, 59, helped them during 19 interviews over the past year, redacting paragraph after paragraph of their sentencing memo to the judge. His lawyer, Robert K. Kelner, said in court on Tuesday (12/18/18) that Mr. Flynn's cooperation was "very largely complete" but that Mr. Flynn wanted to make sure he got full credit for further assistance to prosecutors before being sentenced."
Link to entire article: Judge Postpones Sentencing of Michael Flynn After Harshly Rebuking Him …
LawFare provides Documents related to this FBI's Trump-Russia probe, General Flynn