Whoever becomes the next US president needs to be less thin skinned than the current republican President Donald Trump as his ego can't tolerate satirical comedy about him. Every other US president has managed to survive comedians skewering their presence in the White House, but no one bothered to explain to Mr. Trump before he won the US presidency, that critical press coverage and comedic depictions of him, was part of his job description.
This past Saturday (12/15/18), President Trump must have made the mistake of watching the TV show"Saturday Night Live' (SNL)  that was a spoof on the iconic Christmas movie, 'It's A Wonderful Life' where an Angel takes him back in time for him to see how his life would have turned out, if he had never won the US presidency.
As per the 12/17/18 Week report, "The president, once again, is griping about being made fun of by a comedy show. On Sunday, after SNL ran an It's a Wonderful Life parody about the Trump administration, the president woke up and began complaining on Twitter."
A REAL scandal is the one sided coverage, hour by hour, of networks like NBC & Democrat spin machines like Saturday Night Live. It is all nothing less than unfair news coverage and Dem commercials. Should be tested in courts, can't be legal? Only defame & belittle! Collusion?
86.4K people are talking about this
"Now, mostly this is ridiculous. For more than 40 years, the worlds of politics and pop culture have had a deal: Politics provides the president, and pop culture makes fun of that president. So SNL portrayed Gerald Ford as catastrophically clumsy, George W. Bush as an idiot manchild, and George H.W. Bush as barely verbal."
"Trump, who apparently sees conspiracies everywhere, regards this process as unfair. One wishes he'd spend his Saturday nights watching nature documentaries, instead."
"(Other Presidents) however, never did what Trump implicitly did on Sunday, which is threaten to use the resources of government to punish the maker of the satire."
"In other words, because Trump has a deep psychological fear of being laughed at, he wants to make it illegal to hurt his feelings.
"Should be tested in courts, can't be legal?" Trump wrote. "Only defame & belittle! Collusion?"
Here's the rest of the story…
On December 16, 2018, Daniella Cheslow of NPR penned the following report, 'I Wish I Had Never Been President': SNL Imagines 'It's A Wonderful Trump'
Excerpts:
"It's Christmas and Kellyanne Conway spots Donald Trump at a party."
"After we lost the campaign, the devil did give me my soul back," Conway (played by Kate McKinnon) says. "Excuse me, I have to go find my husband who I do speak to now."
"Saturday Night Live spoofed the White House in a parody of It's a Wonderful Life, featuring Alec Baldwin as a beleaguered President Trump who is visited by an angel, Clarence (Kenan Thompson) and tells him he wishes he had never been president. The cold open got a rise out of the White House and served as a reunion of celebrity cameos to relive the year's political turmoil."
"In the sketch, which you can watch above, Clarence grants Trump's wish and the two walk through a Christmas party."
"They meet Sarah Huckabee Sanders (Aidy Bryant), who says, "I just wanted to thank you for suggesting I go into PR. I've made so much money working for so many awesome companies, like Facebook, and Ashley Madison, and the Romaine Lettuce Association."
"Clarence says Hillary Clinton won, because "in this reality all she had to do to win was visit Wisconsin once."
"Trump's two sons appear, with Eric (Alex Moffat) solving a Rubik's cube. SNL has lampooned Eric Trump as being an overgrown boy. In this telling, Don, Jr. (Mikey Day) says Eric had time to attend adult education classes because he wasn't running the Trump Organization."
"Every person in the room seems better off without Trump in the Oval Office. Melania Trump (Cecily Strong) says she got divorced, improved her English and launched a real estate empire. Robert Mueller (Robert DeNiro) spent more time with his grandson. Michael Pence (Beck Bennett) became a DJ. Brett Kavanaugh (Matt Damon) hung out more with his high school drinking friends."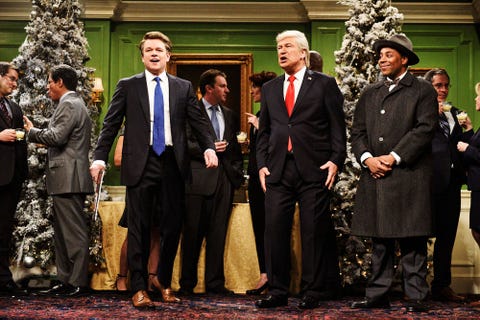 "This night has put everything in perspective," Trump says at the end. "I've had an epiphany. I guess the world does need me to be president after all."
"That was not the lesson I'd hoped," Clarence deadpans.
"Tweeting Sunday, Trump wrote, "A REAL scandal is the one sided coverage, hour by hour, of networks like NBC & Democrat spin machines like Saturday Night Live."