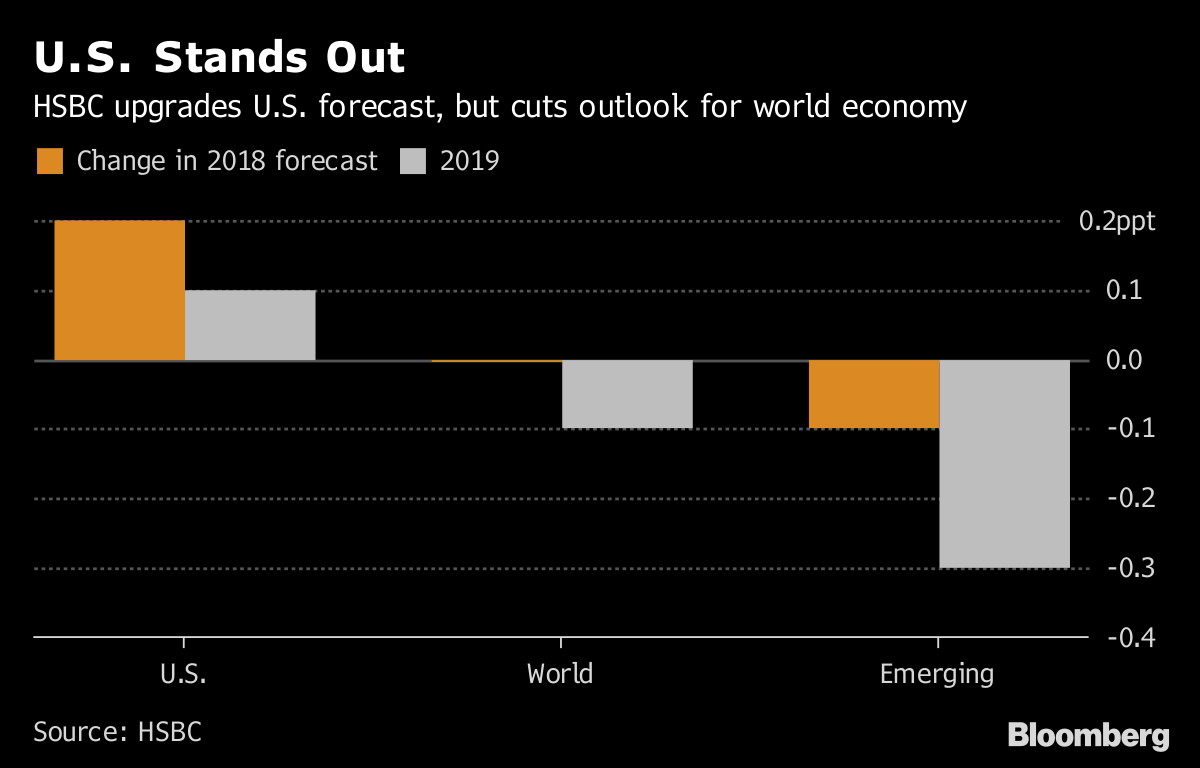 Bloomberg is one of my favorite sources for business-political news. The "R" word is becoming more prevalent and worrisome.
Here's a run down of Bloomberg's predictions for this new year of 2019….
On January 2, 2019, Mark Gongloff of Bloomberg penned the following analysis, "Markets Keep Flashing Recession Warnings" ("From doom loops to the yield curve, there's plenty to worry about.")
Excerpts:
Today's Agenda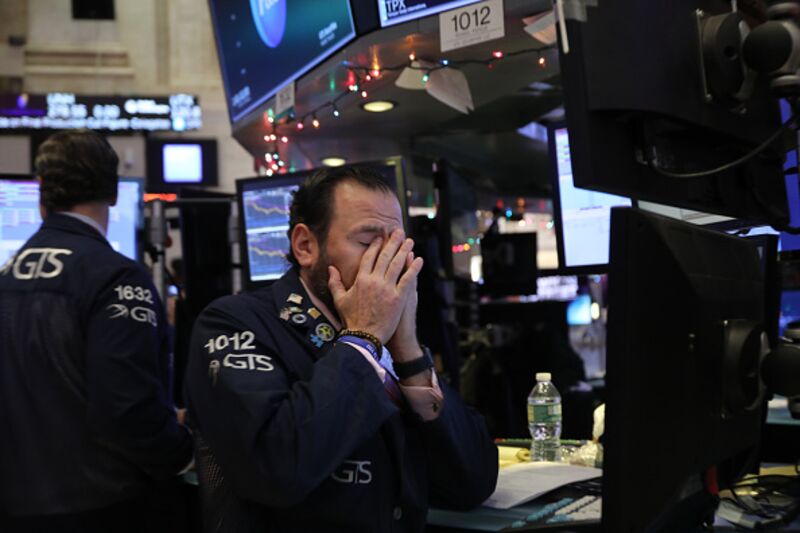 In that vein, Satyajit Das presents how the global economy could go horribly wrong this year as central banks tighten financial conditions and markets reel and swoon in response (U.S. stocks started the New Year off with some reeling and swooning today). He warns these conditions risk triggering a series of interlocking "doom loops," which sound like cool toys your tween nephew got on Christmas but are actually mutually reinforcing weapons of mass financial destruction. These are the collateral doom loop, the hedging doom loop, the sovereign doom loop, the intermediary doom loop and the real economy doom loop. Not as scary as Death, Famine, etc., but still worrisome. Read the whole thing."
Already financial markets are signaling a recession may be much closer at hand than the consensus expects, warns Komal Sri-Kumar. This includes last year's stock-market meltdown, the worst in a decade (or, as President Donald Trump described it today, a "glitch"). But the scariest indicator right now, Komal suggests, is the price of crude oil, which has collapsed as markets price in sinking demand. Read the whole thing.
"One sure-fire recession indicator is juuuust this side of flipping red: the yield curve, or the gap between short-and long-term interest rates. Over the past 30 years, when the gap between 2- and 10-year Treasury yields turns negative, a recession follows (eventually). We're almost there, notes Noah Smith, who argues this suggests the Fed should take Trump's advice and cool it with the rate hikes for a while."
Wanted: Economic Leadership
Recessions are bad enough, but a U.S. recession would be particularly ugly for the rest of the world, given that America's economy has been a rare global bright spot lately, writes Mohamed El-Erian. A downturn here would make weakness in China, Europe and elsewhere even worse. The Fed could help by cooling it with the rate hikes, as mentioned above. But Trump could also help by cooling it with the shutdown threats and trade-partner alienation and by working with Democrats on infrastructure, Mohamed notes. Read the whole thing.
And anybody waiting for economic leadership out of Beijing will be disappointed, writes Christopher Balding. China's recent Central Economic Work Conference was a complete dud, with no new stimulus announced, despite obvious signs of a slowdown, such as this: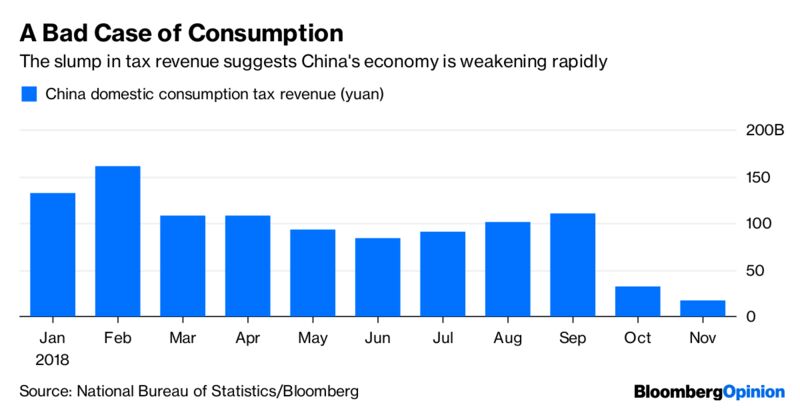 Further dithering will only make the economic pain greater and the medicine harsher, Chris warns.
Further China-U.S. Leadership-Void Reading: Trump's China strategy will backfire if he's not careful. – Anne Stevenson-Yang
Romneymentum Will Only Go So Far
Mitt Romney launched his Senate career with an op-ed yesterday scolding Trump for his generally poor presidenting. And that has raised lots of chatter about whether Romney or some other Republican might challenge Trump for the 2020 presidential nomination.  Ramesh Ponnuru suggests such talk is a pipe dream: There are good reasons nobody has mounted a serious primary challenge to a sitting president since Ted Kennedy in 1980. Even if a lot of Republicans agree with Romney, everybody must realize such a challenge would not only fail but destroy the political career of the challenger. Read the whole thing.
Further Politics Reading: Predicting what will happen with the shutdown is difficult when one side (Trump's) is being completely irrational. –  Jonathan Bernstein 

Theresa May's Potemkin Doomsday Prepping
The British government's effort to prepare for a no-deal Brexit is so late and inadequate that it would be hilarious – if it weren't also such a giant waste of money, Bloomberg's editorial board writes. Theresa May wants opponents of her terrible Brexit deal to think a disastrous no-deal Brexit is the only alternative, and so she's lamely pretending to prepare for it. But it's past time for her to admit the U.K. will never be ready for a no-deal Brexit and that it would be such a nightmare she can't possibly let her country wander into it, the editors write. Read the whole thing.
Bonus Editorial: Wind and solar power generation is getting cheaper, but it's still not widespread. We need clean nuclear power, not fossil fuel, to carry us to the day when renewables can stand on their own.
Tesla's Not-So-Shiny New Year
Tesla Inc. had a forgettable 2018, but 2019 is off to a bad start too, with the stock tumbling 7 percent today, even after the company reported record sales in the fourth quarter. The trouble, as Liam Denning writes, is that Tesla needs fat profit margins to maintain its free-spending lifestyle, and the quarters's sales mix suggests those are thinning.
At least Tesla's problem today was numbers and not the antics of Elon Musk, though it's early yet. Tesla did start 2019 with a new board member, Oracle's Larry Ellison, who is meant to provide some adult supervision. But Liam Denning points out in a second column that Ellison is a Musk buddy who also seems to think you have to be able to land a rocket on a raft before you can criticize Musk. This … eliminates an awful lot of potential critics.


Corporate Fortune-Telling
You might think astrology is just so much pseudoscientific foolishness designed to reinforce the fears and biases of its participants. And you would be right! But Bloomberg Opinion's in-house astrologers are different. Tara Lachapelle and assistant fortune-tellers Shira Ovide, Brooke Sutherland, Liam Denning, Brian Chappatta and Max Nisen rely on financial data and, like, knowledge – rather than Tarot cards and tea leaves – to scry the years ahead for CEOs around the zodiac. Their horoscopes include Capricorn (Mary Barra),  Sagittarius (Abigail Johnson),  Cancer (Elon Musk), Scorpio (Tim Cook) and others. Read the whole thing.
Further CEO Reading:  Larry Culp seems to have the right ideas for turning around General Electric Co., but man, is it a mess. – Brooke Sutherland
Telltale Charts
"Bond bear market confirmed," Bill Gross wrote on January 9, 2018. Turns out it wasn't, writes Brian Chappatta: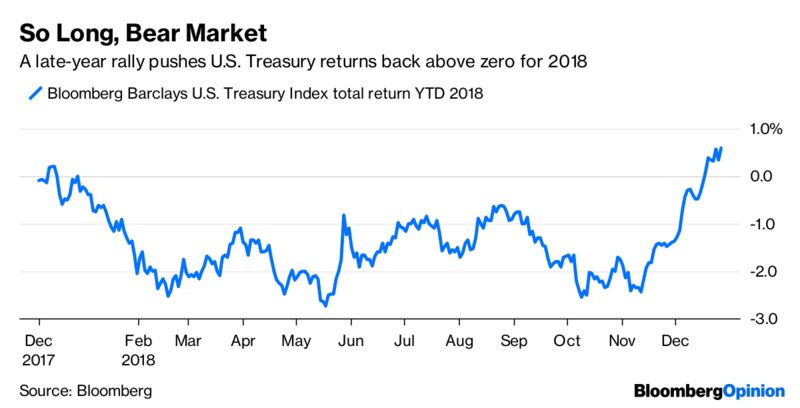 The ECB's QE program has had a big impact on Europe's corporate bond market. And though it's stopping net new purchases this year, the bank will still deliver plenty of benefit in 2019, writes Marcus Ashworth, with some enlightening charts from Elaine He.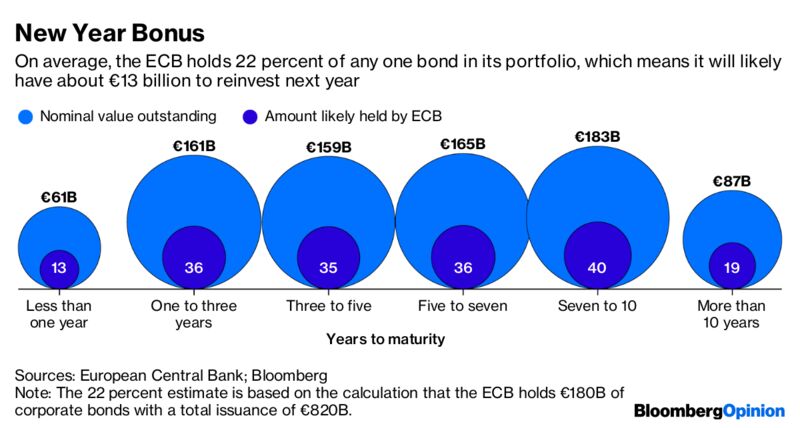 Further Reading
Europe's new banking supervisor has sprung into decisive action on his first day. – Elisa Martinuzzi  
Brazil's new president Jair Bolsonaro has much in common with Saudi Crown Prince Mohammed bin Salman; the U.S. will have to handle its relationship with him more deftly than it has with MBS. – Eli Lake  
Kim Jong Un is clearly losing patience with peace talks. The U.S. should not. – James Stavridis
Marco Rubio no longer sounds like a conservative on economic policy; he sounds like Trump. – Michael R. Strain
After pretending to care about high drug prices last year, Big Pharma is once again raising them. – Max Nisen
A free press is not the enemy of the people, but of lies. – Al Hunt 
NFL team losing? Firing the coach probably won't help. – Stephen L. Carter 
Link to entire report: Markets Keep Flashing Recession Warnings