There are many in the US and in the UK who are comfortable in discounting the Russian influence in creating the chaos, gridlock, its citizens losing trust in its institutions, But I'm not one of them.
The Russian President Vladimir Putin has to be sitting back watching what he has wrought in both countries. My prayer is for both countries to be blessed with leaders and/ or grass roots movements dedicated to the goals of the healing of its citizens on both sides of the pond, and that of wiping that smirk off President Putin's face
It's devastating news. The British Parliament's Brexit vote went down to defeat on the 15th of January 2019 by a wide margin of 230 points. The British parliament rejected the Prime Minister's plan for how the UK  would implement its withdrawal from the European Union, by a vote of  432-to 202. Prime Minister May has been working on her proposal for 2 years which has been a gruesome process with political machinations that have been maddening.
PM May's proposal was a compromise — an attempt to split the baby by having the UK  remain on good footing with the EU while also implementing a a formal break with the EU bloc.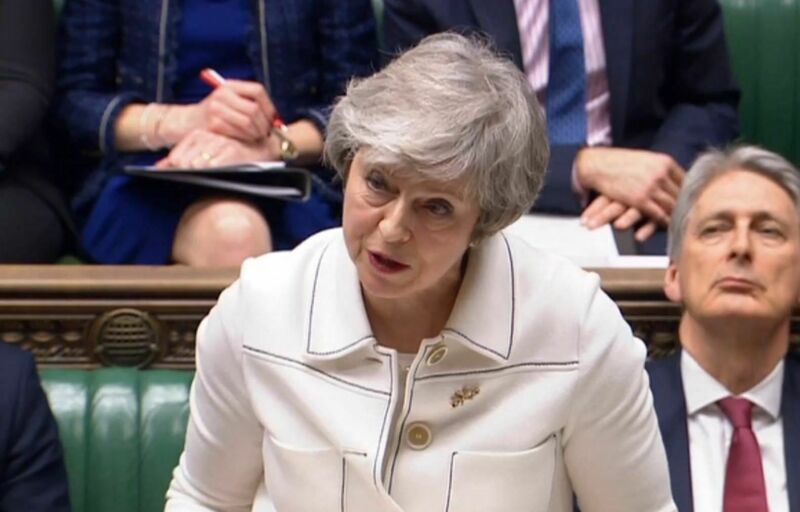 As per a 1/15/19 VOX report, "One of the sticking points that has emerged prominently in the debate is the "Irish backstop," which is basically an insurance policy to guarantee that the border between Northern Ireland (which is part of the UK) and the Republic of Ireland (part of the EU) remains open as the UK and EU try to negotiate their future relationship."
"But the deal found opponents on both sides of the Brexit debate, from Brexiteers who wanted a more decisive split with the EU and believe the backstop is a trap to keep the UK tied to the EU, and those who want to remain close to Europe or really don't want to break up with the bloc altogether. Each, in some way, was hoping that they wouldn't have to compromise and, by defeating the deal, could get their way."
After this humiliating defeat, PM Theresa May has already publicly declared that she's not stepping down from her post.
UPDATE ON 1/16/19: As per a 1/16/19 Guardian report, UK Government defeats Labour's no-confidence motion with 325 to 306 votes amid uncertainty of what to do next.
Everyone is asking  WHAT NOW?
Here's the rest of the story…
On January 15, 2019, William Booth and Karla Adam of the Washington Post penned the following report, "Brexit vote: British Parliament rejects Theresa May's Brexit deal, leaving withdrawal from E.U. and prime minister's political future in doubt"
Excerpts:
"With just 73 days to go until Britain is scheduled to leave the European Union, lawmakers rejected — by a vote of 432 to 202 — the withdrawal deal that had been painstakingly negotiated between Prime Minister Theresa May and the European Union."
"The landslide vote was pure humiliation for a British leader who has spent the past 2 years trying to sell her version of Brexit, and it increased doubts about how or whether Britain will leave the E.U. on March 29."
"May stood almost alone, as many in her own party abandoned their leader."
"Jeremy Corbyn, the opposition Labour Party leader, called the loss historic. He said her process of "delay and denial" had lead to failure. He then introduced a motion of no-confidence, to be debated on Wednesday."
"During the evening debate, as the members in the chamber hooted and jeered, the speaker gaveled the members to quiet, complaining of the "noisy and unseemly atmosphere."
"The House must calm itself. Zen!" John Bercow shouted."
"Before the vote, May told Parliament that the choice was plain: support her imperfect, but practical, compromise deal — and the only one that Europe will abide, she stressed — or face the cliff edge of no-deal Brexit. May said that everyone who thought they could go to Brussels and get a better deal was deluding themselves."
"But the vote was decisive. "
"May said she would reach out to members of Parliament to find out what Brexit deal, if any, they would endorse. Her office has been tight-lipped about what alternatives she might offer. "
"The debate in the chamber before the votes were cast was impassioned."
"The rising Labour Party star David Lammy recalled how he had confronted his constituents who sympathized with the violence carried out by rioters in London in 2011. Now he said felt the same duty to confront his neighbors over Brexit."
"Why? Because we have a duty to tell our constituents the truth, even when they passionately disagree ," Lammy said. "Brexit is a con, a trick, a swindle, a fraud."
"In an emotional speech, Geoffrey Cox, a Conservative lawmaker and the Attorney General, urged the chamber to back May's deal to avoid legal uncertainties."
"You are not children in the playground, you are legislators — we are playing with people's lives," Cox said."
"Historians scoured the past for comparisons for the scale of defeat."
"Scholars had to go as far back as the 19th century to find a comparable party split and parliamentary defeat — to Prime Minister William Gladstone's support for Irish home rule in 1886, which cut the Liberal Party in 2."
"The events in Parliament today are really quite remarkable," said Cambridge University political historian Luke Blaxill. "This doesn't happen." Meaning, usually British parties fight with one another in Parliament — but members don't tear their own parties apart."
"Brexiteers banged drums and rang a "liberty" bell, while pro-E.U. demonstrators handed out "Bollocks to Brexit" stickers in Parliament Square beside 2 huge video screens set up for the live broadcast of the final speeches and the vote."
"Jeff Wyatt, 54, a pro-Brexit voter, held aloft a placard that accused May of treason. Another man in the crowd suggested that the prime minister should face the executioner's ax."
"For the first time in the history of my country, we've got Parliament against the people," Wyatt said."
Monika Wolf, 57, was clutching an E.U. flag and a Union Jack. She moved to Britain from Germany in 1981, and studied and raised her children here. In an ideal world, she said, Brexit would be stopped. She hoped to see "more statesmanship from the big parties — they both talk about bringing the country together, but so far they haven't done anything."
"Outside Parliament on Tuesday (1/15/19), the scene was raucous as thousands of protesters on both sides, many in costumes, gathered to shout at each other — illustrating how unsettled and divisive Brexit remains more than 2 years after voters opted in a 2016 June referendum to leave the European Union. It was the largest balloting in British history. "
"Over the past weeks, with growing fervor, May has warned Conservative Party members of Parliament that they gambled all if they voted down her half-in, half-out compromise plan."
The British leader argued that rejection of her plan could bring about a fraught "no-deal" Brexit, loaded with financial risk. Or worse, she warned, opponents of Brexit could succeed in their drive to call for a second referendum on whether to remain in or leave the continental trading bloc. "
The prime minister suggested that Brexit supporters might even lose that second vote and be saddled with a bitterly divided nation and the status quo.
"If we don't vote for this agreement, then we risk playing into the hands of those who don't want Brexit to go ahead," Environment Secretary Michael Gove told BBC."
Link to Washington Post report: Brexit vote: British Parliament rejects Theresa May's Brexit deal …
See: Deal or no deal? Theresa May's Brexit vote, explained.]
See Guardian report: Brexit vote: Jeremy Corbyn tables vote of no confidence …
As per 1/14/19 Bloomberg report, "Brexit Bulletin: The Depth of Defeat" by Emma Ross-Thomas, "PM Theresa May's Brexit accord goes to Parliament at last on (the 15th of January 2019) for a vote she can't hope to win. Instead, it's become an exercise in gauging just how dead her deal is, and what the way out of the impasse might be."
Brexit in Brief