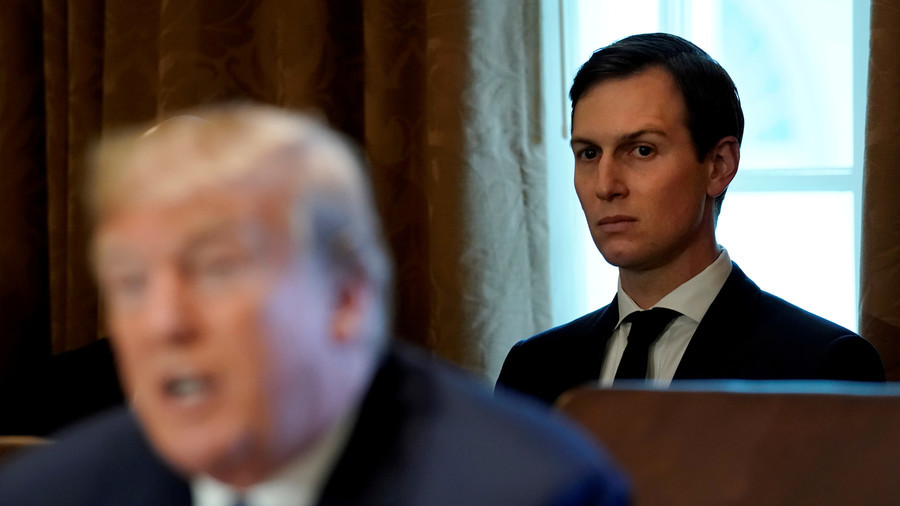 I've been saying that one of the positive outcomes of Donald Trump being the 45th US president is that he highlights the issues that require fixing for future leaders living in the White House.
For example, one of the laws that might come out as a result of his presidency that the vast majority of Americans could support, is that of the US Congress legislating an end to the possibility of future government shutdowns where good, hard-working Americans are used as pawns because our US elected officials can't figure out to do their jobs, as we the American taxpayers pay their salaries.  To add salt to injury, this past 2019, 35 day government shutdown cost the US taxpayers, a CBO estimate of $11 billion dollars.
Then there'll eventually be legislation requiring that all future US presidential candidates be required to make public at least 10 years of their IRS tax returns. If this could be passed in 2019, it could prevent President Trump from running to be reelected in 2020.
Anther legislative fix would be to bar the practice of nepotism in the White House. The president's son-in-law and adviser Jared Kushner is a case in point.
There's the recent news expose about how Mr. Kushner managed to obtain the security clearances that he currently has, under suspicious circumstances. Then there is the reporting about his recent involvement in attempting to be a catalyst for a solution acceptable to all parties regarding ending the January 2019 government shutdown over the president not getting additional funding for his US SW border wall. Can you believe that he was one of those who thought that eventually the public would shift the blame for the shutdown to US Congressional democrats? Oh yes, he's the same individual who convinced his boss that the democrats would be approving of his past firing of the former FBI Director James Comey.
Here is the rest of the story…
As per the 1/25/19 Business Insider report, Jared Kushner's request for a top-secret clearance had been rejected by 2 longtime White House security experts. Their supervisor reportedly overruled them" by Sarah Gray:
Bullet Points
"Rep. Elijah Cummings, chairman of the House Oversight and Reform Committee, responded on Thursday (1/24/19) to a NBC News report about White House adviser and President Donald Trump's son-in-law Jared Kushner's security clearance."
"Kushner's clearance has previously been the subject of scrutiny."
"In July of 2018, The Washington Post reported that Kushner held "top secret" security clearance — but had not yet been approved by the CIA for "sensitive compartmented information," or SCI, clearance — after having interim clearance for more than a year."
"Now NBC News is reporting that initially two career White House career security experts deemed his application for "top secret" clearance "unfavorable," according to two NBC News sources."
"NBC News is reporting that, initially, two career White House security experts deemed Kushner's application for "top secret" clearance "unfavorable," according to two NBC News sources. Allegedly, supervisor Carl Kline, a former Pentagon employee, overruled their recommendation and Kushner was granted "top secret" clearance."
"Kline was appointed as the director of the personnel security office of the Executive Office of the President in May of 2017, NBC News reported. The sources who spoke to NBC News said Kline had disregarded the career adjudicators' advice around 30 times."
Link to entire report: Jared Kushner's request for a top-secret clearance had been rejected …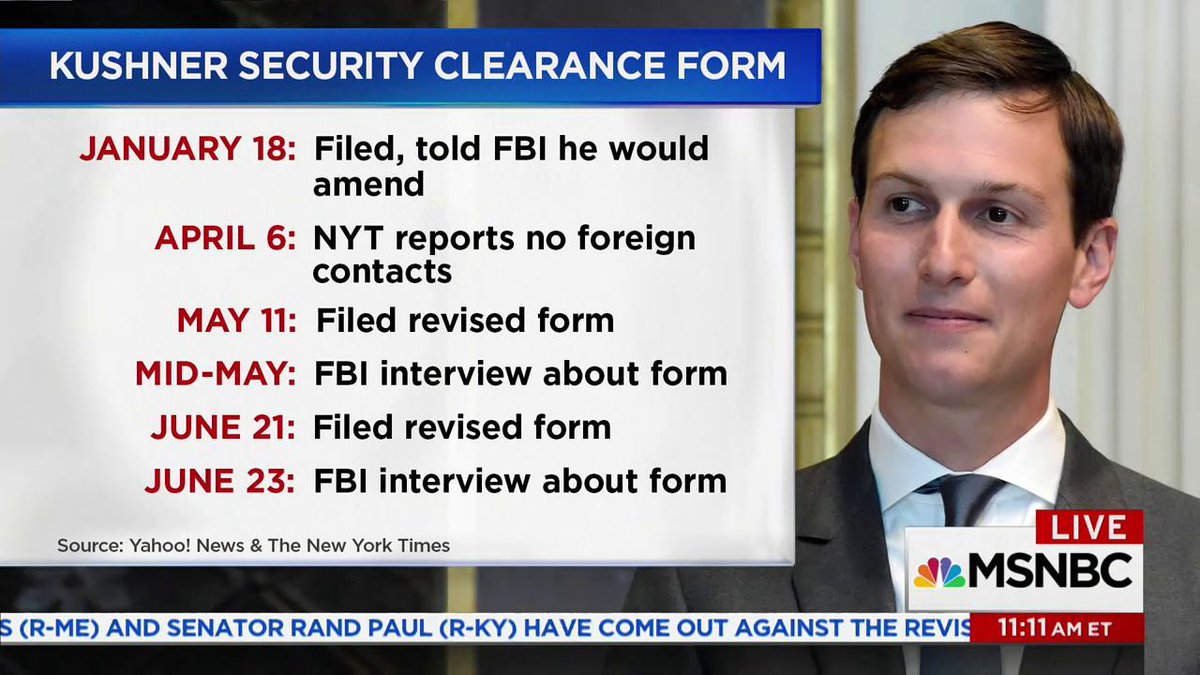 On January 26, 2019, Annie Karni and Maggie Haberman of the New York Times penned the following report, "Jared Kushner, a Confident Negotiator, Finds Immigration Deal to Be Elusive"
Excerpts:
"Jared Kushner, the president's son-in-law, was confident in his ability as a good-faith negotiator who could find a compromise to end the government shutdown."
"His pitch to Democratic lawmakers was simple: He told them he was the person who could "land this plane."
"Buoyed by his success in helping pass a criminal justice bill, Mr. Kushner, a senior White House adviser, agreed to take the lead when the president asked him to find a way to end the month-long stalemate. He hoped his experience winning over Democrats skeptical of the Trump administration during negotiations for that measure would produce a similarly successful conclusion."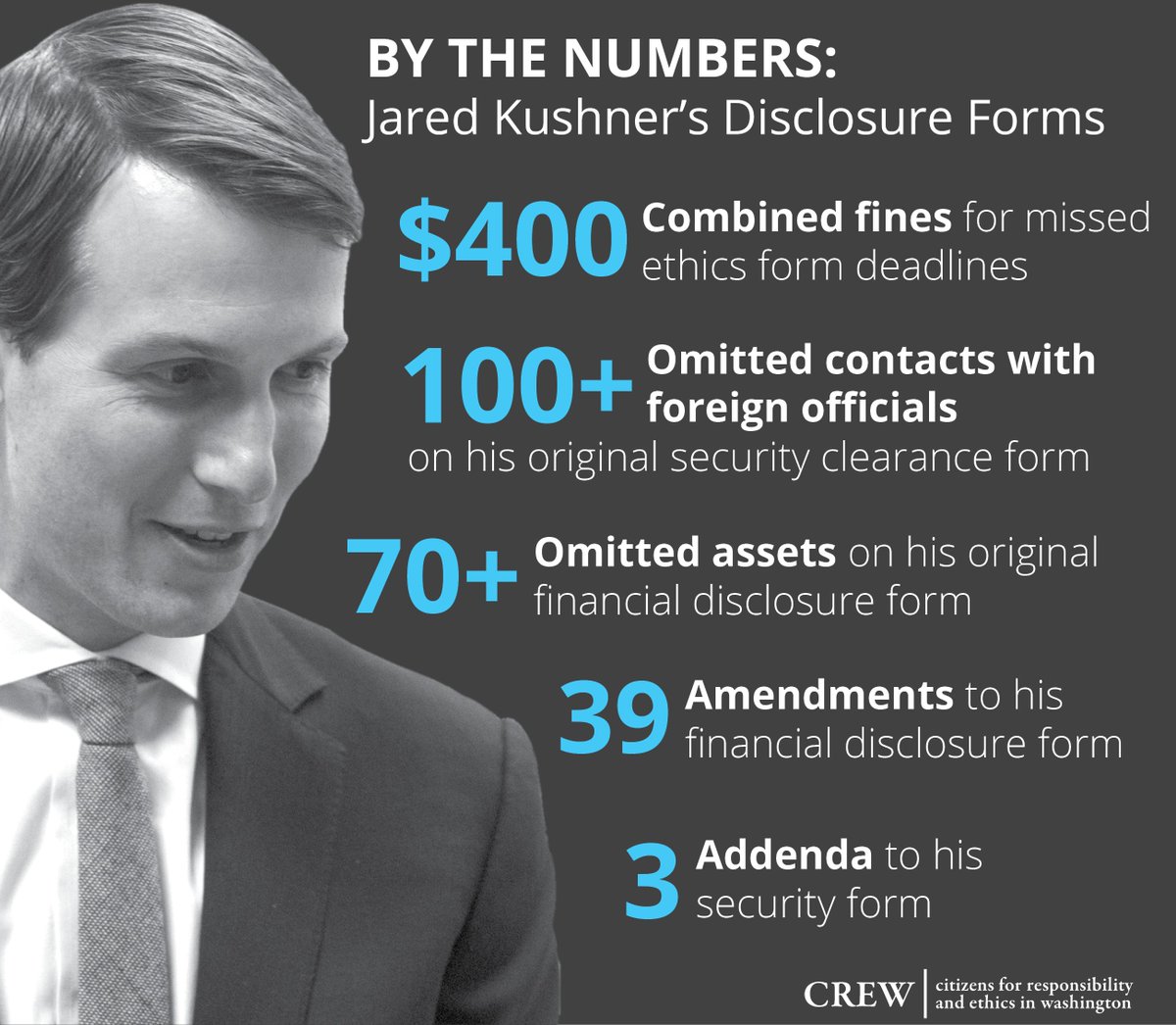 But negotiating a broad immigration deal that would satisfy a president committed to a border wall as well as Democrats who have cast it as immoral proved to be more like Mr. Kushner's elusive goal of solving Middle East peace than passing a criminal justice overhaul that already had bipartisan support."
"For one, Mr. Kushner inaccurately believed that moderate rank-and-file Democrats were open to a compromise and had no issue funding a wall as part of a broader deal.
"If Jared Kushner thinks there is any daylight between House Democratic leadership and rank-and-file members on this issue, then the extent that he lands this plane it will land in the Alamo," said Representative Hakeem Jeffries, Democrat of New York."
"And Democratic leaders like Senator Chuck Schumer, party officials said, did not believe that Mr. Kushner had the power to circumvent Stephen Miller, a senior policy adviser to the president. In meetings, they also noticed, Mr. Kushner appeared to prop up Mr. Miller as an expert on immigration, noting that Mr. Miller's reputation as a hard-liner was out of sync with his reasonable nature."
"On Friday (1/25/19), President Trump did what Mr. Kushner had privately insisted was not an option on the table: He folded."
"Standing in the Rose Garden, Mr. Trump announced he was ending the standoff, during which he had failed to convince Democrats to fund a $5.7 billion border wall, and was reopening the federal government for three weeks."
"It was a stunning setback for the president and for Mr. Kushner, who had told colleagues that public opinion would move to their side and that Speaker Nancy Pelosi would emerge as the one who looked unreasonable and intransigent."
"Mr. Kushner had advised the president against declaring a national emergency, which would enable him to get funding for his wall without approval from Congress. Instead, he ultimately pushed Mr. Trump toward the announcement he made on Friday, supporting it as a way to buy more time to reach a deal."
"Mr. Trump, White House aides said, has been frustrated at everyone around him for not delivering a deal he can accept. And he has become wary of his son-in-law's advice on this issue, the aides said."
"This account is based on interviews with more than a dozen congressional officials, White House aides and people involved in the immigration debate."
Link to entire report: nytimes.com