On January 27, 2019, Senator Kamala Harris delivered an outstanding overture to a huge, cheering crowd in her home town of Oakland, California, to tell voters why she has decided to throw her hat into the ring to become the next Democratic Party presidential candidate in 2020. This has been her week starting on 1/21/19, as she announced her candidacy on ABC's "Good Morning America, which has been followed up by her being interviewed on just about every TV show that counts like, The View, Morning Joe, The Stephen Colbert Show.
Her kick-off speech, was carried live on just about every US cable news network, which explains why her speech was geared towards a national audience. She hit all the right notes on topics like universal healthcare, pre-kindergarten childcare, debt-free college, a working- and middle-class tax cut, and an welcoming immigration system that welcomes refugees.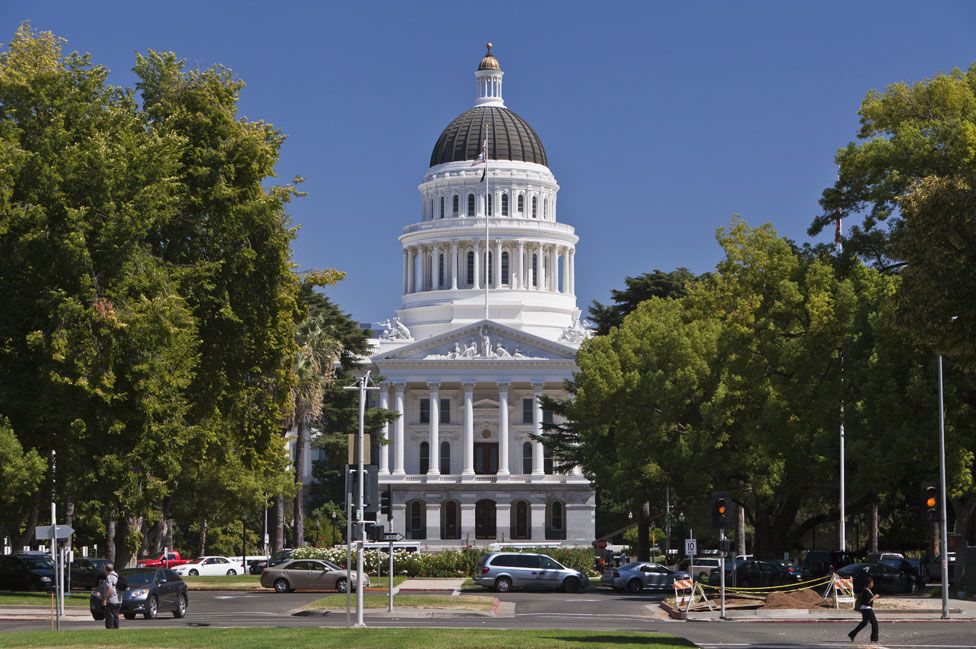 The Democratic Party Senator Kamala Harris from California has seen her star rising for some time. I first started paying attention to Senator Harris when as a member of the US Senate Judiciary Committee, with her past experience as a San Franciscan district attorney, she had a way of asking the tough questions.
I recall her once in 2017, as she was asking some tough but relevant questions of the US Attorney General Sessions when her republican colleagues kept interrupting her where it became obvious.
As per the June 13, 2017 New York Times report, Senator Kamala Harris, Democrat of California, was cut off by Republican senators as she questioned Attorney General Jeff Sessions during the latest high-profile Senate Intelligence Committee hearing in its investigation into Russian election interference."
"Ms. Harris, a former prosecutor, employs a rapid-fire questioning pace more commonly seen in courtrooms — a style that at times has her interrupting witnesses, which is frowned upon in the Senate, where decorum is still prized. But the moments were notable as the second time in a week that Ms. Harris, who is of Indian and Jamaican descent and is the only minority woman on the committee, was interrupted by two male colleagues during a hearing."
"Last Wednesday, Ms. Harris was interrupted by Senator Richard M. Burr, Republican of North Carolina and the chairman of the committee, and Senator John McCain, Republican of Arizona, as she tried to question the deputy attorney general, Rod J. Rosenstein. On Tuesday, the two again interjected as she questioned Mr. Sessions over his role as campaign surrogate for President Trump and contact with Russian officials."
"I'm not able to be rushed this fast," a visibly flustered Mr. Sessions said to Ms. Harris at one point. "It makes me nervous."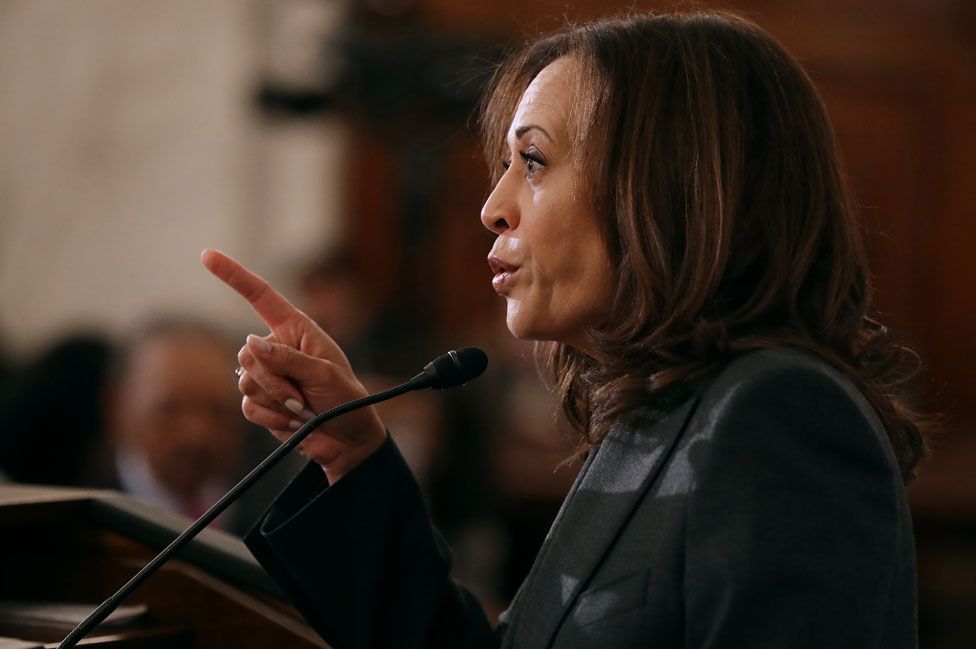 Here is a partial transcript of Ms. Harris's exchange with Mr. Sessions.
HARRIS: "Is that policy in writing somewhere?"
SESSIONS: "I think so."
HARRIS: "So did you not consult it before you came before this committee knowing we would ask you questions about that?"
SESSIONS: "Well, we talked about it. The policy is based …"
HARRIS: "Did you ask that it would be shown to you?"
SESSIONS: "The policy is based on the principle that the president …"
HARRIS: "Sir, I'm not asking about the principle. I am asking, when you knew you would be asked these questions and you would rely on that policy, did you not ask your staff to show you the policy that would be the basis for you refusing to answer the majority of questions that have been asked of you?"
McCAIN: "Chairman, the witness should be allowed to answer the question."
BURR: "Senators will allow the chair to control the hearing. Senator Harris, let him answer."
As per GovTrack.us, Kamala Harris sits on the following committees:
Senate Committee on the Budget.
Senate Committee on Homeland Security and Governmental Affairs. Member, Subcommittee on Federal Spending Oversight and Emergency Management. …
Senate Committee on the Judiciary. …
Senate Select Committee on Intelligence.
Here is the rest of the story…
On January 21, 2019, Melanie Mason of LA Times penned the following report, "Kamala Harris jumps into presidential campaign as first-tier candidate"
Excerpts:
"Kamala Harris, a first-term Democratic senator from California who captured national attention for her prosecutorial grilling of Trump administration officials, entered the 2020 presidential fray on Monday, casting her candidacy as a campaign to preserve American ideals."
"Stressing her experience as a prosecutor, Harris drew a clear contrast with President Trump, without mentioning his name."
"The American people deserve to have somebody who is going to fight for them, who is going to see them, who will hear them, who will care about them, who will be concerned about their experience and will put them in front of self-interest," she said as she made her announcement on ABC's "Good Morning America."
"Harris, 54, is the fourth female member of Congress to dive into the increasingly crowded Democratic presidential primary field and the first woman of color to be a top-tier candidate. She launches her campaign in the same week that Shirley Chisholm, the first African American woman to run for president, started her bid 47 years ago."
"The Oakland-born child of a Jamaican father and an Indian mother, Harris straddled cultural lines in her upbringing. She grew up in a black middle-class neighborhood in Berkeley, spent time with her mother's family in Chennai, India, and attended a black Baptist church and a Hindu temple. Her Sanskrit first name, meaning "lotus flower," has often befuddled people over its pronunciation. (Say comma, like the punctuation, and append a "la.")
"Harris, among the Democratic candidates announced so far, is probably the strongest study in contrasts with Trump," said Karthick Ramakrishnan, professor of public policy at UC Riverside."
"Speaking to reporters Monday at her alma mater, Howard University in Washington, D.C., Harris portrayed California as a microcosm of the nation, arguing that campaign messages that resonate in her home state will find appeal elsewhere."
"I am a proud daughter of Oakland, Calif.," Harris said, "and I also know that in that state of almost 40 million people, the state is as diverse as our country is."
"She added: "I have traveled our country. … I know that, regardless of the state in which someone lives, the core issues that are their concerns, that weigh on them, that cause them to wake up in the middle of the night, are usually the same concerns."
"Harris worked 13 years as a prosecutor in Alameda County and San Francisco before running for San Francisco district attorney. That first venture into electoral politics 15 years ago was a bruising battle against a Democratic incumbent who was her former boss. In 2010, she became state attorney general in one of the closest statewide elections in California history."
"Her record of winning taxing campaigns may serve her well in her White House bid, said Katie Merrill, a Democratic strategist based in the Bay Area."
"She's been there. She's run tough races," Merrill said. "So much of what happens to candidates when they move to the national stage is they're not used to being in the spotlight, they're not used to the grueling schedule, and they crumble. She has proven she's got the goods to run this race."
"Harris handily won her Senate race in 2016, beating Rep. Loretta Sanchez, a fellow Democrat. In the Senate, her seats on the powerful Judicial and Intelligence committees have let Harris display her cross-examination know-how. Her brisk, no-nonsense interrogation of Brett M. Kavanaugh, who was later confirmed to the Supreme Court, and then-Atty. Gen. Jeff Sessions won plaudits from liberals longing for a forceful challenge to the Trump administration."
"Her prosecutorial experience will likely be central to her pitch for the Democratic nomination, and her record could prove alternately appealing and alienating to those across the political spectrum."
"As district attorney, she bolstered her progressive bona fides by staunchly opposing the death penalty. But her decision not to seek the death penalty for the killer of a San Francisco cop, announced just days after the officer was slain, infuriated local law enforcement. She also came under fire for failing to disclose damaging information about a crime lab employee — and frequent witness for prosecutors — who was caught stealing cocaine for personal use."
"As attorney general, she took a central role in brokering a nationwide $25-billion settlement with mortgage firms for improper foreclosure practices, at one point halting negotiations to secure more money for California. She also made headlines for deciding not to defend a state ban on same-sex marriage in the courts."
"She has faced criticism from the left, with some advocates of overhauling the criminal justice system saying she was tepid in pursuing reforms."
"With demonstrated fundraising ability and a sizable social media following, Harris enters the race as a top-tier candidate. But in a notable slight, her fellow senator from California, Dianne Feinstein, said earlier this month that she'd back former Vice President Joe Biden should he run for president."
"Asked if she'd support Harris' presidential bid, Feinstein called herself a "big fan" of her colleague but noted "she's brand-new here.""
"Harris has spent most of January on a promotional barnstorm for her new memoir, providing the senator a chance to acquaint the public with her biography and resume."
"She'll head to South Carolina on Friday for a gala hosted by a local chapter of Alpha Kappa Alpha, the first college sorority founded by African Americans, which Harris joined as a student at Howard University. "
"Following her Oakland rally, Harris will visit Iowa, her campaign confirmed. She'll appear at a town hall hosted by CNN on Jan. 28."
Link to entire report: Kamala Harris jumps into presidential campaign as first-tier candidate