Imagine a time in the 1980s-1998, there is an exciting, exceptionally athletic Black ice skater who kept coming close, time after time to winning the top prize at the Olympic games and at the World Championship events but she never makes it. The fans love her as she is truly an amazing figure on the ice. Her name is Surya Bonaly.
She did all the different moves / jumps as described in the below video with ease. But because of the color of her skin, she never knew if the judges kept rewarding her with lesser scores time after time on this basis or because she actually didn't earn it. At the time, she was the only Black figure ice skater who had been competing at all the major contests.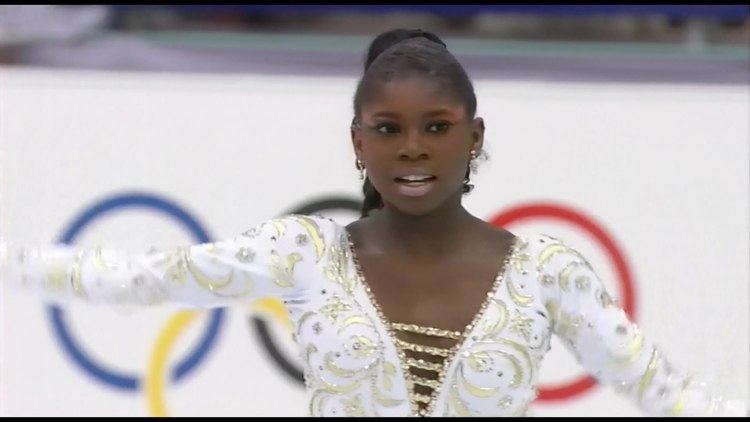 But unlike Serena Williams who has also complained of perceived slights because of her color and athletic style, where she could count on the tennis court lines and the ball being either in or out, for Surya Banaly, the judging in the sport of ice skating is much more subjective.
I, for one, am grateful that she continued to compete in figure ice skating programs for years, as there are ample videos demonstrating how great an athlete that she was despite whatever was said by the judges.
In 1998, she became a sensation around the world for a show stopping stunt at the Ice Skating Olympics in Japan. This was to be the last time Surya Banaly would be competing. Before the competition she suffered a serious injury to her ankle but she decided to go for it anyway. Early on in her routine before the crowd she fell. She realized it would be impossible to win any major awards, so she decided to do her thing and show off her athletic skills. Even with an injured ankle, she did with incredible ease, a move called the Banaly back flip where she finishes the flip by landing on one leg. This jump is so dangerous that it is banned from being tried in competitions. But she stole the show. Some thought it was her way of giving the judges, the proverbial finger.
As per 2/21/18 Face2Face Africa report, A little more about Bonaly: 
"She was born in France, and adopted by parents who gave her the name Surya Bonaly at 18 months. As a 2014 feature about her on Huffington Post  highlighted, she has always been a crowd favorite, with exceptional style both on the ice and in her outfits and "makeup."
"In addition to her many medals and accolades, she has been extremely vocal about race and unfair treatment in the sport. In an interview where she was asked if her race affected her career? Bonaly said, "if I'd been white, I would have had more [endorsement] contracts and been bigger."
"This was also evident when she famously removed the silver medal from her neck during the medal ceremony at the World Championships in 1994 after winning second place when she believed she deserved first."
"Now 45, she continues to skate and coach around the world." (She lives in Minneapolis, Mn. area.)
On February 22, 2018, Tik Root for the Washington Post penned the following report, "Twenty years later, figure skating's most famous back flip remains amazing (and illegal)"
Excerpts:
"Figure skating involves spins, jumps, twizzles and a whole host of other complicated elements."
"One showstopper you won't see at the Olympics, however, is a back flip. The move was banned in 1976, and doing one in competition would certainly tank a skater's score, and perhaps lead to disqualification. Which makes what French figure skater Surya Bonaly did 20 years ago all the more remarkable."
"Born in Nice, France, Bonaly, who is black, was adopted by white parents and grew up in a world where she felt she had to try harder."
"I don't know if race made it more difficult, but it certainly made me stronger," she told ESPN several years ago. "Maybe I won't be accepted by a white person. But if I'm better, they have no choice."
"Bonaly became a three-time world championship silver medalist and a three-time Olympian. But on more than one occasion, she finished lower than she, and others, might have expected in international competition. (A "career of perceived slights," as one paper put it.)" (Bonaly won the European Championships 5 times.)
"At the 1994 world championships, for instance, "it came down to a choice between Yuka Sato's artistry and dynamic footwork and Surya Bonaly's gymnastic jumping," according to the Los Angeles Times. The judges went with Sato."
"It's impossible to know whether Bonaly's scores were a result of how she skated, how she looked, the sport's controversy-prone scoring systems or all of the above. In any case, Bonaly was upset and protested that decision by refusing to stand on the podium. She then removed the silver medal from her neck, and the crowd booed."
"Years later, as the 1998 Nagano Olympics approached, Bonaly suffered an Achilles' tendon injury. The setback made her mere appearance at the Games a struggle, so it wasn't surprising that her short program landed her in an underwhelming sixth."
"The free skate didn't start well, either. After about 3 minutes on the ice, Bonaly later said, she knew she was out of medal contention, so she called an audible."
"That was my last Olympics, and pretty much my last competition ever," she told the Root. "I wanted to leave a trademark."
"Bonaly had first performed a back flip around age 12, emulating German figure skater Norbert Schramm she told ESPN). For years, though, she limited the trick to exhibitions, wary of the consequences in competition. But with little left to lose in Nagano, she turned to her signature move."
"Coming in backward for what looked like a jump, she instead reached her hands back behind her head and leaped. Whipping around, Bonaly landed on one blade — an Olympic first that no one has dared to match."
"A stunning back flip," Newsday wrote, 20 years ago this week.
"Illegal — but astounding," the Boston Globe wrote."
"The most elaborate expletive in Olympic history," the Hamilton Spectator, a Canadian newspaper, giggled."
"Totally illegal in competition," said NBC commentator Scott Hamilton, on air. "She did it to get the crowd. She's going to get nailed."
"He was correct on both counts. Bonaly slipped to 10th place to end her Olympic career. But the moment quickly became a cultural touchstone. Bonaly was making a statement not only as an accomplished skater, but also as a black athlete in one of the world's whitest sports."
"I wanted to do something to please the crowd, not the judges," she said, according to the Miami Herald. "The judges aren't pleased no matter what I do, and I knew I couldn't go forward anyway, because everybody was skating so good."
For videos on 1994 Lillehammer, Norway and 1998 Nagano, Japan Olympic performances, see: surya bonaly 2018 youtube
GIF notes on how to judge ice skating performances: 
thewire.com