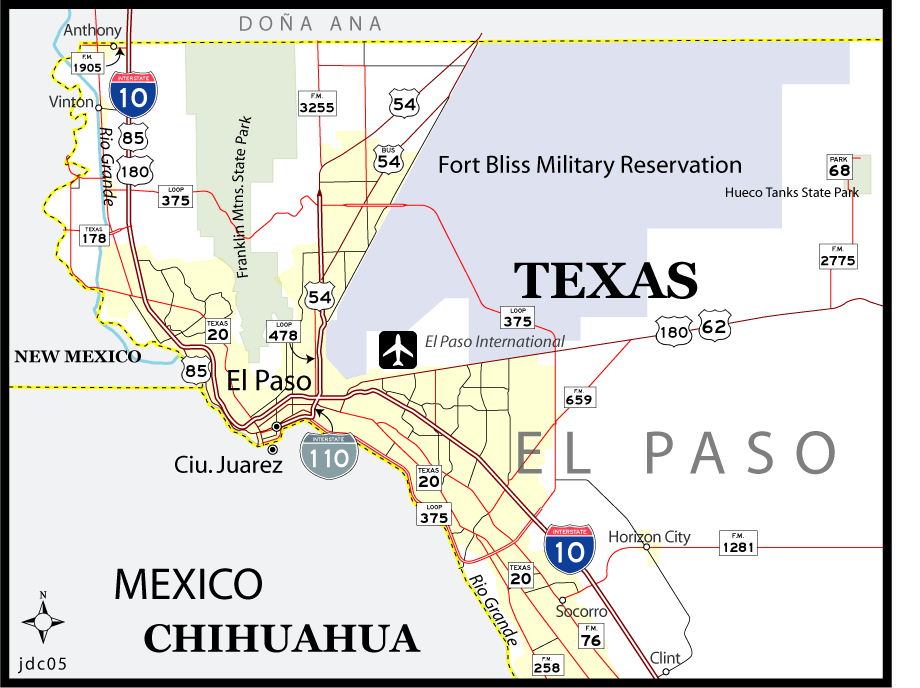 On the evening of the 11th of February 2019, the republican President Donald Trump is scheduled to conduct one of his campaign style rallies to tout his claims as to how his demands for funding his SW border wall, is crucial for keeping out the criminal element embedded within the refugee migrant families from Central American countries who have been legally seeking US asylum.
President Trump has frequently made the claim about how the city of El Paso in Texas has become one of the US safest cities after its southern wall was built. The problem with this presidential assertion is that both the current GOP and the former Democratic Party mayors strongly dispute it.
As per a 2/8/19 USA Today report, "El Paso mayor: Despite Trump's State of the Union claim, our relations with Mexico thrive" by El Paso's Mayor Dee Margo, ,"We in El Paso, Texas, are a community that transcends the border. While some are concerned about our proximity to Mexico, we choose to celebrate it. While others embrace building a wall, we remind them a fence already exists."
"Our community has consistently been ranked as one of the safest in the United States.Though President Donald Trump, in his recent State of the Union address, claimed that the border fence is the reason for these accolades, it is not the full picture."
"Our city police's community-relations efforts and the cooperation between our law enforcement agencies contributed to making our city a safe place to live and work before border fencing was put in place. In fact, between 1996 and 2006, the number of reported violent crimes fell by more than 34 percent. "
"Construction on the border fencing in El Paso did not start until 2008 and it was completed by mid-2009. The barrier between El Paso and Juarez, Mexico, has appeared to act as a deterrent for nonviolent crime, but it is our community's investment in our public safety and the dedication of our law enforcement agencies that continue to keep us safe."
Meanwhile, within a mile, a hometown, possible Democratic Party 2020 US presidential contender, former US Rep. Beto O'Rourke will be hosting his own rally, to counter President Trump's claims about the need for his wall at the US SW border.
The former US Rep. Beto O'Rourke has become a Democratic Party rock star as he came close to upsetting the 2018 reelection of the GOP US Senator Ted Cruz in the State of Texas where President Trump won in huggge numbers.
Can you imagine this evening's (2/11/19) split TV screens showing both President Trump's and El paso's own, Rep. Beto O'Rourke rallies! This should prove to be quite the showdown.
Here's the rest of the story…
On February 11, 2019, Michael Tackett of the New York Times penned the following report, "Trump and O'Rourke Face Off in El Paso Over Wall"
Excerpt:
"President Trump's confrontations with potential Democratic challengers in 2020 have mostly been limited to sniping on Twitter. But Monday night in El Paso, he will engage in his most direct conflict with a possible rival — former Representative Beto O'Rourke, a native of the city that shares a border with Mexico."
"Mr. Trump's rally in El Paso is his most significant since the midterm elections that delivered the House of Representatives to Democrats. It will provide the president with a backdrop that he will use to again argue for a border wall to stop what he said is a surge of crime and drugs being brought into the country by migrants seeking illegal entry."
The Democrats do not want us to detain, or send back, criminal aliens! This is a brand new demand. Crazy!
"If immigrants are good for the country, the border is secure and walls end lives instead of saving them, then why does the president try to scare us about immigrants and the border and take our land to build a wall we don't need?" Mr. O'Rourke said on Twitter."
"Mr. O'Rourke has also used Twitter to make his own case, fact by fact, that Mr. Trump's argument is flawed and inaccurate."
We need everyone to join us tomorrow evening in El Paso as we celebrate our community. The country will be watching, and it falls on all of us to tell the true story about the border. https://cbs4local.com/news/local/beto-orourke-to-speak-at-march-celebration-while-president-trump-holds-rally-02-09-2019 …

Beto O'Rourke to speak at march, celebration while President Trump holds rally

Former U. S. Rep. Beto O'Rourke will speak at a march at the same time President Donald Trump will be holding his campaign rally at the El Paso County Coliseum on Monday. O'Rourke's office released…

cbs4local.com
"Mr. Trump is scheduled to begin speaking at a Make America Great Again rally at the El Paso County Coliseum at 7 p.m. Mountain time (9:00 Eastern Time). Mr. O'Rourke and his supporters will meet up at Bowie High School at 5 p.m., then march to Chalio Acosta Sports Center, about a 1/2 away. He will also begin speaking at 7 p.m.
What are the facts on the border?
During his State of the Union address last week, Mr. Trump falsely cited El Paso as an example of a city where building a wall worked to deter crime.
"The border city of El Paso, Tex., used to have extremely high rates of violent crime — one of the highest in the entire country, and was considered one of our nation's most dangerous cities. Now, immediately upon its building, with a powerful barrier in place, El Paso is one of the safest cities in our country," he said.
But before the border barriers were completed in El Paso, in 2008, the city had the second-lowest violent crime rate among more than 20 similarly sized American cities. In 2010, after the fence construction, it retained its ranking. Also, El Paso was never one of the most dangerous cities in the US."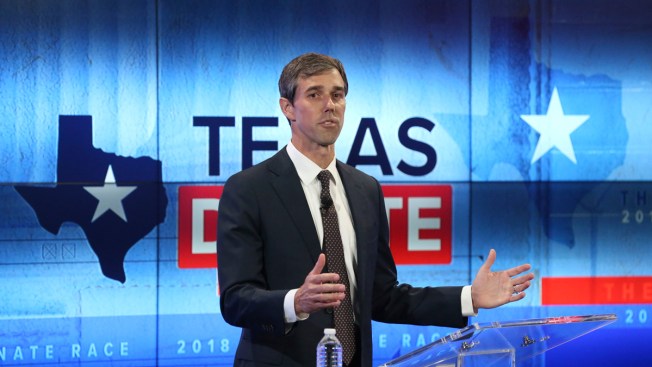 How directly will Trump go after O'Rourke?
"Mr. Trump relishes political combat and this is the first time in the 2020 election cycle that he will be on a dueling, if separate, stage with a Democrat who may try to unseat him. Mr. O'Rourke told Oprah Winfrey that he would made a decision about running for president by the end of February."
"It seems a near certainty that Mr. Trump will try to counter the protest in El Paso and its unofficial leader, Mr. O'Rourke. How frontally he criticizes the former congressman, and whether he tries to brand him with a derogatory nickname will be measures of how seriously he takes Mr. O'Rourke's potential candidacy."
What tone will O'Rourke use, fighter or healer?
"Mr. O'Rourke is the near opposite of the president in tone. During his losing senate campaign (in 2018), he offered himself as candidate who could bridge divides and wanted to go beyond convenient party labels. That modulated approach is seen as part of his larger appeal. He was able to attract donations nationwide and build a following even as he lost his race."
"Now he will face a different test in an opponent whose first instinct is to fight.
Link to report and video: Trump and O'Rourke Face Off in El Paso Over Wall