Dear blogging family members, followers and readers, I took off to spend 3 days at a a local beach resort where I did my best to disconnect from the incessant political news.
I've found that all the news regarding the republican President Donald Trump and his administration have become so overwhelming to where I'm becoming overly anxious, angry and just not myself.
It's so disheartening to feel forced to tolerate a lying president and his GOP enabling sycophants working in the White House and the US Congress for too many years, already.
Please don't hesitate to take time out to become centered again where normalcy is not a passing fancy.
The Russia Story…
I'm sick of hearing that the long awaited FBI report regarding its Trump-Russia probe headed by the Special Counsel Robert Mueller III will be finalized sometime in March 2019 but that "we the people" may not have immediate access to the FBI's work product. We've only been living under the most toxic, divisive, fake president in US history for 2 plus years but at least we had the hope that Mr. Mueller, known for his competence and integrity would be providing real answers with details as to how the Russians infiltrated and attacked our US voting infrastructure in 2016 and afterwards; what's their current status regarding future plans to infiltrate US voting systems; and who in the USA has been wittingly or unwittingly coordinating with Russian operatives. 
N Korea is in the news…The hype about the president actually accomplishing something of substance during his upcoming tete a tete with N Korea's leader, Kim Jong-Un is fake news. We are being led to believe that this summit is for real even though our president doesn't like to read his intelligence reports, doesn't like to rely on the facts, evidence provided by the US Intelligence Community officials, as he'd rather take his cues from the Russian President Vladimir Putin. He is so under-prepared that I just pray that he doesn't succumb to his desire for a deal at all costs.
His prior claims that the US is safe from N Korea nuclear missiles is a flat out lie. Every US intelligence report indicates that N Korea has been taking steps to refine/ improve its nuclear weapon systems within the past year.
The Wall…
The president has declared that building of his Southern border wall falls under the category of a protective measure against imminent danger to US security, to where he's within his rights to reallocate funds that the US Congress has already approved for other priorities, towards paying for the construction of this wall.
The president has totally fabricated the story about an immigration crisis at the US southern border which is the basis for his demands for a border wall.
His tale about a wall currently under construction as referenced in the below tweet, is an outright lie.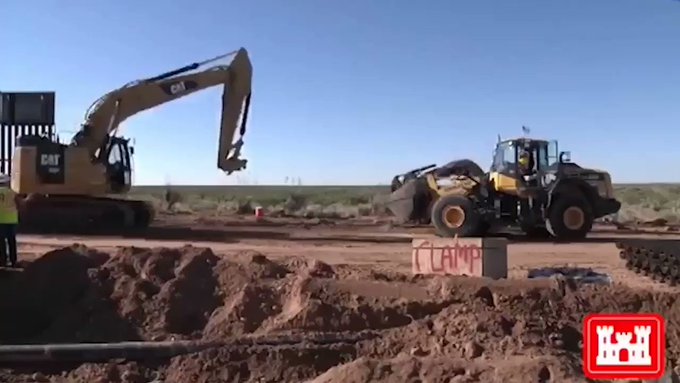 We have just built this powerful Wall in New Mexico. Completed on January 30, 2019 – 47 days ahead of schedule! Many miles more now under construction! #FinishTheWall
How about the current China -US trade negotiations which are still ongoing. The president doesn't understand the most basic principles of economics to where it would be impossible for him to implement an agreement that truly resolves the major issues that US business leaders have with China. He looks at the entire problem of trade between the USA and China, solely from the perspective that the US has been enduring a trade deficit, when the issues involved are much more complex. But at least, he has committed to delay imposing any additional tariffs on Chinese goods planned for March 1, 2019.
Let's not forget all his lies about his past history of sexually abusing women…
Riddle: When's a kiss not really a kiss. Answer: When it wasn't expected, wanted and warranted, in a employer-employee power dynamic.
Another sexual overture allegation against President Trump has surfaced on the 25th of February 2019.
As per a 2/25/19 Guardian report, "
Ex-Trump campaign staffer files sexual misconduct lawsuit against president"
by Adam Gabbatt, "
Alva Johnson, who was director of outreach and coalitions in Alabama in 2016, claims Trump kissed her without consent."
"A former staffer on Donald Trump's presidential campaign has filed a federal lawsuit against the president, claiming he kissed her without consent."
"According to the Post, "Johnson said she turned her head and the unwanted kiss landed on the side of her mouth, which she called 'super-creepy and inappropriate'".
"The Post quoted her as saying: "I immediately felt violated because I wasn't expecting it or wanting it. I can still see his lips coming straight for my face."
In a statement to the newspaper, White House press secretary Sarah Sanders dismissed Johnson's allegation as "absurd on its face".
"Johnson filed the lawsuit in Florida on 2/25/19, seeking damages for emotional pain and suffering."
"The Post said the lawsuit "also alleges the campaign discriminated against Johnson, who's black, by paying her less than her white male counterparts".
See Daily Beast report:Alva Johnson, Former Trump Campaign Staffer, Claims in Lawsuit …
President Trump's reign in the White House has been based on cards of lies, and more lies.
This post was last updated on 3/1/2019.