I'm not very sanguine over the current planned talks between the republican President Donald Trump and N Korea's leader Kim Jong-Un set up to make inroads regarding N Korea's nuclear missile capabilities, scheduled for 2/27 and 2/28/2019 in Hanoi, Vietnam..
After the last summit between the two leaders in 2018, the president has kept up the talking point lie, "we have made a lot of progress as far as denuclearization is concerned and the American peoples no longer have anything to fear.
Unfortunately all the major heads of the US Intelligence community out-rightly dispute the president's assertions, even if the president discounts their analysis. In addition, at the prior summit, President Trump had ended future military exercises among US and South Korean military troops in South Korea (based on advice from Russia) with virtually nothing in return beyond its initial suspension of nuclear and missile tests; and in May 2018, North Korea released three American detainees and sent them home with Secretary of State Mike Pompeo after his meeting with the North Korean leader in Pyongyang.
The consensus by foreign policy experts is that N Korea is not about to let go of its one major claim to power, its nuclear weaponry program. Its leader Kim Jong-Un has seen what happened to other heads of state who gave up their nuclear capabilities like Saddam Hussein of Iraq and Muammar Gaddafi of Libya who both were subject to regime change with the help of US military forces.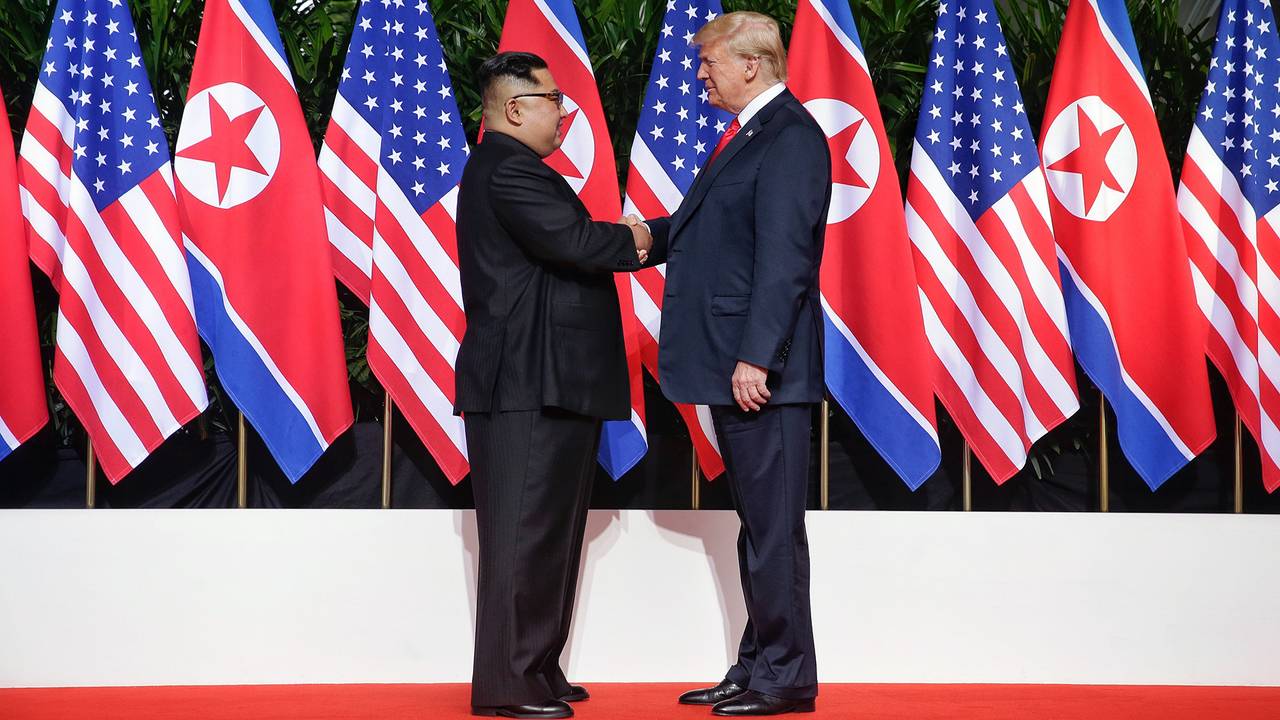 It is my opinion, that President Trump and the N Korean leader Kim Jong-Un's definitions of what denuclearization means, are not on the same page. At the very least, there ought to be some agreement towards striving for a goal that's feasible, like N Korea freezing its nuclear weaponry development. But without the means for reliable independent inspections, there ought to be no sanctions of relief or or a peace declaration ending the Korean War.
As per a 1/19/19 AP report, "Trump and Kim Jong Un are expected to meet on Wednesday (2/27/19)and Thursday (2/28/19) in Vietnam's capital (Hanoi). Their (Singapore) first meeting last summer (2018) ended without substantive agreements on North Korea's nuclear disarmament."
"U.N. Secretary-General Antonio Guterres said "it's high time" for serious negotiations between the United States and North Korea to outline a road map for the denuclearization of the Korean peninsula. The U.N. chief said New York on Friday that would allow both sides "to know exactly what the next steps will be, and to have predictability in the way negotiations take place."
"The talks have stalled over North Korea's refusal to provide a detailed accounting of its nuclear and missile facilities that would be used by inspectors to verify any deal to dismantle them. The North also has demanded that the U.S. end harsh economic penalties and provide security guarantees before it takes any steps beyond its initial suspension of nuclear and missile tests."
"Harry Kazianis, a North Korea expert at the Center for National Interest, said any talks between the 2 nations are a positive development, but the hard work of negotiating an agreement has only begun."
"As a possible first step, Kazianis said, North Korea could agree to close its nuclear centrifuge facility at Yongbyon in exchange for some relief from U.S. sanctions or a peace declaration ending the Korean War. The three-year war between North and South Korea ended in 1953 with an armistice, not a peace treaty."
"South Korea said it expects the second summit between Trump and Kim to be "a turning point in firmly establishing a permanent peace on the Korean Peninsula."
What worries me is that President Trump may decide to act on advice by Russia's President Vladimir Putin who has been trying to insert himself into these talks and not act on the advice by his own US experts as he has done in the past.
As per a 2/25/29 AP report, "Russian Foreign Minister Sergey Lavrov says the US has asked Moscow's advice in dealing with North Korea before a summit between President Donald Trump and the North Korean leader."
"Lavrov, who is also visiting Vietnam this week, said in comments carried by Russian news agencies on Monday that Russia believes that the U.S. ought to offer Pyongyang "security guarantees" for the disarmament deal to succeed."
"He also mentioned that "the U.S. is even asking our advice, our views on this or that scenario of" how the summit in Hanoi could pan out."
For me, success for President Trump in his discussions with Kim Jong-Un would be his not doing any harm to US national security interests like another abrupt announcement ordering the removal of US military troops from South Korea which is what Russia and N Korea want.
According to numerous foreign policy experts, they would like a list detailing where the facilities' locations are that store N Korea's nuclear weaponry. Frankly, they want to see President Trump to gain at least one item/ concession of substance.