No more dancing around this stench. Defining mass shootings committed by angry White Supremacist type figures as hate crimes is not sufficient to convey the terror these brutal violent acts engender. It's time to call them what they are, acts of terrorism committed by home grown extremists who exhibit the same profile as any jihadist.
These home grown American terrorists are angry men steeped in prejudices who demonstrate a proclivity towards blaming the other (any minority community) for their feelings of being marginalized while being attracted to authoritarian leaders. They look for and join up with like minded disaffected individuals where they can then feed and share each others' anger, conspiracy theories, racist impulses on the internet to where a few erupt into acting violently to garner attention and notoriety for their beliefs.
When leaders like our republican US President Donald J. Trump and his fellow GOP members stoke their followers' anger towards immigrants of brown color; give the cover of false equivalency to neo Nazis groups who are equally racist and anti-Semitic when compared to those who oppose them, as in the August 2017 'Unite the Right' rally held in Charlottesville, VA.; when he describes peoples of the Muslim faith and peoples of color as being from 'Sh*thole countries; as he pushed and justified his Muslim travel ban, they end up being part of problem and not the solution.
In short, the GOP inflaming the anger and prejudices of their voters with anti-immigration hyperbole, rhetoric often steeped in lies, are also giving rise to the darker angels in their supporters that can lead to hatred towards numerous minority groups across the board, where a few are propelled to act out on their heightened hatred.
It is no accident that when President Trump gives life to these embers of hate, anger, prejudices, that there is a corresponding rise in acts of terrorism by right wing extremists towards ALL minority groups.
The opposite happened when there was a lessening of hate crime incidents after the republican  President George W. Bush issued the following words post 9/11/2001, "If you're ever wondering whether you fit in here, let me say it as clearly as I can, as president of the United States: You fit in here — right here. You're right where you belong. You're part of America, too."
"You're not Muslim or American," he added. "You're Muslim and American."
In short, GOP Trumpian members cannot traffic in anti-immigration sentiment without also simultaneously dabbling in all the other isms like racism. anti-Muslims and Antisemitism.
These traffickers of hate are also exporting this currency to other countries, as in the current case in Christchurch, New Zealand where right wing extremists committed mass murders at 2 mosques and where one shared on-line, his anti-immigration manifesto.
It's time that this issue becomes part and parcel of the Democratic Party's message, that hate crimes equal 'Acts of Terrorism.' Ask President Trump, why can't he call White Supremacists' who commit mass murders. 'Terrorists?"
See: vox.com / Trump's counter-jihad – How conspiracy theorists, hacks, and xenophobes are advising the White House
See: americanthinker.com/.Donald Trump and Counter-Jihad
Here's what a mega church Evangelical pastor who prayed over President Trump tweeted:
Here's the rest of the story…
As per data on the Southern Poverty Law Center:
Background
Although many groups criticize high levels of immigration and some (categorized by the Southern Poverty Law Center as "nativist extremist" groups) typically confront or harass individual immigrants and their supporters, anti-immigrant hate groups generally go further by pushing racist propaganda.
2018 anti-immigrant hate groups
View all groups by state and by ideology.
*Asterisk denotes headquarters.
American Immigration Control Foundation/Americans for Immigration Control (Monterey, Virginia)
Americans for Legal Immigration (ALIPAC) (Raleigh, North Carolina)
Californians for Population Stabilization (Santa Barbara, California)
Colorado Alliance for Immigration Reform (Lakewood, Colorado)
Immigration Reform Law Institute (Washington, District of Columbia)
Legal Immigrants for America (Winter Springs, Florida)
Mountain Minutemen (Tecate, California)
Oregonians for Immigration Reform (Salem, Oregon)
ProEnglish (Arlington, Virginia)
Respect Washington (Seattle, Washington)
San Diegans for Secure Borders (San Diego, California)
Texans for Immigration Reduction and Enforcement (Houston, Texas)
The Dustin Inman Society (Marietta, Georgia)
The Remembrance Project (Pleasanton, Texas)
As per a 1/23/2019 ABC News report, "
Extremist-related killings in 2018 'overwhelmingly linked to right-wing movements: ADL"
by Meghan Keneally, "
At least 50 people were killed at the hands of domestic extremists in 2018, an increase of 35 percent from the previous year, a 
new report
from the Anti-Defamation League has found."
"That total makes 2018 the fourth deadliest year for extremist killings since 1970, and 2018 also saw the highest percentage of right-wing extremist-related killings since 2012, according to the ADL."
"The report from the ADL, a Jewish organization focused on fighting anti-Semitism, claims that in 2018, "every single extremist killing — from Pittsburgh to Parkland — had a link to right-wing extremism." The group details the alleged ties — ranging from white supremacist and racist or misogynistic or Nazi ties."
"One of the deadliest examples on their list is the shooting at a Pittsburgh synagogue, where 11 people were killed by a man who prosecutors say had "made statements regarding genocide and his desire to kill Jewish people."
"The white supremacist attack in Pittsburgh should serve as a wake-up call to everyone about the deadly consequences of hateful rhetoric," ADL CEO Jonathan Greenblatt said in a statement released with the report."
"It's difficult to know what's in someone's mind," Cohen said. "In the past, investigative efforts focused on a person's membership to extremist organizations as an illustration of what their ideological beliefs are. Today, fewer people are actually joining groups and are becoming inspired by what they see online so investigators increasingly are looking at what people put online and their social media footprint to better understand their ideological beliefs."
"Based on the 17 incidents that the ADL included in their report, which resulted in 50 deaths, the group concludes that right-wing extremists killed more people in 2018 than any year since 1995 when the Oklahoma City bombings took place."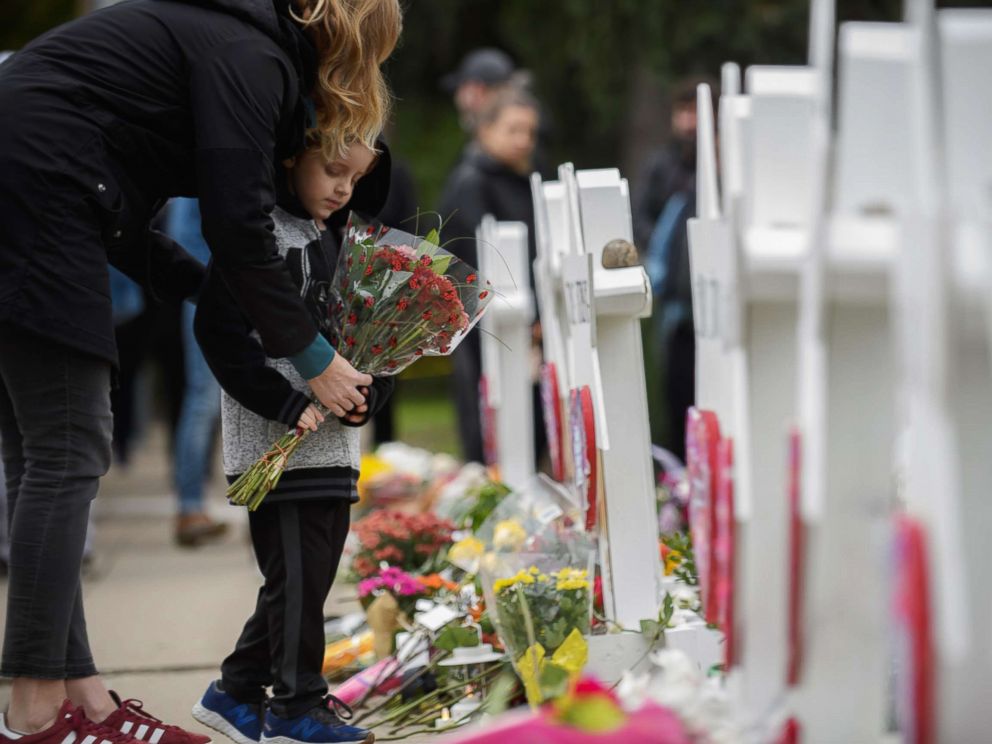 Jeff
As per a 11/14/ 2018 Washington Post op-ed piece,  "Trump's era of hate" penned by Jennifer Rubin:
"Reported hate crimes in America rose 17 percent last year, the third consecutive year that such crimes increased, according to newly released FBI data that showed an even larger increase in anti-Semitic attacks."

"Law enforcement agencies reported that 7,175 hate crimes occurred in 2017, up from 6,121 in 2016. That increase was fueled in part by more police departments reporting hate crime data to the FBI, but overall there is still a large number of departments that report no hate crimes to the federal database."

"The sharp increase in hate crimes in 2017 came even as overall violent crime in America fell slightly, by 0.2 percent, after increases in 2015 and 2016. . . . Of the more than 7,000 incidents reported last year, 2,013 targeted black Americans, while 938 targeted Jewish Americans. Incidents targeting people for their sexual orientation accounted for 1,130 hate crimes, according to the FBI. . . . Anti-Semitic hate crimes rose 37 percent in 2017. Anti-Islamic hate crimes declined 11 percent last year, with 273 such incidents, the data show."
"However, it is also the case that not all hate crimes are reported to the FBI. ("Some of last year's most widely reported hate crime charges — the confessed assailant who said 'get out of my country' before killing Srinivas Kuchibhotla; the death of Heather Heyer, allegedly by a white supremacist who ran her over in Charlottesville; and the Portland MAX train  stabbings, during which the accused attacker was overheard yelling racist slurs — aren't recorded in the FBI report.") The failure to develop a consistent and reliable reporting system must be rectified."
"Two weeks ago, we witnessed the most deadly anti-Semitic hate crime in American history," said Anti-Defamation League CEO and National Director Jonathan A. Greenblatt. "Today, we have another FBI study showing a big jump in hate crimes against Americans because of their race, religion, ethnicity, and sexual orientation. This report provides further evidence that more must be done to address the divisive climate of hate in America. That begins with leaders from all walks of life and from all sectors of society forcefully condemning anti-Semitism, bigotry, and hate whenever it occurs."
"President Trump's apologists deny any connection whatsoever between Trump's harangues against the so-called caravan and the Pittsburgh slaughter of 11 Jews, whom the alleged murderer said were trying to bring invaders into the country. However, few Americans who are not die-hard Trump cultists would deny that Trump has normalized racist speech, excused white nationalists, — some "fine" people marched in Charlottesville, he insisted — equated immigrants with criminals, identified as a "nationalist" himself and fanned white grievance."
"In becoming a nativist party and catering to a segment of the electorate that thinks whites have been persecuted, Republicans have encouraged hate-mongers, anti-Semites and white nationalists to come out in the open. Republicans' silence makes them complicit; their unwavering support for Trump makes them morally responsible for the surge in hate crimes."