Three  committing a planned act of terrorism against two Mosques in Christ Church, New Zealand, ended up killing at least 50 peoples with at least 48 having been injured. The 3-4 suspects (3 men and 1 woman) have been taken into custody. They had left behind an anti-immigration  manifesto  of many pages, filled with hatred. This day of terror on the 15th of March 2019 seemed to last forever even as most offices, schools were in lock-down
The police found cars with two explosive devices.
Prime Minister Jacinda Ardern descibes the shootings at two mosques in New Zealand as a well-planned "terrorist attack."
One of the shooters live-streamed his killing spree on Facebook. Officials were begging news outlets not to make use of these videos as the violence and cruelty depicted in them is just not what represents the values of New Zealand.
One reporter who had viewed them said the brutality of the scenes are hard to describe. One shooter made sure to go back to victims who may have been pretending to be dead, and executed them.
Here is an update on 3/15/2019:
The police have shared with the public that four people, including three men and one woman, had been taken into custody. One of them was Australian.
Numerous firearms were recovered from the scenes of the shootings. Two explosive devices have been located and detonated. There were racist words and phrases written on their weapons. These were right wing White Supremacists terrorists.
As per a 3/15 New York Times, "Of the three others who were detained, the police commissioner said that one might have had nothing to do with the attack and that the police were working to determine how the other two might have been involved."
"Ms. Ardern said earlier that none of those detained were on security watch lists."
On March 15, 2019, the Guardian published the following report, "Christchurch shooting: 40 dead in terrorist attack at two mosques – live updates"
Excerpts:
What we know so far
"New Zealand police have conducted a controlled detonation at Auckland's largest train station, the Britomart Transport Centre."
"New Zealand is with you," said a woman who dropped off lillies. "New Zealand stands by you".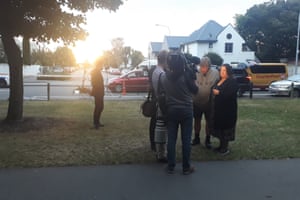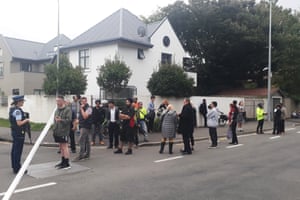 "The shooter was screaming, waving the gun around wildly and firing it in every direction. He then left the mosque. Hassan is from Sri Lanka and has lived in New Zealand for 6 months. He came to New Zealand for work and opportunities."
"I thought New Zealand was a safe, peaceful country for everyone. I came here because I knew there were no wars. Police told me 'I am sorry, this is the first time this has ever in this country.' I don't know who is dead or alive. I am waiting."
(New Zealand Prime Minister ) Jacinda Ardern says New Zealand was "chosen for this act of violence" because it is an example of multiculturalism, diversity and acceptance. 
"We New Zealanders were not chosen for this act of violence because we condone this racism, or because we are an enclave of extremism, we were chosen for the very fact that we are none of these things," she said.
"I want to send a message to those directly affected…For many this may have not been the place they were born. For many New Zealand was their choice, a place they actively came to and committed themselves to…it was a place where many came to for their safety. A place where it was safe to practice their culture and religion.
"We represent diversity and compassion, a home for those who share our values, a refuge for those who need it. And those values will not and can not be shaken by this attack. We are a proud nation of more than 200 ethnicities and 160 languages."
She issues "the strongest possible condemnation of the ideology of the people who did this".
"You may have chosen us but we utterly reject and condemn you."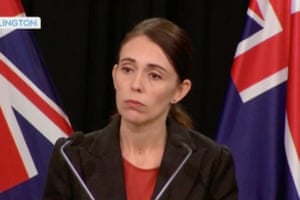 After few minutes, he leaves again, gets in his vehicle and drives away, talking to himself throughout.
"There wasn't even time to aim, there was so many targets," he says at one point.
The New Zealand police said on Twitter they were "aware there is extremely distressing footage relating to the incident in Christchurch circulating online," and urged people not to share the link. "We're working to have any footage removed," the police said.
Facebook said it was alerted by the police shortly after the livestream started. "We quickly removed both the shooter's Facebook and Instagram accounts and the video," Mia Garlick, a Facebook representative, said in a statement. "We're also removing any praise or support for the crime and the shooter or shooters as soon as we're aware."
The video and Twitter posts showed weapons covered in the names of past military generals and men who have recently carried out mass shootings.
In his manifesto, he identified himself as a 28-year-old man born in Australia. He listed his white nationalist heroes, described what he said motivated him to attack, and said he purposely used guns to stir discord in the US around the Second Amendment.
The website Stuff reported that the police had cleared Cathedral Square, about halfway between the two mosques, where people had gathered at a rally to fight climate change.