In the month of May 2019, there was one Republican Party lawmaker of 8 years, Rep. Justin Amash from Michigan in the US House of Representatives of the US Congress who took that narrow lane, that one paved where men and women trod who give meaning to the words, 'profiles in courage.' 
The University of Michigan Law School's who's who have to be proud of their alumnus of 2005, where his colleagues from equally prestigious institutions have failed to walk through that narrow gate to demonstrate that they will risk even their jobs to champion /stand up for the 'rule of law.'
Within a few hours, there was a conservative republican who came forward to announce that he'll be challenging Rep Amash for his US congressional seat during the next election cycle. The wealthy Michigan based Devos family members have notified him that they will no longer provide campaign funds. He has been censored by his fellow "Freedom Caucus' lawmakers. President Trump and the Republican Party leadership in the US Congress have been brutal in their treatment of him.
Rep. Justin Amash took the time to read/ study the entire FBI's 3/22/2019 final report regarding its findings of its 22 months long Trump-Russia probe headed by the Special Counsel Robert Mueller III. He took the extra step to publicly share his analysis explaining that according to the Mueller report, the republican President Donald Trump did indeed commit criminal acts that meet the standard for impeachment, and he did this knowing full well that he would pay a political price. Frankly, he's shown more courage than most of his colleagues from both sides of the aisle.
But Mr. Amash follows in the footsteps of another hero, GOP Rep. Larry Hogan, Sr. from Maryland. He too, stepped out in front of the pack to accuse President Richard Nixon of having committed impeachable offenses, even though he knew that he would pay a high political price for daring to stand up for what he believed was right. He not only voted to impeach President Nixon one time but three times. Both will be noted for their heroic acts of courage in future history books.
Here's the rest of the story…
Rep. Justin Amash:
As per the May 23, 2019 VOX report by Tara Golshan, "What Rep. Justin Amash's call for Trump's impeachment showed about the Republican Part" ("A late-night vote among conservatives in Congress cemented Trump's power.")
Excerpts:
"Mark Sanford was shocked to learn that his former colleague Rep. Justin Amash (R-MI), who last weekend became the sole Republican to call for President Donald Trump's impeachment, had been formally censured by the House Freedom Caucus."
"The Freedom Caucus unanimously voted to condemn Amash, a founding member, on Monday (5/20/2019) evening for speaking out against Trump, escalating the treatment that Trump critics — like former Sens. Bob Corker and Jeff Flake and even Sanford — have received in the past."
"We're living in weird political times," the former conservative lawmaker from South Carolina said in a recent interview. Sanford was part of the exclusive group of the House's most conservative lawmakers until Trump backed his primary challenger last year over his critical comments of Trump."
"To outside observers like Sanford, it was a telling moment. The Freedom Caucus was once a group designed to fight against a certain Republican Party group-think, to promote small-government and constitutionally conservative ideals, but it is increasingly indistinguishable from Trump."
"It's been a slow unraveling, said Corie Whalen, Amash's former congressional staffer."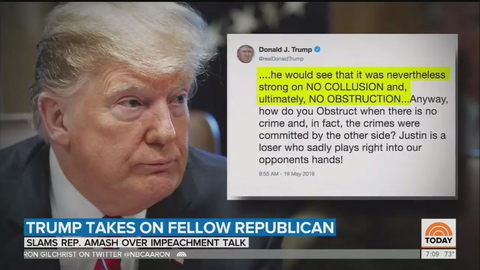 "Trump was unexpectedly elected, so they wanted to work with him when they could, but it went from working with him to being sycophants," Whalen said. "And for what? I'm not sure they can tell us."
"In private, Amash says Republicans in Congress have been sympathetic to his views, CNN reported Wednesday. But in public, they've shown a united front."
"The notion of freedom is freedom. The notion of freedom is the right to express one's view how one sees it," Sanford told me.
Amash isn't backing down
"Over the weekend, Amash tweeted that Trump's conduct is impeachable, that Attorney General William Barr knowingly misled the public about the conclusions of special counsel Robert Mueller's report, and that his Republican colleagues in Congress are willfully ignoring it all. He came to that conclusion after reading the entirety of the redacted special counsel report."
Link to entire report:  What Rep. Justin Amash's call for Trump's impeachment showed ...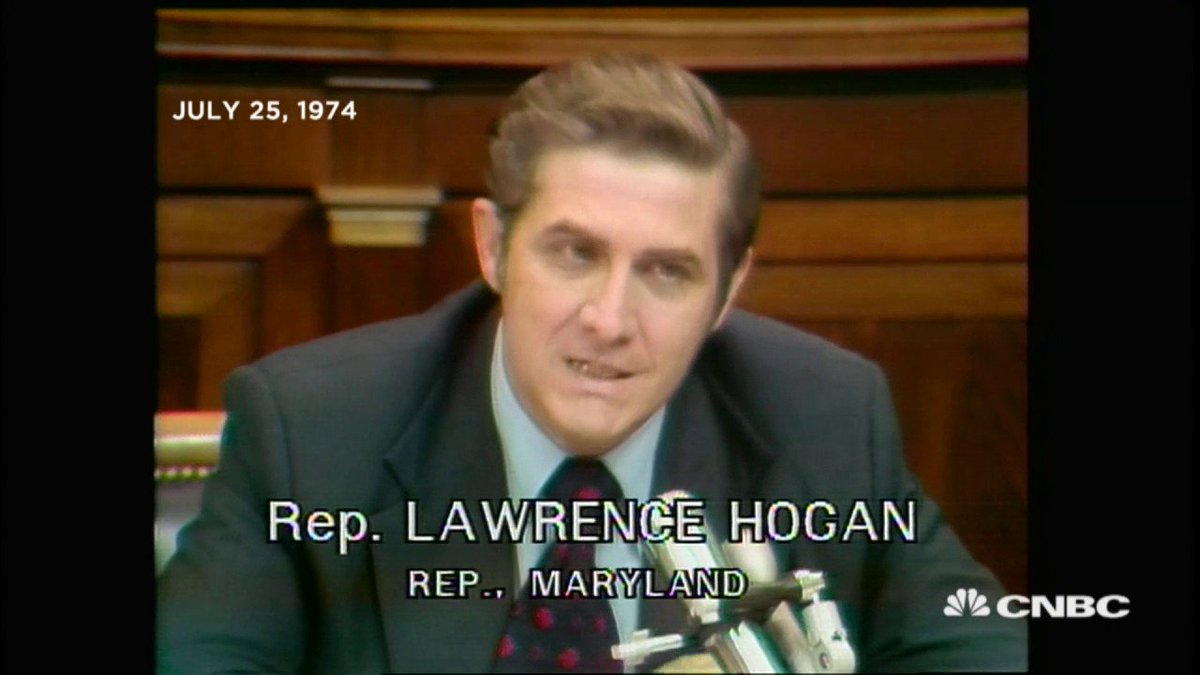 Larry Hogan Sr.:
On April 25, 2019, the Baltimore Post-Examiner published a MarlylandReporter.com article by Barry Rascover, "Larry Hogan Sr. showed courage when it counted"
Excerpts:
"It happened long ago. Congressman Larry Hogan, Sr. stood alone and defied his party, voting not once but three times to impeach Republican President Richard Nixon. It was the most principled stand taken by a Maryland politician in our lifetimes."
"He did what was right, not what was politically correct."
"Hogan died last week at 88, eclipsed in the public eye by his son and namesake, the current Maryland governor (who is considering running against President Trump in 2020) – an office the father was denied due to his impeachment stance."
"Yet it was the father, consigned to the pages of history, who offered a lesson in what it means to take the perilous moral and legal high road rather than the easy partisan and career-advancing low road."
"It's a lesson we must remember given the sorry state of affairs in this country. The rules of fair play, truthfulness and integrity are being tossed aside in the manic quest for political power."
Those Watergate years
"We can't afford to forget the Watergate era that so stained our country. For those who were around, it was a terrifying time."
"The president had been caught approving and even leading a massive conspiracy to conduct a break-in and robbery; blackmail and bribe witnesses, and cover up the hideous truth."
"When his own attorney general refused to knuckle under to Nixon's demands to crush the Watergate investigation, the president fired this nation's highest-ranking law-enforcement officer. His deputy also refused to defy his constitutional duty and was sacked, too."
"It became known as the Saturday Night Massacre. What a scary time. Many feared the end of American democracy."
"Sadly, there're echoes in what's happening today in and around the White House."
"Facts are regularly tossed aside in favor of expedient fairy tales that glorify the president and his cheerleaders. The Big Lie is replacing the uncomfortable truth."
Above the law?
"For Larry Hogan Sr., the uncomfortable truth was that his party's and his country's leader had lied and hidden what had happened, had violated his constitutional oath and had engaged in illegal acts."
"No one is above the law, Hogan announced, not even the most powerful official in the land."
"Such independence and gutsy courage were rare in the early 1970s among Republicans. Hogan stood by himself when he announced on the eve of that crucial House Judiciary Committee session in 1974 he would vote to impeach Nixon. No other committee Republican joined him in defying the president."
"He knew at the time his impeachment vote might doom his chances of running successfully for governor that November. Sadly, Hogan's intuition proved accurate."
"In September's Republican primary, Maryland GOP voters turned their backs on the congressman who had sought to remove Republican Nixon. Instead, they nominated a hapless, socially prominent party loyalist, Louise Gore."
Resurrection in Prince George's County
"Yet the ex-congressman refused to be driven from the political stage. He resurrected his career 2 years later in a heavily Democratic jurisdiction and served 2 terms as Prince George's County Executive."
"He did so by capitalizing on voter anger over the high cost of supporting the county's population boom and suburbanization, which translated into the need for ever-higher property taxes to pay for expanded public services."
"As county executive Hogan proved a tough man with a dollar, cutting spending on schools and libraries, eliminating 3,000 government jobs, holding the line on pay raises and lowering the property tax rate 20%."
"No wonder Larry Hogan, Jr. ran for governor in 2014 on the same promises as his dad – lower taxes and fiscal belt-tightening."
"To an extent, the son has followed through on those promises. He is in strong position to win reelection in a heavily Democratic state."
"But that election is still 18 months away. Hogan Jr.'s biggest test may lie ahead, thanks to an eerily similar situation to the one faced by his father during those Watergate years."
Then vs. now
"Nixon became a highly unpopular and controversial president, much like Donald Trump. Maryland's governor has tried to separate his own work from the incendiary comments and actions by Trump and Tea Party congressmen. He didn't support Trump in the presidential campaign."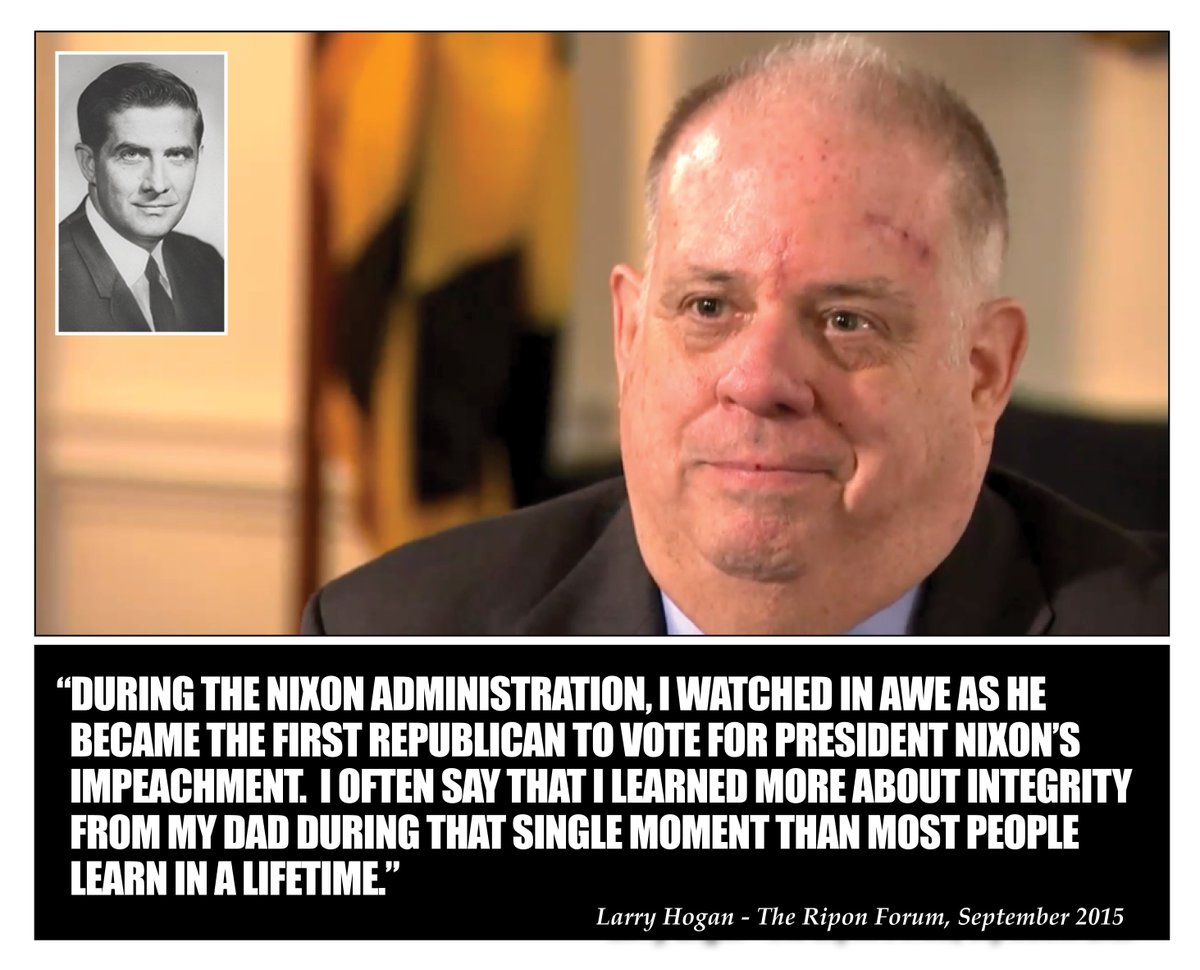 "But Hogan has refused to make a public break with Trump for fear of alienating die-hard Republicans he needs to get reelected."
"Yet the more radical the Trump administration becomes in the months ahead, the more difficult it could be for Hogan to remain a dispassionate governor."
"At some point Republican Hogan may have to forcefully oppose a Republican president, just as his father did in 1974."
"Refusing to place party loyalty over what's best for the country cost Larry Hogan, Sr. the governorship in 1974. He never regretted doing the right thing."