There are some in the US Congressional Democratic Party leadership who have yet to figure out, that's there a real possibility that the Republican President Donald Trump could win reelection in November 2020, via the electoral college map.
If President Trump succeeds in squeaking out another election upset, via playing the electoral college map with help from GOP led states with partisan gerrymandered maps approved by the US Supreme Court; the GOP state rules regarding voter ID laws and other tactics designed to depress Democratic likely voters from exercising their rights; assistance with love from Russia, and a war chest worth well over $100 million dollars, there's a very real probability that he'll never be held criminally liable for all of his felonious acts and abuses of power.
As per a 6/20/2019 Business Insider report, "A top election analyst outlined a very plausible nightmare scenario for Democrats in 2020" by Grace Panetta:
Excerpts:
"President Donald Trump won the electoral college despite losing the popular vote in 2016, and there are multiple possible scenarios in which he could so again in 2020."
"In one plausible scenario outlined by Cook Political Report election analyst Dave Wasserman, Trump could lose the popular vote by around 5 million votes but still win the electoral college by one vote for a result of 270-268."
"Wasserman said this scenario could play out if Democrats expand their vote margins in California and Texas, flip Pennsylvania and Michigan, but lose to Trump in Florida, Arizona, North Carolina, and Wisconsin."
"For Trump to win re-election by one electoral college vote in the situation Wasserman outlined, Trump would also need to repeat his 2016 performance in Maine by winning one of the state's four electoral college votes."
Read NYT/ Trump's Electoral College Edge Could Grow in 2020, Rewarding Polarizing Campaign 
Should President Trump win reelection in 2020, there's this 5 yr. "Statute of Limitation" which kicks in for the all the criminal activity that President Trump is alleged to have perpetrated, as per the FBI's 3/22/2019 final report regarding its 22 months long Trump-Russia probe, led by the Special Counsel Robert Mueller III, who was the former 12 year FBI Director. This means that President Trump could walk away scot-free from any criminal liability for any of the federal crimes that he's been accused of doing. There are some who suggest that the "Statute of Limitations" can be tolled/ stopped while he's serving his 2nd term in the White House but that's not true in criminal law. There's talk of passing legislation to fix this problem which'll never see the light of day because the GOP controlled US Senate will block its passage.
Jed Shugerman of @jedshug tweeted following on 7/18/2019:
"If Trump wins a second term, the statute of limitations will run out by 2024 on all of these charges so far – obstruction, campaign crimes. The OLC opinion is wrong: no such thing as equitable tolling for crimes. And Mueller should have known this, but put Trump above the law."
In short, there's this 2000 DOJ Department of Justice's (OLC) Office of Legal Counsel's legal memo which bars a sitting president from being criminally indicted while he's still serving in the White House.
As per the 12/14/2018 Economist report, "Can a president be indicted while in office?" "Although America's constitution is silent on the question, the Watergate-era memo observed, a president subjected to an indictment would trigger "a traumatic event" both "politically and constitutionally". It would "interfere with the president's unique official duties", too."
"This theme was reiterated in the memo of 2000, when the OLC (Office of Legal Counsel of the US Department of Justice) argued that Congress's impeachment power was the sole legitimate way to discipline presidents for bad behaviour. To indict a president via "an unelected grand jury and prosecutor" is "inconsistent" with the framers' "carefully considered judgment" that it is impeachment or bust. Indictment in office would subvert the "underlying dynamics of our governmental system in profound and necessarily unpredictable ways."
In conclusion, unless President Trump is subject to an impeachment inquiry by the House, he will not be facing justice for his federal crimes until after he leaves office, at the earliest, in January 2021, and if he's reelected, he'll just game the system where he can't ever be held criminally accountable. 
My million dollar question is, how will the Democratic Party Speaker Nancy Pelosi explain this reality if President Trump wins reelection and she loses her majority position in the House, for not implementing the one non-legislative remedy granted it by the US Constitution, the power to commence an "Impeachment Inquiry/ investigation against President Trump, designed by our forefathers to specifically hold a wanna-be tyrannical president, accountable.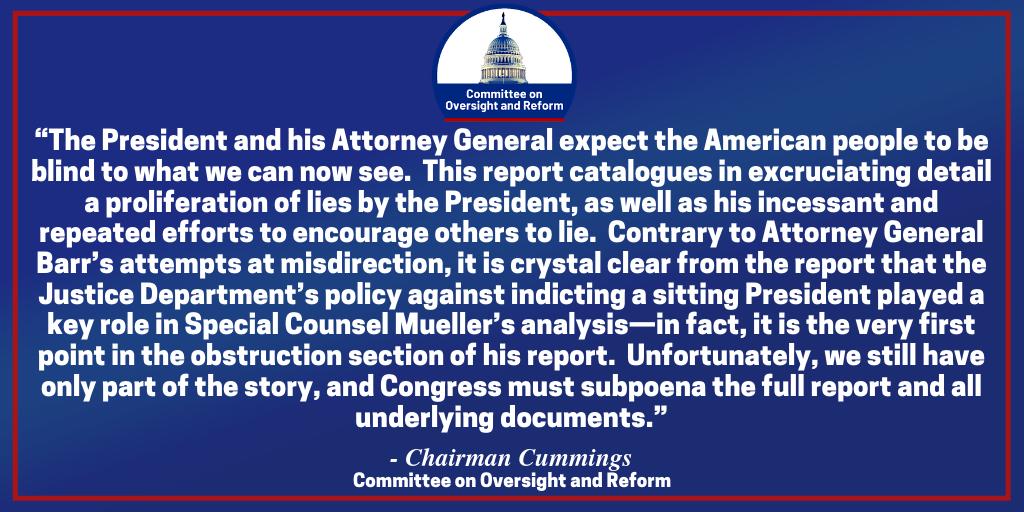 Here's the rest of the story…
On July 16, 2019, Thomas L. Friedman for the New York Times penned the following analysis, "Trump's Going to Get Re-elected, Isn't He?" ("Voters have reason to worry.")
Excerpts:
"I'm struck at how many people have come up to me recently and said, "Trump's going to get re-elected, isn't he?" And in each case, when I drilled down to ask why, I bumped into the Democratic presidential debates in June. I think a lot of Americans were shocked by some of the things they heard there. I was."
"I was shocked that so many candidates in the party whose nominee I was planning to support want to get rid of the private health insurance covering some 250 million Americans and have "Medicare for all" instead. I think we should strengthen Obamacare and eventually add a public option."
"I was shocked that so many were ready to decriminalize illegal entry into our country. I think people should have to ring the doorbell before they enter my house or my country."
"I was shocked at all those hands raised in support of providing comprehensive health coverage to undocumented immigrants. I think promises we've made to our fellow Americans should take priority, like to veterans in need of better health care."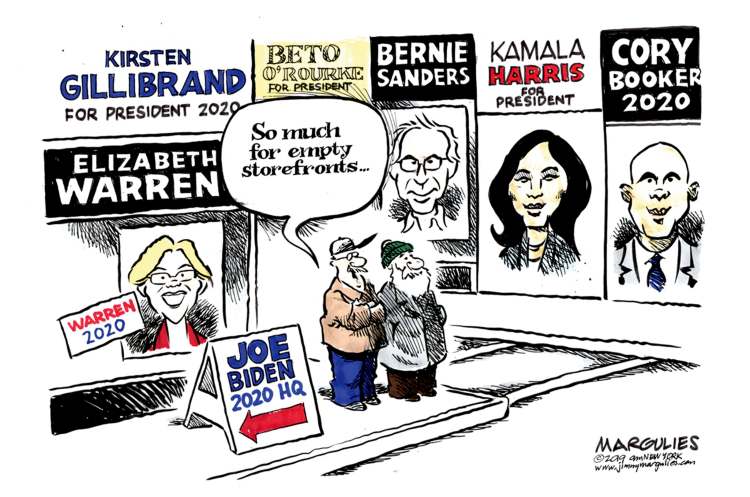 "So, I wasn't surprised to hear so many people expressing fear that the racist, divisive, climate-change-denying, woman-abusing jerk who is our president was going to get re-elected, and was even seeing his poll numbers rise."
"Dear Democrats: This isn't complicated! Just nominate a decent, sane person, one committed to reunifying the country and creating more good jobs, a person who can gain the support of the independents, moderate Republicans and suburban women who abandoned Donald Trump in the midterms and thus swung the House of Representatives to the Democrats and could do the same for the presidency. And that candidate can win!"
"But please, spare me the revolution! It can wait. Win the presidency, hold the House and narrow the spread in the Senate, and a lot of good things still can be accomplished. "No," you say, "the left wants a revolution now!" O.K., I'll give the left a revolution now: 4 more years of Donald Trump."
"Four years of Trump feeling validated in all the crazy stuff he's done and said. Four years of Trump unburdened by the need to run for re-election and able to amplify his racism, make Ivanka secretary of state, appoint even more crackpots to his cabinet and likely get to name 2 right-wing Supreme Court justices under the age of 40."
"Yes sir, that'll be a revolution!"
"It'll be an overthrow of all the norms, values, rules and institutions that we cherish, that made us who we are and that have united us in this common project called the USA."
"If the fear of that doesn't motivate the Democratic Party's base, then shame on those people. Not all elections are equal. Some elections are a vote for great changes — like the Great Society. Others are a vote to save the country. This election is the latter."
"That doesn't mean a Democratic candidate should stand for nothing, just keep it simple: Focus on building national unity and good jobs."
Link to entire report: nytimes.com/  'Trump's Going to Get Re-elected, Isn't He? …