There's this extreme right-wing activist who demonstrates all the prerequisite attributes of being a Trumpian GOP conspiracy zealot while also being a true believer in racism, anti-immigration and anti-Muslim sentiment, but who has developed strong ties to GOP "dark money" powerful special interests with similar belief systems. In addition, he knows well all the White nationalists players who've been or are still a part the President's administration, like Steve Bannon, Stephen Miller, Sebastian Gorka, former AG Jeff Sessions, and another believer who avoids the limelight, Ezra Watnick-Cohen. The other player in this group is the GOP US Rep. Devin Nunes.
His name is David Horowitz.
Why I consider Mr. David Horowitz to have control over President Trump's campaign of racism which was previously disguised as an anti immigration and anti-Muslim message…
This past weekend of July 29, 2019, on one of the Sunday TV cable news shows, I overheard the former Democratic Party Virginia Gov. Terry McAuliffe marketing his new book where he shared the story about the aftermath of the August 2017 Unite the Right rally, attended by White Nationalist groups in Charlottesville, VA along with counter-protesters.
Post this deadly White Supremacist rally, he describes how he had a discussion with the republican President Donald Trump about how they both would participate in a joint press conference, to condemn the actions of the White Supremacists' criminal behaviors during the rally, which included the murder of one of the counter-protesters, Heather Heyer and the crash of a state police helicopter— killing two troopers.
"Mr. McAuliffe stated that he could only speculate about what caused President Trump to alter their mutual agreement to out-rightly condemn the Nazis type group participants. The former Governor was shocked to hear President Trump delivering his speech about how both sides" were to blame for the violence, equating the white nationalists with the counter-protesters."
This story got me to wondering who got to President Trump to where he he delivered his revised racist speech, referring to there being good peoples on both sides of this conflict. The usual suspects came to mind, all White Nationalists. They're the president's advisers Stephen Miller, Steve Bannon, Sebastian Gorka and the president's Attorney General Jeff Sessions.
Because President Trump was perfectly capable of ignoring the advice of these members of his administration to keep the promise he made to Governor Terry McAuliffe to censure the White Supremacists who participated in the "Unite the Right rally," I started to research who would be powerful enough to direct the president's actions and/ or who would have the connections to "dark money" donors who harbored visions of pushing the USA towards becoming more of an Authoritarian style government, so that these special interest strongmen could maintain their power, as voting demographics were beginning to favor Democratic Party elected officials.
As per the July 29, 2019 Roanoke Times Op-ed piece,
"Editorial: McAuliffe's book is worth reading:"
Excerpts:
"Politically, McAuliffe zeroes in on Trump. In fact, that's how the book starts — with his phone conversation that day with the president: "When I hung up with President Trump that day, there was no question in my mind that he was going to do the right thing." McAuliffe writes about how he'd known Trump for years —golfed with him, dined with him — and thought he knew the man. He says after he briefed Trump on the situation, "Donald Trump gave me every reason to believe" he would condemn the white supremacists. Trump said he would immediately go on television. Instead, hours passed. When Trump finally went on television, he spoke of hatred "on many sides," taking an even-handed approach to what other Republicans more plainly called "a terror attack."
"I can't account for the missing hours," McAuliffe writes. "I'm sure we'll read later in someone's memoir about how one of the ideologues in the White House cornered the president and told him he couldn't alienate the hard-core racists."
                                                                           ***
David Horowitz, the 82-year-old conservative firebrand, recruited his protege Stephen Miller, the 35-year-old architect of Donald Trump's immigration policy while he was at Duke University and has directed his career, ever since.
Here's the rest of the story…It'll showcase the power and thinking of David Horowitz…
As per the 2017 Guardian report, "Trump is 100% right': David Horowitz, the thinker who sponsored Stephen Miller"by Tee McSee, "But the astringency of Horowitz's rhetoric on immigration and other issues, which has won him censure for extremist speech by the Southern Poverty Law Center, is readily recognizable from the podium in the White House briefing room, on television on the lips of Trump proxies such as the former campaign manager Corey Lewandowski, and in the policy of family separation at the southern border."
"In an echo of a lie advanced by Trump, Horowitz denied that such a policy was in place, despite an explicit announcement of the policy by Sessions in April and elaborations by various administration figures since."
"It's not a policy of family separation," said Horowitz. "It's the government's hands are tied by Obama and the Democrats, so if a kid gets in, everybody gets in. It's disgusting. It's an abusive exploitation of these kids."
'There's a fucking lynching going on'
"While Horowitz's most incendiary rhetoric these days aims at America's racial and gender divides – he has said that women "have different aptitudes than men in math", called the author Ta-Nehisi Coates "just a rank racist" and attacked African Americans killed by police as "criminals who prey on black people" – he's quick to lay down fire on the immigration issue, and to defend Miller."
"Following a series of biographies of American family dynasties, he published a memoir of his political conversion, Radical Son, and more than a dozen blistering political tracts culminating in the 2017 volume Big Agenda: President Trump's Plan to Save America."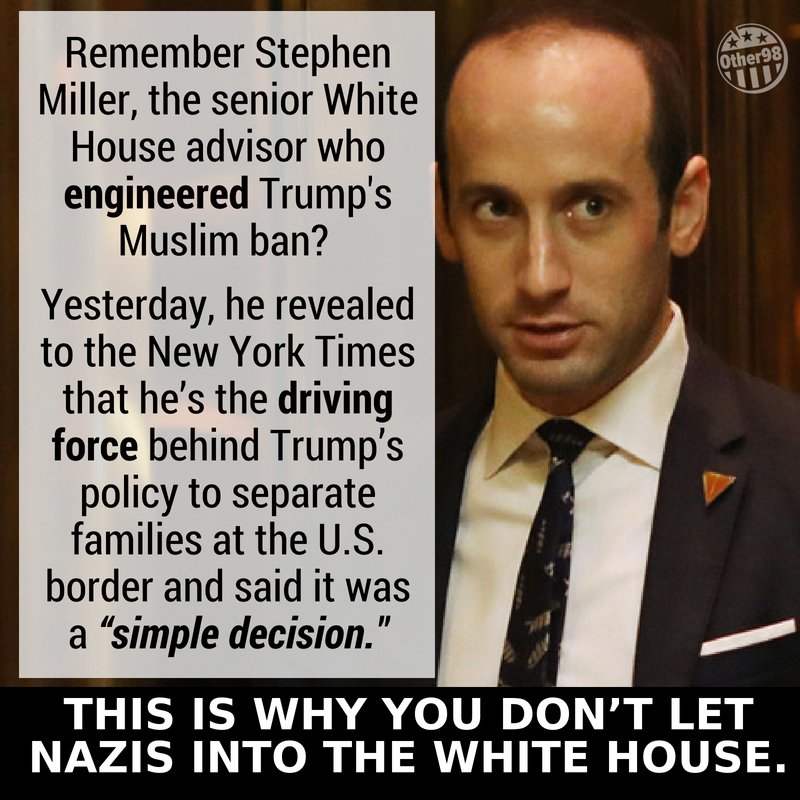 On April 11, 2018, Miranda Blue of Right Wing Watch penned the following report, "David Horowitz's Revisionist History Is Nothing New, But Politicians Still Flock To Him"
"Conservative activist David Horowitz apparently feels that he has not been getting enough attention lately, so he has spent the last few days creating a social media firestorm with a series of revisionist-history tweets about his view that the United States' violent history of slavery and lynching doesn't have anything to do with racism or ongoing problems of racial oppression."
"These are ideas that Horowitz, a professional conservative crank, has been promoting in one form or another for decades. Yet that hasn't stopped him from playing a key role in bringing far-right activists and politicians—including some who are now in positions of power in the Trump administration—together with ideologically allied funders."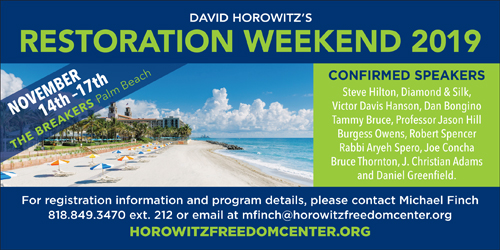 "Every fall, Horowitz organizes what he calls a "Restoration Weekend" at a resort in Palm Beach, where politicians, far-right activists and potential funders can rub shoulders and pitch their projects."
In 2014, now-Attorney General Jeff Sessions received an award at Restoration Weekend, presented by his then-aide Stephen Miller. Miller, now a senior adviser to President Trump, first partnered with Horowitz when he was in high school. Accepting the award, Sessions told Horowitz that receiving it was "a special treat and pleasure for me because you know how much I admire you." Sessions, who had also spoken at a handful of other Horowitz-organized events, was forced to defend his relationship with Horowitz, whom he called a "brilliant individual," in his confirmation hearing. "
"Last year, Steve Bannon, then the White House chief strategist, spoke at Horowitz's Restoration Weekend, along with former Trump adviser Sebastian Gorka and handful of members of Congress, including House Intelligence Committee Chairman Devin Nunes. Also there was J. Christian Adams, who was at the time a member of Trump's "voter fraud" commission. At the event, they rubbed shoulders with the likes of Milo Yiannopoulos, Ann Coulter, Gavin McInnes and Laura Loomer."
"Other past participants in Horowitz's events have included Rick Perry, now the secretary of energy, Sen. Ted Cruz, Sen. Ron Johnson, Mike Huckabee, Rep. Steve King, Rep. Louis Gohmert and other members of Congress."
"Maybe Horowitz's recent series of tweets will make some of these politicians reconsider their relationships with him, but given that he's been saying variations on the same thing for decades with no repercussions from his Republican allies, that seems unlikely."
"Horowitz then went to town over the next few days, digging in on his revisionist history of slavery, and adding some thoughts about lynching as well, tweeting a photo of a lynching to say that the victims were guilty of crimes and then complaining about "the anti-white racism" of current discourse about the history of lynching."
"Horowitz's "thank white people for ending slavery" shtick has been part of his routine for years, since long before future members of the Trump administration were partaking in his expensive Florida networking retreats."
Back in 2016, Horowitz made a similar case on an Indiana radio program, where he complained that nobody gives "white Christian males" enough credit for ending slavery, when it was "black Africa that enslaved blacks."
As Horowitz pointed out in that interview, he's been singing this tune since at least 2001, when he attempted to place ads in dozens of college papers arguing against reparations for slavery and demanded "the gratitude of black America" for white people who worked to end it. The Guardian described the ads:
"There is no single group clearly responsible for the crime of slavery" is the heading of the first point in the ad which blames "Black Africans and Arabs [as] responsible for enslaving the ancestors of African-Americans. There were 3,000 black slave-owners in the ante-bellum US. Are reparations to be paid by their descendants too?"

…

Most controversially the advertisement argues that white Christians – English and American – created the anti-slavery movement and if it were not for the sacrifices of white soldiers in the civil war, blacks would still be slaves instead of enjoying one of the highest standards of living in the world. "Where," asks the ad rhetorically, "is the gratitude of black America and its leaders for those gifts?"
And there's a lot more vitriol where that comes from. In recent years, Horowitz has claimed that the term "people of color" is "an ideological term to demonize white people"; said that the "racism in this country that is the real problem is black racism"; and claimed that there are no real racial disparities in the U.S. because African-American NBA players make a lot of money and "our culture is dominated by black music, if you can call that music."