On July 24, 2019 the FBI's Special Counsel who led the 22 months long Trump-Russia probe, testified before the House's Intelligence Committee about his worry that US government is not doing enough to prevent a repeat of Russia's full throttle attack in 2016 US elections voting infrastructure in time for the November 2020 elections. Mr. Muller's warning came one day after the FBI Director Chris Wray uttered similar thoughts at a congressional hearing. There are those like me, who are convinced that the number one reason that the republican President Donald Trump pushed for the ouster of the current competent truth teller, the DNI Director Dan Coats because he had been working overt-time to fix the US elections security problems before the 2020 November elections.
Despite all the US intel and law enforcement professionals sounding the alarms about more having to be done to prevent the repeat of the Russian invasion into US politics in 2016, again in 2020.  With this background setting, on July 24, 2019 the US Senate Majority Leader Senator Mitch McConnell chose to block the passage of 2 different laws to fix US elections security problems/ vulnerabilities before the 2020 US November elections.
The vast majority of Americans ire was quickly directed towards the Senate Majority Leader Mitch McConnell after his inaction regarding US election security measures to protect the integrity of the vote for all our US citizens and taxpayers.
The hashtags of #MoscowMitch and #MoscowMitchMcTreason have been trending on the tweeter feed and major news outlets editorial boards have been brutal in referring to him as a Russian asset and worse.

Leader McConnell
@senatemajldr Tweeted following on 7/29/2019 but he didn't earn much sympathy…
"Modern-day McCarthyism is poison for American democracy. It is shameful to imply that policy disagreements make the other side unpatriotic. The people who push such unhinged smears are doing Putin's destabilizing work for him."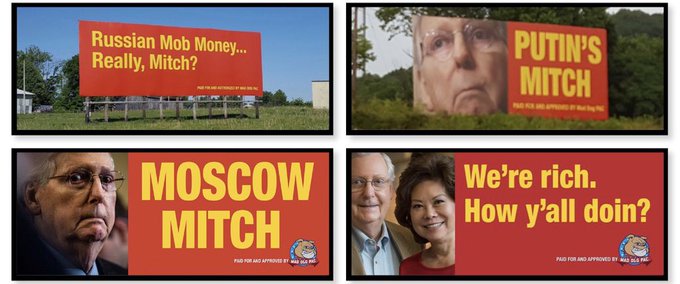 Here's the rest of the story…
On July 30, 2019, Ben Tobin of the Louisville Courier Journal, penned the following commentary, "#MoscowMitchMcTreason trends one day after Mitch McConnell lashes out at 'McCarthyism'
Excerpts:
"Senate Majority Leader Mitch McConnell has earned many nicknames throughout his time in Congress. The newest one: McTreason."
"The hashtag #MoscowMitchMcTreason is trending one day after the Kentucky Republican gave an impassioned speech on the Senate floor in response to accusations of being a Russian sympathizer."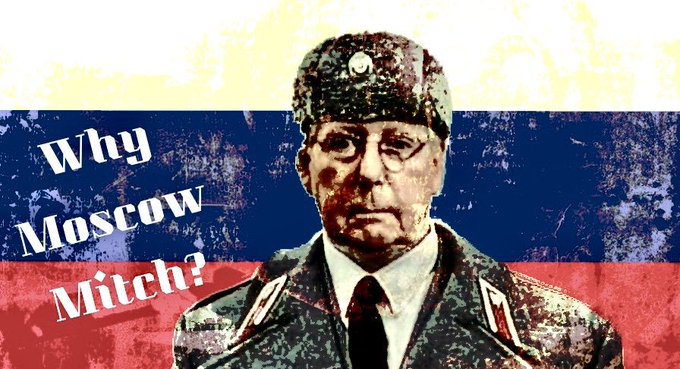 "More specifically, McConnell took umbrage with MSNBC host Joe Scarborough and Washington Post opinion columnist Dana Milbank, who called him "Moscow Mitch" and "a Russian asset." 
"These comments came after McConnell blocked two measures aimed at preventing foreign interference in U.S. elections."
"In his roughly 25-minute speech Monday afternoon, McConnell called out media outlets for hosting "hyperventilating hacks" and compared attacks on him to "modern-day McCarthyism."
"I don't normally take the time to respond to critics in the media when they have no clue what they're talking about," McConnell said in his speech. "But this modern-day McCarthyism is toxic and damaging because of the way it warps our entire public discourse. Facts matter. Details matter. History matters. And if our nation is losing the ability to debate public policy without screaming about treason — that really matters."
"Some on Twitter did not take kindly to McConnell's speech. Just as the hashtag #MoscowMitch quickly began trending on Twitter following Scarborough's comments, people were using the hashtag #MoscowMitchMcTreason to express frustration with McConnell on Tuesday (7/29/2019)."
"Scott Dworkin, co-founder of the Democratic Coalition super PAC, wrote on Twitter that "if Mitch McTreason doesn't want to be called a traitor, then he should stop being one. #MoscowMitchMcTreason."
Rep. Alexandria Ocasio-Cortez, D-N.Y., rejected McConnell's definition of McCarthyism.
"McCarthyism is the practice of baselessly accusing political opponents of being communists as unjust grounds for targeting & harassment," Ocasio-Cortez wrote on Twitter. "You are blocking action to protect US elections despite official DoJ pleas. That doesn't make you a communist. It just makes you a bad leader."
"I think the Washington Post is a Russian asset by comparison," Trump told Fox News earlier Tuesday. "Mitch McConnell loves our country."
Washington Post politics reporter Colby Itkowitz wrote an article titled "Trump makes unfounded claim The Washington Post is a 'Russian asset'" following Trump's comments.
More coverage: 
McConnell called 'Moscow Mitch' for blocking election security bills