I'm shocked at Israel's officials decision to bar two Muslim US Congresswomen Ilhan Omar and Rashida Tlaib from entering Israel based on an August 15, 2019 demand from the republican President Donald Trump. Until August 15, 2019,  the Israeli Ambassador Ron Dermer had said US Reps. Tlaib and Omar would be allowed to visit Israel "out of respect for the U.S. Congress and the great alliance between Israel and America."
On a personal level, I had literally started planning a trip to Israel, a trip that's number one on my bucket list. I'm crushed because I can't visit a country that's trumpeting/ amplifying the president's Trumpian Republican Party's racist rhetoric/ propaganda that GOP officials have chosen to implement as their 2020 campaign strategy. What kind of country does Israel want to become?
If Israelis want an explanation as to why hate crimes in USA have risen dramatically across every minority group including against our Jewish brothers and sisters, since January 2017, look no further than the "Racist-in-Chief" living in the White House. In short, as the president can be observed catering to White Supremacists in the USA, please get that he's also simultaneously kowtowing to those who are Antisemitic.
See ABC report/ videos: ABC Politics/ No blame? -ABC-News-finds-36-cases-invoking-Trump in connection with violence, threats, alleged assaults..
Here's the rest of the story…
As per the 8/15/2019 NPR report, "Reps. Omar And Tlaib Barred From Visiting Israel After Trump Pushes For Ban" by Vanessa Romo, "The move (to bar them from entering Israel), which marks a reversal for Netanyahu and his government, comes after President Trump publicly urged the Israeli leader on Twitter to block Reps. Ilhan Omar, D-Minn., and Rashida Tlaib, D-Mich., saying it would be showing "weakness" if they were allowed to visit."
"It would show great weakness if Israel allowed Rep. Omar and Rep. Tlaib to visit. They hate Israel & all Jewish people, & there is nothing that can be said or done to change their minds. Minnesota and Michigan will have a hard time putting them back in office. They are a disgrace!" Trump tweeted."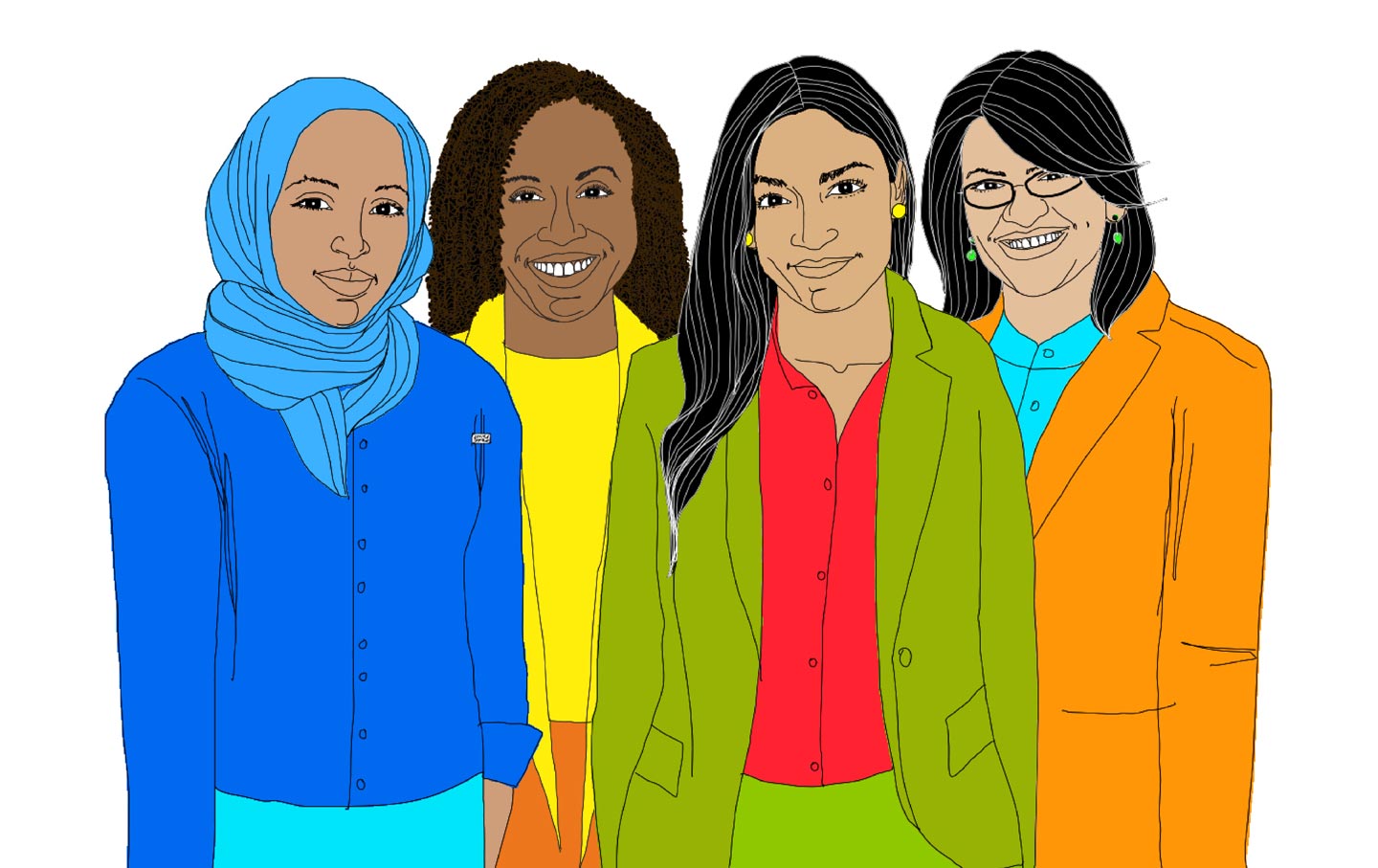 "In a statement Thursday (8/15/2019), Netanyahu said they "planned a visit whose sole objective is to strengthen the boycott against us and deny Israel's legitimacy."
"MIFTAH, the group that helped organize the lawmakers' trip, called the ban "a clear case of discrimination and hostility based on political views and ethnic background, deserving of moral indignation and unequivocal condemnation in Palestine and the United States."
"Officials said they had worked hard to organize a well-rounded visit for the congresswomen, as well as Rep. Stacey Plakett, D-Virgin Islands, "in order to facilitate their engagement with Palestinian civil society and to provide them with an opportunity to see the reality of occupation for themselves."
"Omar tweeted  (on 8/15/2019) that "Trump's Muslim ban is what Israel is implementing, this time against 2 duly elected Members of Congress."
It is an affront that Israeli Prime Minister Netanyahu, under pressure from President Trump, would deny entry to representatives of the U.S. government.

My full statement:
***
"Trump has singled out the representatives in the past as part of his accusation that Democrats are anti-Israel and anti-Semitic. The president ignited a massive controversy last month after he lashed out Tlaib and Omar, as well as freshman Reps. Alexandria Ocasio-Cortez and Ayanna Pressley,
tweeting
that they should "go back" to where they came from and that he doesn't believe they are "capable" of loving the country."
"Several pro-Israel groups promptly criticized Israel's decision, including J Street. President Jeremy Ben-Ami called it "dangerous, unacceptable and wrong."
"As sitting members of Congress representing hundreds of thousands of Americans in their districts, Reps. Omar and Tlaib have the same right as every one of their colleagues to visit Israel and the occupied Palestinian territory," Ben-Ami said in a statement."
"Democratic Speaker of the House Nancy Pelosi said in a statement she was "deeply saddened by the news" and "prays that the Government of Israel will reverse" its denial.
"Israel's denial of entry to Congresswomen Tlaib and Omar is a sign of weakness, and beneath the dignity of the great State of Israel," Pelosi wrote. "The President's statements about the Congresswomen are a sign of ignorance and disrespect, and beneath the dignity of the Office of the President."
"House Majority Leader Steny Hoyer, D-Md., said in a statement that Israel's decision "is outrageous, regardless of the itinerary or their views." He said discussions are underway that could allow Tlaib to visit relatives in the West Bank, which Israel says it would consider if she reapplied for a personal visit."
On August 15, 2019, Noa Landau and Amir Tibon of Haaretz penned the following report, "Netanyahu Backtracks After Pressure From Trump, Bars Omar, Tlaib From Entering Israel"("Barring Congresswoman would greatly damage Israel's relations with Democratic party, Israeli diplomats warn ■ Trump tweets allowing their visit is 'great show of weakness')
Excerpts:
"Israel has decided Thursday to bar U.S. Congresswomen Ilhan Omar and Rashida Tlaib from entering the country, the Interior Ministry announced, despite acceding to the visit originally."
"The decision was made in accordance with Prime Minister Benjamin Netanyahu and Foreign Minister Yisrael Katz and Strategic Affairs Minister Gilad Erdan, the statement said, adding that it was reached after Interior Minister Arye Dery learned of their involvement in boycott movements, and that their entry must be disallowed in accordance with Israeli law."
"The ministry said Omar and Tlaib seek to use the most central stage to support BDS organizations and call for a boycott of Israel."
"Netanyahu released a statement after the decision, saying: "No country in the world respects the US and the U.S. Congress more than Israel."
"The premier added: "As a vibrant and free democracy, Israel is open to any visitor and to any criticism, with one exception: The law in Israel forbids the entry of people calling for and acting to placing a boycott on Israel, as is the norm in other democracies that prevent the entry of people whom they see as harming the country."
"This is how the U.S. acted toward an Israeli member of Knesset and toward other public figures in the world, he said."
"Netanyahu said Tlaib and Omar are "leading activists in promoting legislation to boycott Israel in the U.S. Congress. We received their itinerary only a few days ago, and it made clear that they are planning a trip whose entire purpose was supporting the boycott and eroding Israel's legitimacy. Thus, for example, they defined the destination of their trip as 'Palestine' and not as 'Israel,' and in contrast with all other Democratic and Republican members of Congress until now, they refrained from requesting any meeting with an Israeli official, either in the government or in the opposition."
"The American Israel Public Affairs Committee (AIPAC), a pro-Israel lobby group, tweeted that while it disagrees with the 2 congresswomen's "support for the anti-Israel and anti-peace BDS movement, along with Rep. Tlaib's calls for a one-state solution, we also believe every member of Congress should be able to visit and experience our democratic ally Israel firsthand."