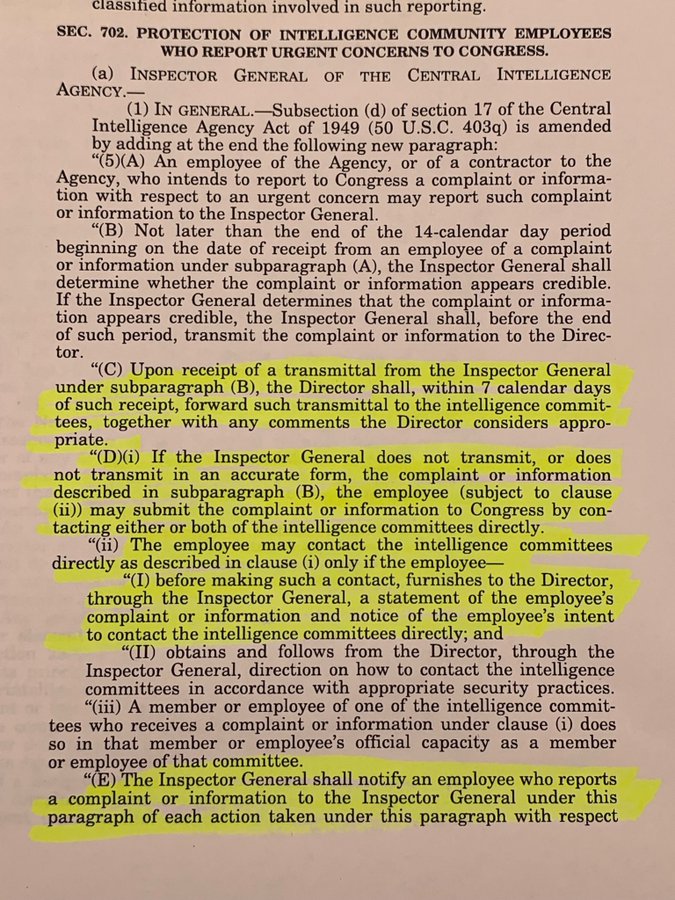 The story has been broken by the Washington Post about a high  level intelligence official having filed a "Whistle-blower complaint" regarding a phone conversation that the republican President Donald Trump had with a foreign official in July 2019 where he delivered a promise. The whistle-blower found this discussion to be so alarming to where he informed the Intelligence Community Inspector General Michael Atkinson about the content of the president's pow wow with a foreign leader around August 12, 2019. The chairman of the House's Intelligence Committee Rep. Adam Schiff became aware of the existence of the whistle-blower's complaint and that the Intel Inspector General's had marked it with the caveat that it was credible and it met the threshold of an "urgent concern." There's a statute where the acting head of the ODNI Office of Department of National Intelligence Joseph Maguire is obligated to share the complaint with the US Congress within 7 days of receipt but he's refusing to act, according to current law.
The Intel's Inspector General's usage of the words "urgent concern" is a legal term. These words tell us that whatever President Trump did was beyond his past transgressions like him displaying a photo of a classified site on twitter, the sharing of Israeli classified intel with Russian officials at the White House in 2017, and his occasional usage of non-encrypted cell phone when talking with foreign leaders.
According to the House's Intel Committee's Chairman Rep. Adam Schiff, the Intel's Inspector General was scheduled to testify before its committee members around 9:00 AM on the 18th of September 2019 in a closed door hearing. Then, on the 26th of September 2019, the Acting Director Joseph Maguire of the ODNI is expected to testify before the US Congress, pursuant to a subpoena.
The Inspector General revealed little about the whistle-blower's complaint based on the claim that the head AG William Barr of the US Department of Justice is blocking him from sharing the content with US Congressional members as required by law.
My theory (pure speculation) is that President Trump had been talking to his BFF Russia's President Vladimir Putin about Russia's ally, Iran. I suspect that he assured the Russian head of state that he had no intention of initiating a military action against Iran based on pressure from Saudi Arabia and Israel.
This hypothesis is based in Iran's recent actions of attacking on 9/14/2019 about 1/2 of Saudi Arabia's oil production sites which resulted in an immediate rise on oil costs. Iran is a difficult but a rational actor on the international stage which suggests that Iranian officials would not have taken this step if they had not been convinced that the US would not retaliate with military action. How could Iran know this?
Update on 9/20/2019: Washington Post is reporting that whistle-blower complaint refers to a phone call in July 2019 that President Trump had with Ukraine's President Volodymyr Zelensky where supposedly President Trump is tying promise to deliver on $250 million dollars of military hardware in exchange for negative news from Ukraine regarding his likely opponent, VP Joe Biden.
I've been wondering if the Ukraine story couldn't be a red herring because it's old news.
See 5/1/2019 NYT report: nytimes.com/2019/Biden Faces Conflict of Interest Questions That Are Being Promoted by Trump and Allies…
See 5/8/ 2019 WAPO editorial: View on washingtonpost.com"Trump tries to force Ukraine to meddle in the 2020 election"
My final question is how is it that the US Congress is not operating at record speed/ urgency with its "Impeachment Inquiry" against President Trump?
Here's the rest of the story…
As per a 9/14/2019 Business Insider report, "The acting director of national intelligence is withholding a mysterious whistleblower complaint of 'urgent concern' that may involve Trump" by Sonam Sheth:
Bullet points:
"The acting director of national intelligence, Joseph Maguire, is withholding a whistleblower complaint alleging serious wrongdoing within the intelligence community that may involve President Donald Trump, the House Intelligence Committee revealed on Friday."
"The House panel has subpoenaed Maguire to turn over the complaint."
"Notably, House Intelligence Committee Chairman Adam Schiff disclosed that Maguire consulted the Justice Department about the whistleblower complaint, which is a major departure from the norm."
"Maguire's office also refused to comment on whether the White House was involved in the decision to withhold the complaint, and whether the complaint relates to any matters being investigated by Schiff's committee."
"The Committee can only conclude, based on this remarkable confluence of factors, that the serious misconduct at issue involves the President of the United States and/or other senior White House or Administration officials," Schiff said."
On September 18, 2019, Greg Miller, Ellen Nakashima and Shane Harris penned the following report, "Trump's communications with foreign leader are part of whistleblower complaint that spurred standoff between spy chief and Congress, former officials say"
"The whistleblower complaint that has triggered a tense showdown between the U.S. intelligence community and Congress involves President Trump's communications with a foreign leader, according to two former U.S. officials familiar with the matter."
"Trump's interaction with the foreign leader included a "promise" that was regarded as so troubling that it prompted an official in the U.S. intelligence community to file a formal whistleblower complaint with the inspector general for the intelligence community, said the former officials, speaking on the condition of anonymity because they were not authorized to discuss the matter publicly."
"It was not immediately clear which foreign leader Trump was speaking with or what he pledged to deliver, but his direct involvement in the matter has not been previously disclosed. It raises new questions about the president's handling of sensitive information and may further strain his relationship with U.S. spy agencies. One former official said the communication was a phone call."
"The White House declined to comment. The Office of the Director of National Intelligence (ODNI) and a lawyer representing the whistleblower declined to comment.
"Intelligence Community Inspector General Michael Atkinson determined that the complaint was credible and troubling enough to be considered a matter of "urgent concern," a legal threshold that ordinarily requires notification of congressional oversight committees."
"But acting director of national intelligence Joseph Maguire has refused to share details about Trump's alleged transgression with lawmakers, touching off a legal and political dispute that has spilled into public and prompted speculation that the spy chief is improperly protecting the president."
"The dispute is expected to escalate Thursday (9/18/2019) when Atkinson is scheduled to appear before the House Intelligence Committee in a classified session closed to the public. The hearing is the latest move by committee Chairman Adam B. Schiff (D-Calif.) to compel U.S. intelligence officials to disclose the full details of the whistleblower complaint to Congress."
Link to entire report: washingtonpost.com ..