The below 8/28/2019 Politico report details how the republican President Donald Trump had been slow walking the release of $250 million dollars of US military aid promised to Ukraine around May 2019. The frozen funds were finally released to Ukraine around the 12th of September 2019.
As per the 5/16/2019 Kyiv Post, (As of 5/16/19) "the Subcommittee on Defense of the House Appropriations Committee has endorsed the draft 2020 National Defense Authorization Act. The amount of the funds proposed for Ukraine's security assistance is set at $250 million. Of this amount, $50 million is proposed to be sent solely to shipments of lethal weapons for defense," the embassy said."
"As noted, the document provides that the funds should also be funneled into the implementation of such programs as training of military personnel, the supply of military hardware and equipment, logistics support, intelligence support for Ukraine's armed and security forces."
This data becomes relevant because of the August 2019 whistle-blower's complaint which had been delivered to the IC Intelligence Community's Inspector General who made the determination that the complaint was both credible and of an urgent concern. After this evaluation, the IC's Inspector General was supposed to share it with the US Congress within 7 days as per US law. But the DOJ Department of Justice headed by the Attorney General William Barr has been blocking both the IC's Inspector General and the Acting Director Joseph Maguire of the ODNI Office of the Director of National Intelligence from honoring their obligations.
Around 9/20/2019, news sources were reporting that the whistle-blower complaint referred to a phone call in July 2019 where President Trump could be heard talking to Ukraine's President Volodymyr Zelensky, where he supposedly was tying a promise to deliver on $250 million dollars of military aid in exchange for negative news from Ukraine regarding his likely opponent, VP Joe Biden.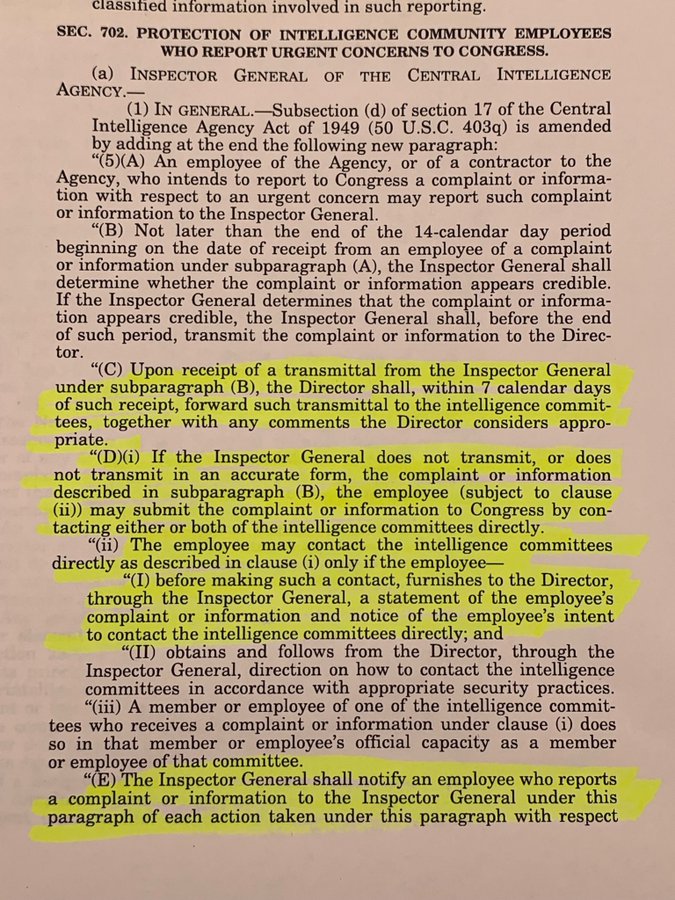 Here's the rest of the story…
On August 28, 2019, Caitlin Emma and Connor O'Brien of Politico penned the following report, "Trump holds up Ukraine military aid meant to confront Russia"
Excerpts:
"The Trump administration is slow-walking $250 million in military assistance to Ukraine, annoying lawmakers and advocates who argue the funding is critical to keeping Russia at bay."
"President Donald Trump asked his national security team to review the funding program, known as the (2015) Ukraine Security Assistance Initiative, in order to ensure the money is being used in the best interest of the United States, a senior administration official told POLITICO."
"But the delays come amid questions over Trump's approach to Russia, after a weekend in which the president repeatedly seemed to downplay Moscow's military intervention in Ukraine and pushed for Russia to be reinstated into the Group of Seven, an annual gathering of the world's largest advanced economies. The review is also occurring amid a broader internal debate over whether to halt or cut billions of dollars in foreign aid."
"United States military aid to Ukraine has long been seen as a litmus test for how strongly the American government is pushing back against Moscow."
"The Trump administration in 2017 approved lethal arms sales to Ukraine, taking a step the Obama administration had never done. The move was seen as a sign that Trump's government was taking a hard-line approach to a revanchist Vladimir Putin despite the president's public rhetoric flattering the Russian leader. Scaling back that assistance could expose Trump to allegations that his policies are favoring Moscow."
"For the 2019 fiscal year, lawmakers allocated $250 million in security aid to Ukraine, including money for weapons, training, equipment and intelligence support. Specifically, Congress set aside $50 million for weaponry."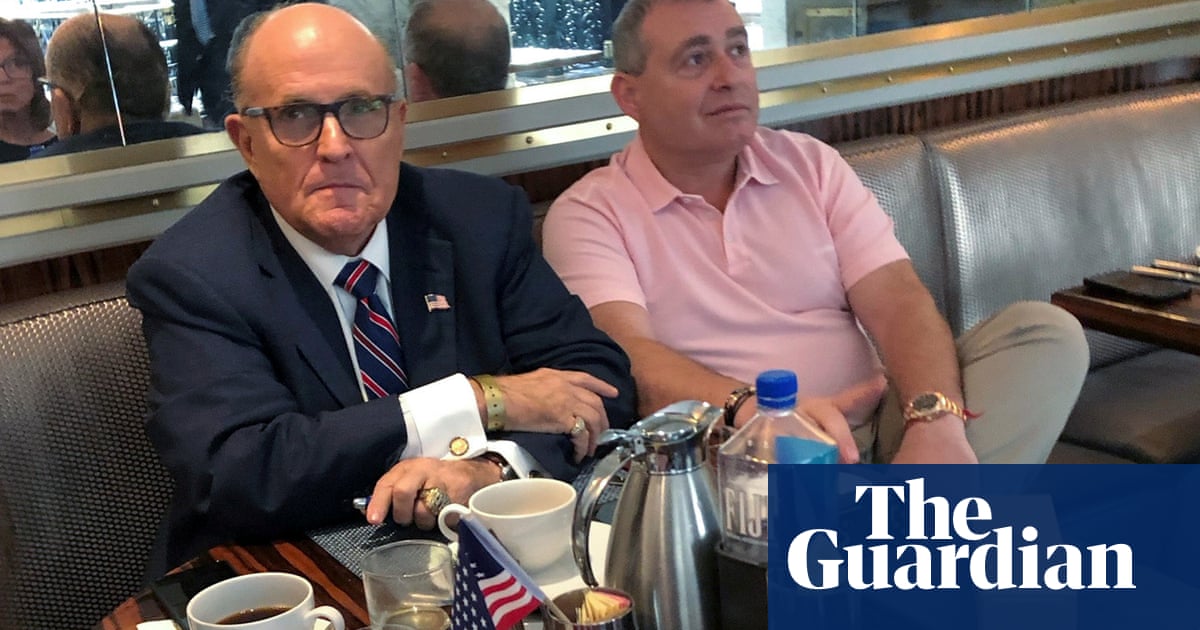 "Now, that funding is being called into question. The senior administration official, who asked to remain anonymous in order to discuss internal matters, said the president wants to ensure U.S. interests are being prioritized when it comes to foreign assistance, and is seeking assurances that other countries are "paying their fair share."
"Defense Secretary Mark Esper and national security adviser John Bolton are among the officials who were asked to review the Ukraine security funding. A senior Defense Department official told POLITICO that "the department has reviewed the foreign assistance package and supports it."
"But the White House explanation that Trump wants to ensure the money is being spent properly isn't sitting well with lawmakers on Capitol Hill, where members of both parties have pushed to increase military assistance to Ukraine and U.S. military efforts to deter Russia in Eastern Europe."
"There is "an at least temporary effect," said Rep. Tom Malinowski, a New Jersey Democrat who sits on the House Foreign Affairs Committee. "The bigger problem is that Trump is once again showing himself to be an asset to Russia."
"Sen. Bob Menendez (D-N.J.), the ranking Democrat on the Senate Foreign Relations Committee, vowed that the administration's move "will be met with fierce opposition in Congress."
"Enough is enough," he said in a statement. "President Trump should stop worrying about disappointing Vladimir Putin and stand up for U.S. national security priorities."
"The funds for Ukraine can't be spent while they're under review and the money expires at the Sept. 30 end of the fiscal year. The account was originally created by defense policy legislation enacted in late 2015 to help Ukraine battle pro-Russian separatists in Crimea after Moscow annexed the region in 2014."
"We are aware of an [Office of Management and Budget] hold on funding for the Ukraine Security Assistance Initiative," House Appropriations Committee spokesperson Evan Hollander said in a statement. "We have serious concerns about a freeze on these important appropriated funds, and we are urgently inquiring with the administration about why they are holding up these resources."
"The House Armed Services Committee "is aware of the restriction, but have requested additional information about what it means and is applied to," an aide told POLITICO."
"In a POLITICO op-ed in April, Senate Armed Services Chairman Jim Inhofe (R-Okla.) called for boosting funding for the Ukraine Security Assistance Initiative and argued that a bigger portion of the money "should go to support defensive lethal aid that will make Ukraine a more difficult target for Putin's aggression."
"Trump is scheduled to meet this weekend in Warsaw, Poland, with Ukrainian President Volodymyr Zelensky." (Because of US storms' hitting East coast of USA, VP Mike Pence substituted for President Trump.)
Link to entire article:  politico.com/ Trump holds up Ukraine military aid meant to confront Russia..
See: nytimes.com/2018/Ukraine, Seeking U.S. Missiles, Halted Cooperation With Mueller Investigation: Ukraine, deeply dependent on the Trump administration for financial and military aid, froze its cooperation with the special counsel's office…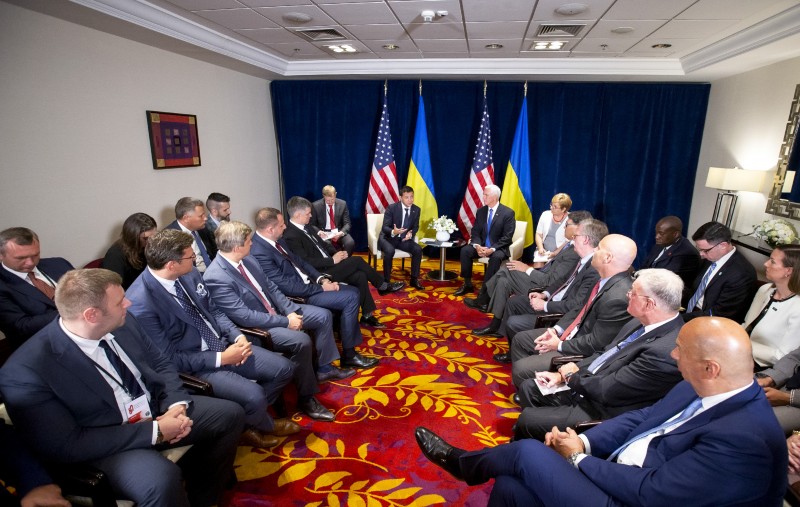 On 9/21/2019 the Economist published the following synopsis:
"Of all the meetings that will take place between heads of state at the United Nations in New York next week, the one between Presidents Donald Trump and Volodymyr Zelensky (pictured), a comedian turned president of Ukraine, may be the strangest. Last month, (August 2019) as Ukraine's government was trying to negotiate the release of its prisoners from Russia, it received news from Washington. The White House had frozen $250m of military assistance to Ukraine that had already been approved by Congress until further review. The administration set no criteria or time frame for the review. But a month earlier, (July 2019) in a telephone conversation with Mr Zelensky, then newly elected, Mr Trump said he was "convinced the new Ukrainian government would be able to quickly improve the image of Ukraine and complete the investigations of corruption cases, which inhibited the interaction between Ukraine and the USA." (President Trump did relinquish funds on 9/12/2019.)