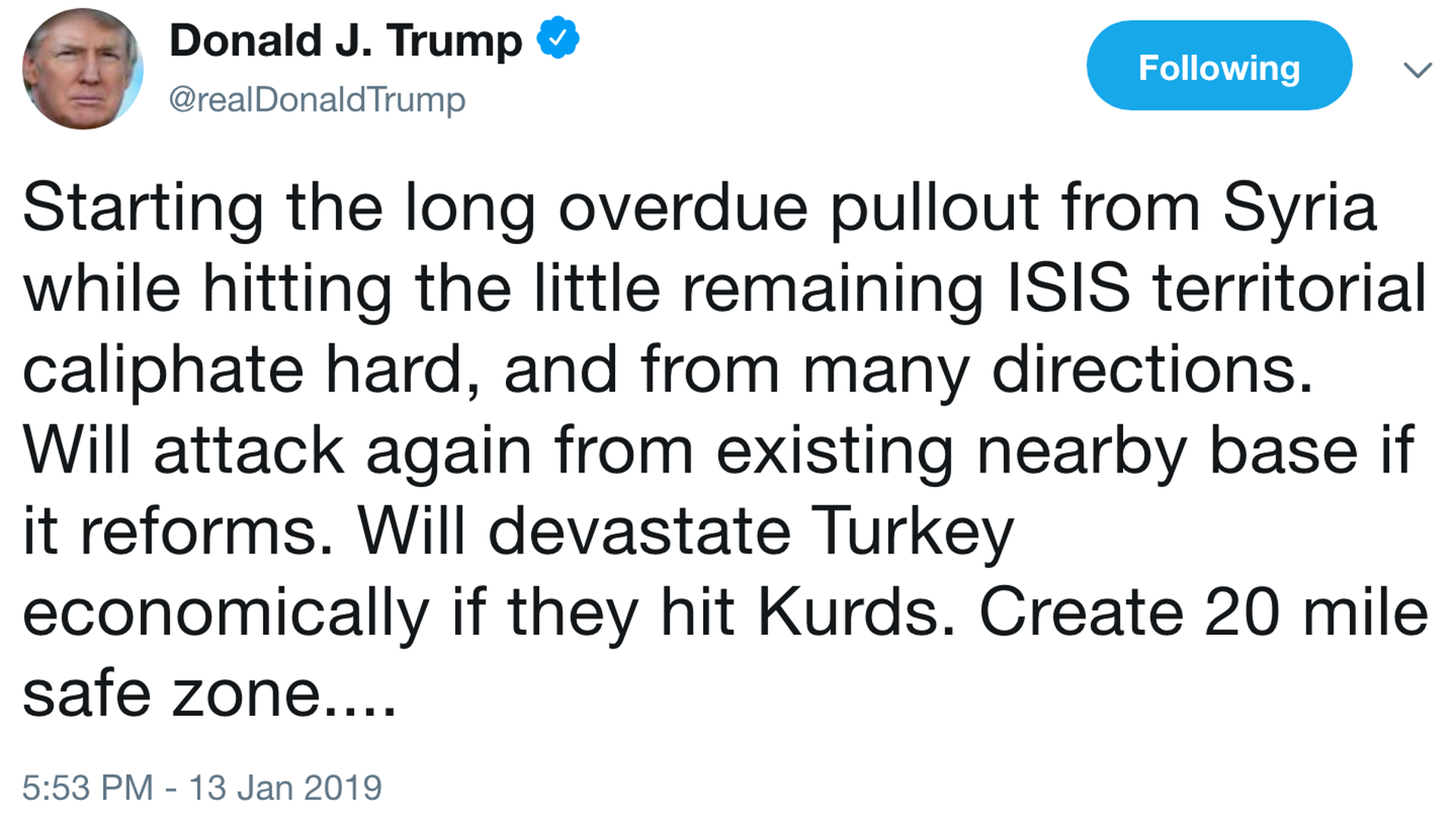 The latest blooper by the republican President Donald Trump regarding Syria proves that he's just begging to be impeached. He deserves to be the first US president to be convicted in the US Senate as part of the impeachment process.
Since October 6th, the president's ignorance regarding history at its most rudimentary level, his incompetence and unfitness to serve the office of the presidency have been on full display, as he questions via Twitter, why the Kurds didn't do more fighting during WWII; and then he explains how the US doesn't have to worry about 10,000 plus ISIS hardened prisoners escaping from Kurdish jails, because they'll be moving back to Europe.
Jamie Dupree tweeted the following on 10/9/2019:
Here's the full quote. The President evidently read something today about the Kurds, and that's where the WWII and D-Day stuff came from.

……

@axios
NEW: Trump responded to bipartisan condemnation of his decision to move US troops out of northern Syria, saying Turkey and the Kurds "hated each other for hundreds of years" and that if ISIS prisoners escape, "they will be escaping to Europe"
Trump on potential ISIS escapees: "They will be escaping to Europe"
"We are policing areas and doing jobs that other countries should be doing."
…….
CNN Newsroom
Turkey's offensive in northeastern Syria has begun, Turkish President Erdogan announced, just days after the Trump administration said it was pulling US troops back from the border area.
…..
Laurence Tribe tweeted following on 10/9:
It was on Putin's birthday that Trump gave Erdogan the green light to wipe out the Kurds, something Putin had wanted Erdogan to do as part of their joint plans for carving up Syria.
For review…
On the evening of the 6th of October 2019, President Trump took a lengthy  phone call from the Turkish leader, Recep Tayyip Erdogan, where he ended up granting the Turks, the US stamp of approval for their invasion of NE Syria, knowing that this will likely lead to the slaughter the Kurds, with the help from Russia's President Putin. The president impulsively acted by delivering orders to those US military personnel serving in Syria, to immediately exit the area, without consulting any of his foreign policy advisers, his GOP allies in the US Congress or the Pentagon.
Here's some background…
Its these same NE Syrian Kurds (YPG) who've shed the lives of 11,000 of their compatriots with about 24,000 having been injured from 2014-2019, while they did the heavy lifting in the US military's fight against ISIS; whereas, during this same time-frame, less than 10 US soldiers had been fatally wounded. The Kurds sacrificed their lives to assist Americans with the promise that the US would help protect them from Turks who hate them more than ISIS.
The Kurds had so trusted the U.S. that they honored the US request to move its military equipment tanks/ dismantle defensive positions near the Turkish border as part of the buffer-zone agreed upon during negotiations among vested parties in Ankara, as a sign of good will. It was the US policy that the Kurds were less likely to aid an insurgency in Turkey if they were allowed to govern themselves in a safe area in Syria policed by the U.S. and Turkey.
And the US military had been keeping its commitment to the Kurds with less than 3,000 US military special forces on the ground in Syria, directing their efforts until President Trump decided to betray them by placing the national security interests of Turkey, Russia and his personal business interests in Istanbul, before that of the USA and its peoples.
My thoughts…
I've been speculating that because the Russian asset, President Donald Trump, hadn't managed to successfully pay back his debt to Russia by the lifting of sanctions imposed against it from 2014-2018, with the exception of the oligarch's Oleg Deriposka case in 2019: or in disseminating the Russian inspired conspiracy theory that it was really Ukraine and not Russia which interfered with 2016 US elections; or in talking US allies into adding Russia back into the G8,  Russia finally demanded a return on its investment for all it did in 2016 to help President Trump win the presidency.
President Putin had been wanting US military out of Syria for months, and so, President Trump finally delivered. It looks like this was President's Trump's birthday gift to Russia's President Putin.

See must read report: www.cnn.com/"Trump's betrayal of the Kurds is a gift to Putin and Assad" (Putin: Born: October 7, 1952 (age 67 years)/ date of Trump-Erdogan phone call was on evening of 10/6/2019)
See: Dear GOP In Congress, Syrian Kurds Blood Is On You. Impeachment, Anyone?
Here's the rest of the story…
As per the 10/7/2019 WSJ Editorial Board's opinion piece, "With Friends Like the U.S." ("The Kurds helped to defeat ISIS. Trump leaves them to Erdogan.)
Excerpts:
"President Trump's defeat of Islamic State as a territorial power was a major foreign-policy success, yet he may now undo it with a retreat from Syria that will also signal to U.S. allies that the White House can't be trusted."
"That's the risk of Mr. Trump's abrupt decision late Sunday (10/6/2019) to abandon northern Syria to Turkey. Washington and Ankara had been negotiating to create a buffer zone to avoid a conflict there, but on (10/6/2019) the White House announced that American forces will cede the area to Turkish troops. Turkish President Recep Tayyip Erdogan is now free to wage war on Syria's Kurds, who were America's most important allies against ISIS."
"Mr. Erdogan says the U.S.-armed Kurdish fighters in Syria, known as the YPG, have ties to the Kurdistan Workers' Party, a domestic Kurdish insurgency within Turkey. On that exaggerated claim he justifies an exercise that could amount to ethnic cleansing. Mr. Erdogan last month proposed a "safe zone" extending some 20 miles into Syria from the Turkish border, where he would resettle millions of Syrian refugees. This could require the forcible resettlement, or worse, of Kurds already living in the area."
"Mr. Erdogan seems to have believed that the U.S. would help in this exercise. But after a phone call with the Turkish strongman, Mr. Trump made clear that Turkey is on its own. That also means so are the Kurds, and the U.S. withdrew its troops from two border posts. A Kurdish spokesman tweeted, "We are not expecting the US to protect NE #Syria. But people here are owed an explanation."
Mr. Trump compounded the injury (of abandoning the Kurds to the Turks) with insult when he tweeted Monday morning that the "Kurds fought with us, but were paid massive amounts of money and equipment to do so." For Mr. Trump, foreign policy is always a transaction, never a matter of principle."
"The Kurds also have taken on the role of jailer of last resort for 1000s of captured ISIS fighters no one else wants to house."
"The White House says Mr. Erdogan is now responsible for all ISIS fighters in the region, but he can't be trusted given his record of using refugees as bargaining chips with Western Europe. Released European ISIS recruits could disperse to form cells in the region or find their way back to Europe. There's also the practical question of how to transfer control of prison camps from the Kurds to Turkish troops waging war against them."
Under heavy criticism from even friends in Congress, Mr. Trump tweeted later on Monday that he'd "totally destroy and obliterate the Economy of Turkey" if Mr. Erdogan does anything "off limits." (LIE) Administration sources say this is a warning to Mr. Erdogan not to massacre the Kurds or free ISIS prisoners, at the risk of U.S. economic sanctions.
But Mr. Erdogan also knows Mr. Trump badly wants out of the Middle East and might call the American's bluff. "It's time for us to get out of these ridiculous Endless Wars," Mr. Trump tweeted Monday (10/7/2019)."
Solution as per WSJ:
"Washington can at least deny Turkish jet fighters airspace over Kurdish areas, which would raise the costs for Mr. Erdogan of a full-scale invasion."