On 10/10/ 2019, WSJ broke the story that two of the republican President Donald Trump's personal attorney Rudy Giuliani's Soviet born buddies, Lev Parnas and Igor Fruman from Florida, were arrested by the SDNY Manhattan's US attorney's office on the evening on 10/9/2019 as both were preparing to leave the country by plane. These 2 Floridians will be dealing with charges for FEC criminal violations in a Virginia federal court, on the 10th of October 2019.
The million dollar question is, will Giuliani's compatriots in crime, flip on him, or is the head of the US Department of Justice, the Attorney General William Barr who oversees the SDNY offices, working behind the scenes to set up Mr. Giuliani to take the fall for President Trump? In either case Rudy Giuliani, the former NYC mayor and the former head of the SDNY US Attorney's offices in Manhattan, is in serious legal trouble. The night of the arrest, Mr. Giuliani had met his two cronies for lunch earlier in the day? Were these two men warned? There's more to this story than meets the eye.
As per the 10/10/2019 WSJ headlines, "Two Giuliani Associates Who Helped Him on Ukraine Arrested on Campaign-Finance Charges" by Aruna Viswanatha, Rebecca Ballhaus and Sadie Gurman:
"Two Soviet-born donors to a pro-Trump fundraising committee who helped Rudy Giuliani's efforts to investigate Democrat Joe Biden were arrested late Wednesday (10/9/2019) on criminal charges of violating campaign finance rules and are expected to appear in court on Thursday (10/10/2019)."
"Lev Parnas and Igor Fruman, two Florida businessmen, have been under investigation by the U.S. attorney's office in Manhattan, and are expected to appear in federal court in Virginia later on Thursday."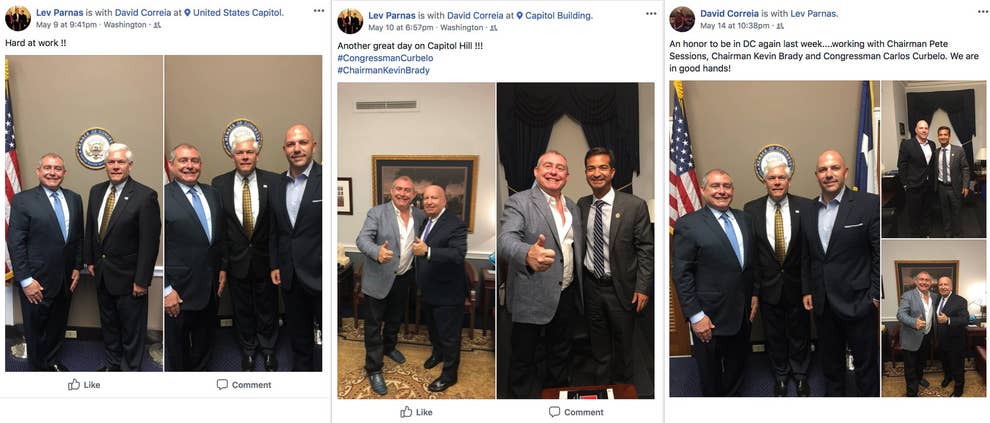 Here's the rest of the story…
As per 7/22/2019 OCCRP.org report, "MEET THE FLORIDA DUO HELPING GIULIANI INVESTIGATE FOR TRUMP IN UKRAINE" by Aubrey Belford and Veronika Melkozerova:
Excerpts:
"Two Soviet-born Florida businessmen — one linked to a Ukrainian tycoon with reputed mafia ties — are key hidden actors behind a plan by U.S. President Donald J. Trump's personal attorney to investigate the president's rivals."
"Trump's attorney, former New York Mayor Rudy Giuliani, said in May that he planned to visit then-incoming Ukrainian President Volodymyr Zelensky to win support for probes into potentially damaging claims raised by senior Ukrainian officials."
"Among them was the misleading contention that Trump's main 2020 Democratic rival, Joe Biden, improperly pressured Ukraine's government to fire a top prosecutor; that American diplomats in Ukraine had exhibited pro-Democrat bias; and that local officials conspired to undermine Trump's presidential campaign and help Hillary Clinton in 2016."
"Giuliani set off a firestorm in the conservative media by promoting the allegations."
"We're not meddling in an election; we're meddling in an investigation, which we have a right to do," he told the New York Times."
"The claims he was pressing have since largely been debunked, but remain politically potent as the next U.S. elections approach."
"Within days of announcing the planned trip to Ukraine, Giuliani called it off amid a storm of criticism that he was inappropriately interfering in U.S. relations with a foreign country. His efforts in Ukraine, however, have continued."
"At the center of Giuliani's back-channel diplomacy are the 2 businessmen, Lev Parnas and Igor Fruman, who Giuliani has publicly identified as his clients."
"Until now, the men have escaped detailed scrutiny. But a joint investigation by the Organized Crime and Corruption Reporting Project (OCCRP) and BuzzFeed News, based on interviews and court and business records in the US and Ukraine, has uncovered new information that raises questions about their influence on U.S. political figures."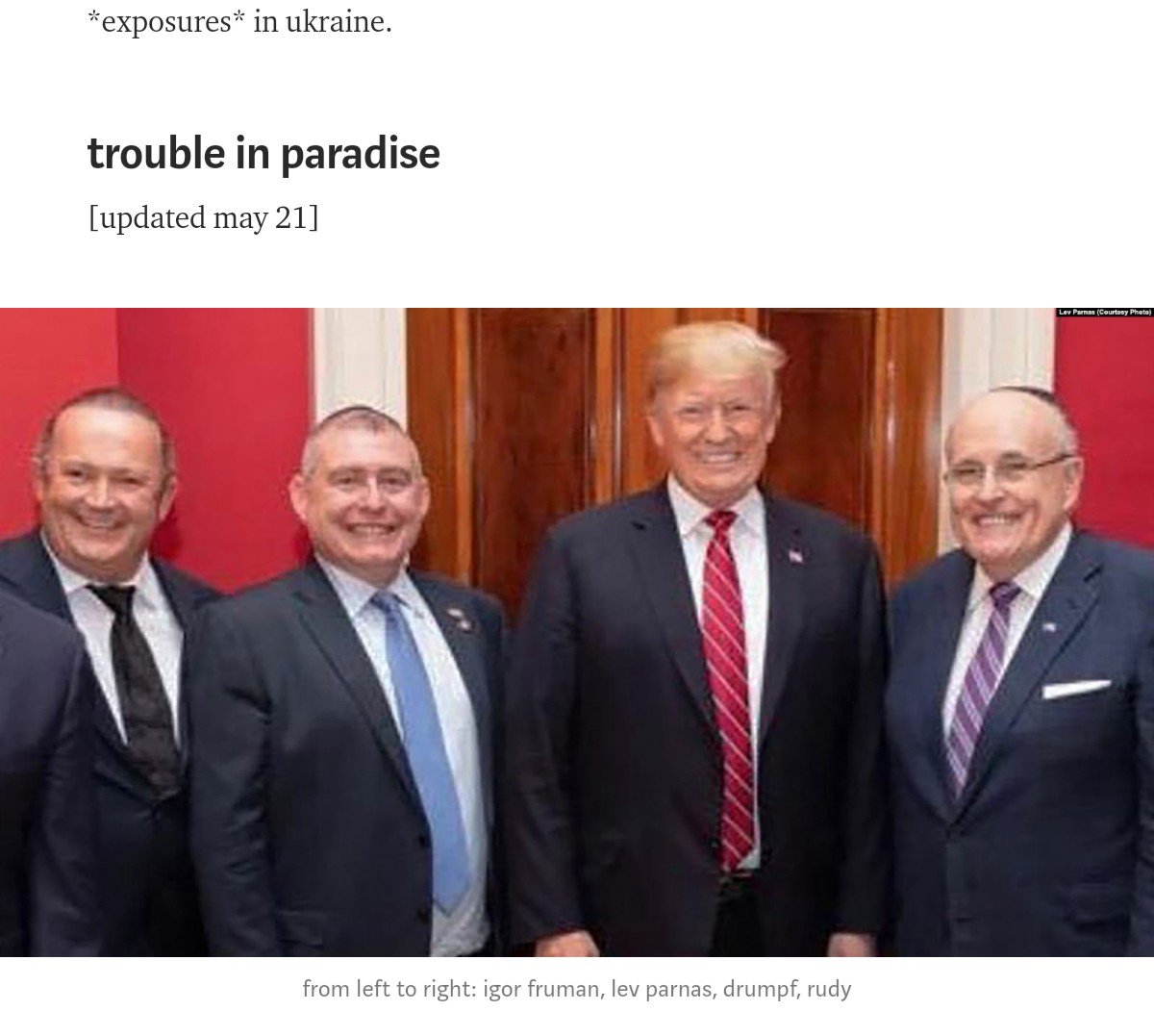 "Both men were born in the Soviet Union and immigrated to the United States. Parnas came with his family at the age of four. Fruman first arrived as a young adult in the 1980s, but later moved to Ukraine and established a series of businesses. Both now live in South Florida."
"Since late 2018, the men have introduced Giuliani to 3 current and former senior Ukrainian prosecutors to discuss the politically damaging information."
"The effort has involved meetings in at least 5 countries, stretching from Washington, D.C. to the Israeli office of a Ukrainian oligarch accused of a multi-billion dollar fraud, and to the halls of the French Senate."
"Parnas and Fruman's work with Giuliani has been just one facet of their political activity."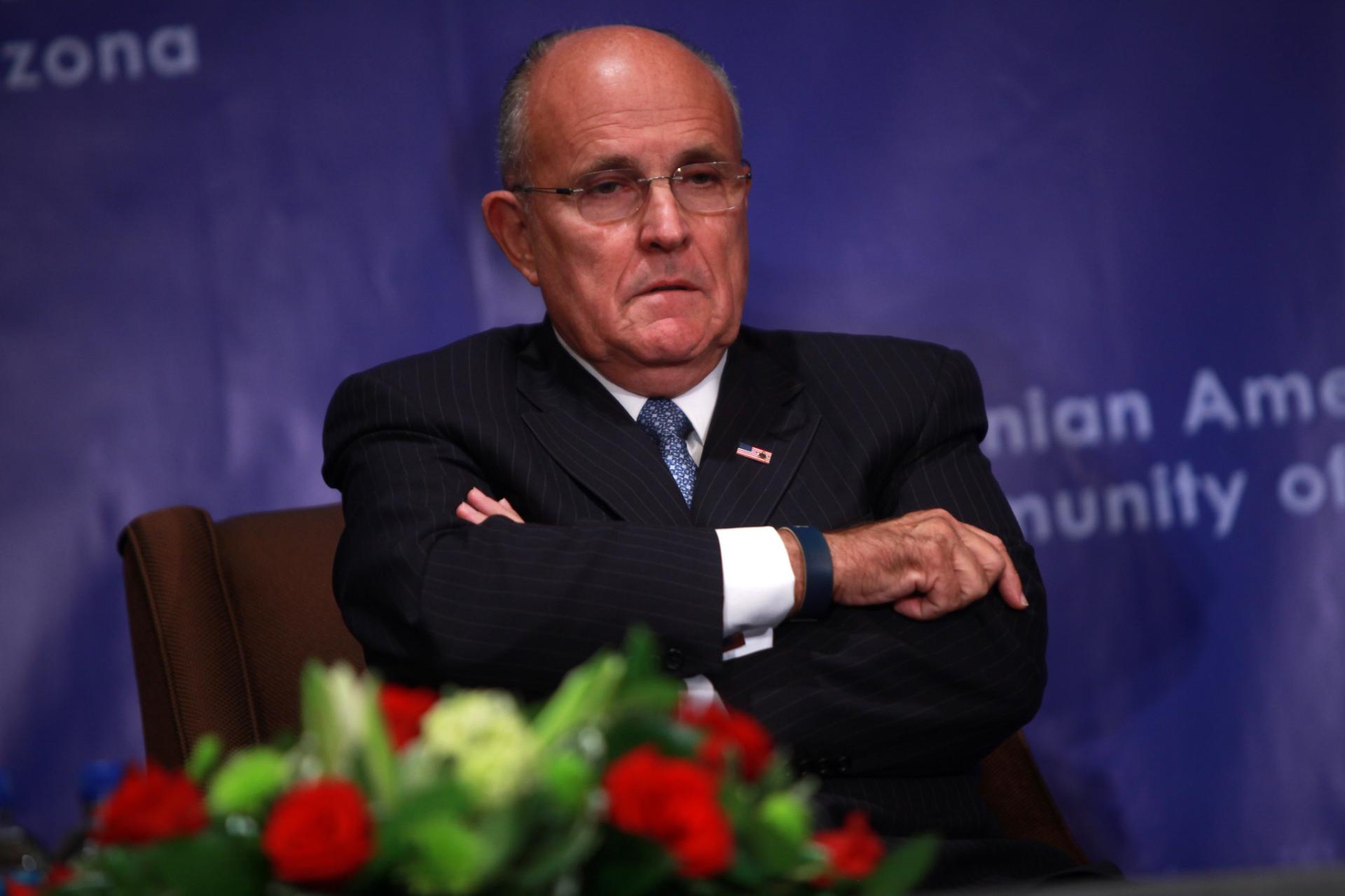 "The men appear to enjoy a measure of access to influential figures. They've dined with Trump, had a "power breakfast" with his son Donald Jr., met with U.S. congressmen, and mixed with Republican elites."
"Months before their earliest known work with Giuliani, Parnas and Fruman also lobbied at least one congressman — former U.S. Rep. Pete Sessions, a Texas Republican — to call for the dismissal of the US' ambassador to Ukraine, Marie Yovanovitch. She stepped down a year later after allegations in the conservative media that she had been disloyal to Trump." (Ms. Yovanovitch is being deposed on 10/11/2019 by Congress.)
"While setting up meetings for Giuliani with Ukrainian officials, the men also promoted a business plan of their own: Selling American liquefied natural gas to Ukraine to replace Russian imports disrupted by war."
"In a series of interviews, Parnas said he and Fruman weren't paid by anyone for their work in Ukraine and that he and his partner have done nothing illegal."
"All we were doing was passing along information," he said. "Information coming to us — either I bury it or I pass it on. I felt it was my duty to pass it on."
"He said their political activities were motivated by sincere conviction that they had uncovered wrongdoing that should be investigated."
"We're American citizens, we love our country, we love our president,"he said.
"The men make for unlikely back-channel diplomats. Parnas, 47, is a former stockbroker with a history of unpaid debts, including half a million dollars owed to a Hollywood movie investor. Fruman, 53, has spent much of his career in Ukraine, and has ties to a powerful local businessman reputed to be in the inner circle of one of the country's most infamous mafia groups."
"Kenneth McCallion, an ex-federal prosecutor who has represented former Ukrainian Prime Minister Yuliya Tymoshenko in U.S. court, said that Parnas and Fruman were "playing with fire" by lobbying in the US and Ukraine without registering as foreign agents."
"Trump has either authorized Giuliani to engage in private diplomacy and deal-making, or even worse, remains silent while Giuliani and his band of soldiers of fortune engage in activities that severely undermine U.S. credibility and are contrary to fundamental U.S. interests," McCallion said."
'It Opened Giuliani's Eyes'
"Parnas and Fruman's work with Giuliani has largely centered on efforts to connect the president's personal attorney with current and former senior Ukrainian prosecutors believed to hold information harmful to Trump's rivals."
"In late 2018, Parnas and Fruman organized a Skype call between Giuliani and Viktor Shokin, who served as Ukraine's prosecutor general until he was dismissed by parliament in 2016 amid allegations he was blocking anti-corruption efforts."
"Parnas and Giuliani visited the French Senate building, where Giuliani attended a meeting that included Nazar Kholodnitsky, the head of Ukraine's Special Anti-Corruption Prosecutor's Office, according to social media posts. (Kholodnitsky has faced calls to step down after wiretaps in his office last year allegedly caught him interfering in corruption cases.)"
"By the new year, Parnas said, he and Fruman had also connected Giuliani with Shokin's replacement as top prosecutor, Yuriy Lutsenko. The Ukrainian official and Giuliani met in NY in January and again in Warsaw the following month."