You know that GOP right wing talking point that there's a "Deep State" within the US government which is out to impede everything that the republican President Donald J. Trump has been trying to do. That's the "Deep State" that's comprised of 1000s of decent hard-working career service-orientated US government employees who just want to do their jobs with some semblance of professionalism and dignity, in a non-partisan manner. This "Deep State" includes dedicated professionals who risk their lives being of service to their country and its peoples, in government agencies like the FBI and the CIA, the same organizations that the president with his sycophantic GOP buddies love to excoriate and denigrate.
As for me, I'm grateful that these same "Deep State" government employees  have been hard at work to protect this democracy, the USA, that's been under attack by this shadow government.
It's my guess that it's these same "Deep State" staffers working in the White House who spilled their guts to the CIA operative who filed the Whistle-blower's formal complaint on August 12, 2019 about the 7/25/2019 phone conversation where President Trump could be heard asking the recently elected Ukrainian leader Volodymyr Zelenskiy to develop dirt on a political rival, allegedly, in order for Ukraine to return a favor to the US president in exchange for his releasing congressional allotted funds in May 2019, for Ukraine's defense against Russian aggression. These government employees knew that their CIA colleague would figure out a way to inform the public about the goings-on of this shadow government.
As per below excerpts from a Washington Post report, these White House personnel had tried to inform the proper authorities on multiple occasions.
This right-wing fear of the "Deep State," is a belief system shared by true believers, including President Trump, the Attorney General William Barr as head of the US Department of Justice (DOJ), the president's personal attorney Rudy Giuliani, the Secretary of State Mike Pompeo and the Vice President Mike Pence.
Its this far right's contempt towards the "Deep State" that has led the president and his lieutenants to act counter to US national security interests by their going down the "Alice in Wonderland" rabbit hole filled with conspiracy theories with little to no basis in fact, or with facts that are presented in a formula that's completely out of context, designed to be deliberately misleading; and which have been debunked many times by credible fact-checking news organizations.
As per a 9/29/2019 Axios report by Jacob Knutsen, the president's adviser could be heard invoking the term "Deep State. "White House senior adviser Stephen Miller claimed on "Fox News Sunday" that the whistleblower who filed a complaint about President Trump's interactions with Ukraine is a "deep state operative" who does not deserve to be honored for forwarding a "partisan hit job."

Thus, the need for a shadow US government to be run out of the White House by the President Trump with his point men to provide proof that their trumpeted  conspiracy theories are true. These endeavors have snowballed into the Trump-Ukraine scandal that's spawned the US House of Representatives to officially announce the commencement of an Impeachment Inquiry/ investigation against President Trump, in September 2019.
The conspiracy tales include the ones, like VP Joe Biden having done something shady when he tied the firing of a notoriously corrupt Ukrainian General Prosecutor Viktor Shorkin, to the delivery of US funds to help the fledgling democracy, Ukraine, in 2016;  that somehow, VP Biden must have benefited from his son Hunter having been hired by a Ukrainian natural gas company Burisma as a director at a pay scale of $50,000 per month from 2014-2019; that it was Ukraine — not Russia — which interfered in the 2016 US elections, and that Crowd-Strike covered it up by hiding the server used in hacking the DNC somewhere in Ukraine. This is a firmly held conviction that the president with his cronies in crime, continue to hold even though the president's top aides have repeatedly told him the theory had been debunked.
See: vox.com/  The right-wing conspiracy theories behind Trump and Barr's outreach to foreign leaders – The Trump administration is embroiled in scandals stretching from Ukraine to Australia. It all stems from beliefs in debunked right-wing conspiracy theories. …
Here's the rest of the story…
By now, most folks who follow political news have learned that the republican President Donald Trump's personal attorney Rudy Giuliani's Soviet born Floridian cronies, Lev Parnas and Igor Fruman had been arrested by federal law enforcement agents at the direction of the (SDNY) Southern District US Attorneys Offices in Manhattan, while they were at a Washington DC airport, Dulles with one-way air-line tickets out of the country on the evening of the 9th of October 2019. They were both transported to the nearby Alexandria jail with expenses paid for, by the US taxpayers to face charges in a federal court on October 10th.
Both  Lev Parnas and Igor Fruman with Rudy Giliani were instrumental in the May 2019 firing by the Trump administration of a career, experienced, very reputable US diplomat serving in Ukraine, the US Ambassador Marie Yovanovitch because she would not play ball with their plans based on conspiracy ideology.
On the 11th of October 2019, she's also the one risking her financial well being by stepping up to submit to being deposed by the oversight committees of the US Congress against the direction of the Trump Administration. Here's Marie Yovanovitch's prepared deposition statement.
See: WSJ Broke News: Giuliani's 2 Cronies Lev Parnas and Igor Fruman, Were Arrested
Interesting sampling of tidbits that add a colorful texture to this developing Trump-Ukraine scandal:
1.) Rudy Giuliani, the former NYC mayor also had been the head of the highly reputed (SDNY) Southern District US Attorneys Offices in Manhattan. I'm betting that he still has his contacts in this office that ordered the arrest of his friends.
2.)  On the same day that Mr. Giuliani's friends were arrested (10/9/2019), he had lunch with them at the Trump Hotel in Washington DC.
3.) Soon after this lunch among friends at the Trump Hotel, Lev Parnas and Igor Fruman made preparations to leave the country but they were under arrest by federal officials before they boarded their plane on the evening of the 9th of October.
4.) The AG William Barr as head of (DOJ) the US Department of Justice oversees the (SDNY) Southern District US Attorneys Offices in Manhattan which was responsible for federal agents arresting Mr. Giuliani's 2 partners in crime, regarding FEC violations on 10/9/2019.
AG Barr is the same-one who ordered the US Department of Justice to ask a NY court to block a subpoena for 8 years worth of Trump's tax records that was filed by Manhattan District Attorney Cyrus Vance earlier this summer 2019.
As per the 10/3/2019 Vice report, "Bill Barr's DOJ Is Fighting the Release of Trump's Tax Returns" by Greg Walters"What they're saying is that if the president is suspected of breaking the law, you can't even gather evidence about it."
"And they did indeed raise constitutional issues. Trump's lawyers made the unprecedented argument that as president, he should be totally immune from criminal investigation — a theory that hasn't been tested in the courts, and which former prosecutors called an outlandish expansion of executive immunity."
READ: Trump's Now Arguing He Doesn't Have the Time to Be Investigated in Any Criminal Case
5.) AG William Barr, the head of the (DOJ) appointed a competent, highly reputable, competent straight player, Connecticut US Attorney John Durham to conduct a thorough analysis as to the origins of the FBI's Trump-Russia probe at the bequest of the president. So then, why would Mr. Barr also be traveling around the world with Mr. Durham to assist in this same assignment along with Rudy Giuliani and others?
6.) The US Attorney General Bill Barr is the very same one who advised the Acting head of the US Department of National Intelligence Joseph Maguire, that he wasn't required to forward his receipt of a Whistle-blower's complaint from the ICIG Intelligence Community Inspector General Mr. Atkinson, who deemed the complaint regarding the Trump-Ukraine saga to be both credible and of an urgent concern, to the US Congress within 7 days, as required by US law.
7.) In exerting his sphere of influence during the months of September and October 2019, AG Barr had also visited this office on numerous occasions, prior to the SDNY prosecutors having ordered the arrest of Mr. Giuliani's associates on the 9th of October.
On October 10, 2019 I can still hear the words reverberating in my mind when the head of the SDNY Manhattan's US Attorneys office, Geoffrey Berman stated, " Investigation Into Giuliani Pals' Campaign Finance Violations Is Ongoing."
8.) See following tweets:

Muckmaker™
@RealMuckmaker
"AG Barr personally pressed foreign intelligence to discredit U.S. intelligence on 2016 election"
Campaign Action It's a bad day to be Attorney General William Barr. While The New York Times has a blockbuster of a story about how he engineered Donald Trump's request to Australia's Prime Minister…
dailykos.com
(READ: Trump's Ukraine Scandal Is Also Attorney General Bill Barr's Scandal)
2.) Seth Abramson tweeted following on 10/10/19:
My honest question is does William Barr spend any part of his day doing his actual job

"Barr met privately with Murdoch amid impeachment scrutiny: report
hill.cm"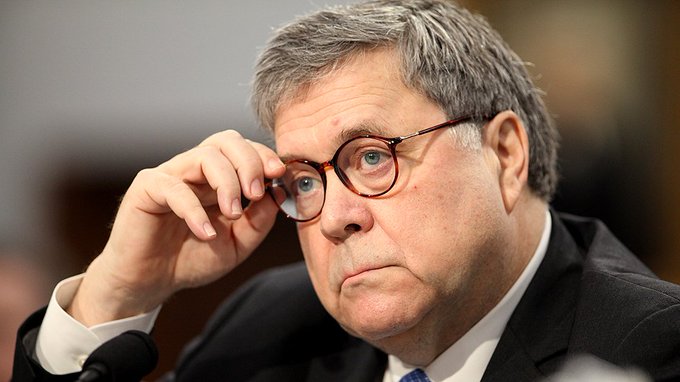 See: wsj.com…Barr's Requests for Foreign Help Prompt Backlash in Australia, Italy, U.K. 
In conclusion, it's my opinion that President Trump with his merry men are in serious legal jeopardy based on the ongoing FBI's counter-intelligence probe against President Trump in 2016 regarding his campaign's involvement with Russia's cyber warfare and disinformation operation against the 2016 US elections' infrastructure by none other than the former FBI's Deputy Director, Agent Andy McCabe.
On 10/10/2019, Greg Miller and Greg Jaffe of the Washington Post  penned the following report, "At least four officials raised alarms about Ukraine around time of Trump's call:"
Excerpts:
"The nature and timing of the previously undisclosed discussions with National Security Council legal adviser John Eisenberg indicate that officials were delivering warnings through official White House channels earlier than previously understood — including before the call that precipitated a whistleblower complaint and the impeachment inquiry of the president.