There's been a lot happening around the world while the US republican President Donald Trump has been managing to finagle the lion's share of US media coverage.
In Lebanon, there was the recent eruption of huge protests against extreme government corruption by its peoples from all walks of life.
It looks like the Israeli Prime Minister Benjamin "Bibi" Netanyahu will not be able to survive losing the last 2019 election. The Israeli President had granted PM Netanyahu a life line by allowing him about a month to form a majority coalition but he failed. PM Netanyahu's opponent, the  former army chief of staff Benny Gantz has also been awarded 28 days to form a majority governing group, but if he fails, there will be a third election conducted within a year.
In Canada, on the 21st of October 2019, Liberals led by Justin Trudeau were able to secure a narrow victory of four more years in power despite lingering criticism over Mr. Trudeau's handling of a corruption inquiry and the blackface scandal.
Lebanon…
As per the October 22, 2019 New York Times report, "Baby Shark' and the Sounds of Protest in Lebanon" by Rabih Alameddine:
Excerpts:
"In a video shot in Lebanon over the weekend, a woman whose car is trapped among a sea of protesters, tells them that her toddler in the car is frightened. The protesters then launch into a song and dance of "Baby Shark" to calm the child. The video is both sweet and uplifting. It's also surprising, because a Lebanese crowd acting in unison is such a rarity."
"On Thursday, Lebanese from all walks of life took to the streets to protest corruption, and as of this writing the crowds keep getting bigger, louder, and more united. The crowds on Sunday (10/20/2019) were estimated to be 1.3 million people, 20 percent of the population. What seems to have set off the protests was the government's announcement of a tax on calls made using WhatsApp and other free online applications, supposedly to raise revenue during a fiscal crisis."
The populace had protested a number of times before. In March 2005, in what became known as the Cedar Revolution, a huge protest erupted against the Syrian troops who, more than five years after the official end of the 15-year civil war, still occupied parts of Lebanon; that demonstration was followed by counterprotest by Hezbollah and other pro-Syrian groups. In 2015, people took to the street to protest the government's mishandling of garbage collection — huge heaps of trash were left on the streets for months because government factions were openly jockeying for a piece of the next contract with the private company that picks up refuse.
"In this latest round (of protests), however, the demonstrations seem to cut across sectarian and class lines and they are happening all over the country, from Tripoli up north to Tyre way down south, in big cities, suburbs and villages. And all the leaders of Lebanon are being held to account."
"Corruption and nepotism (in Lebanon)  are the rule. The economy has been so atrocious for so long — the country now has one of the highest debt-to-G.D.P. ratios in the world — and unemployment rates so high that a wave of young people emigrate every year looking for better opportunities. The Lebanese still don't have reliable basic public services, including electricity and water. What has changed is the level of mismanagement and the indignities that the citizens have had to endure recently."
"The latest protests come at the heels of a series of bad news. This summer, Lebanon's credit rating was downgraded, which means that the country's sizable debt will have to be repaid at a higher rate. That was followed by 2 major outrages, one a sex scandal and the other an ecological disaster. On Sept. 30 came reports that Saad Hariri, the prime minister and American ally, had shelled out more than $16 million in 2013, while not in office, to a South African bikini model; 2 days later, the Lebanese government declared another economic state of emergency."
"Last week, wildfires ravaged the country. Every forest in every corner seemed to be burning. Firefighters were unable to keep up because their equipment was out of service since the government hadn't allocated funds for maintenance. Luckily, rains brought many of the fires under control."
And then the WhatsApp tax.
"Heeding the calls for change, the government rescinded the WhatsApp tax soon after announcing it, and on Monday, it announced its agreement to a list of demands. But skeptical protesters are refusing to budge. In the meantime, the Lebanese are showing the world how to hold a great demonstration. They are partying, playing table tennis and celebrating weddings out on the street."
Link to entire report: View on nytimes.com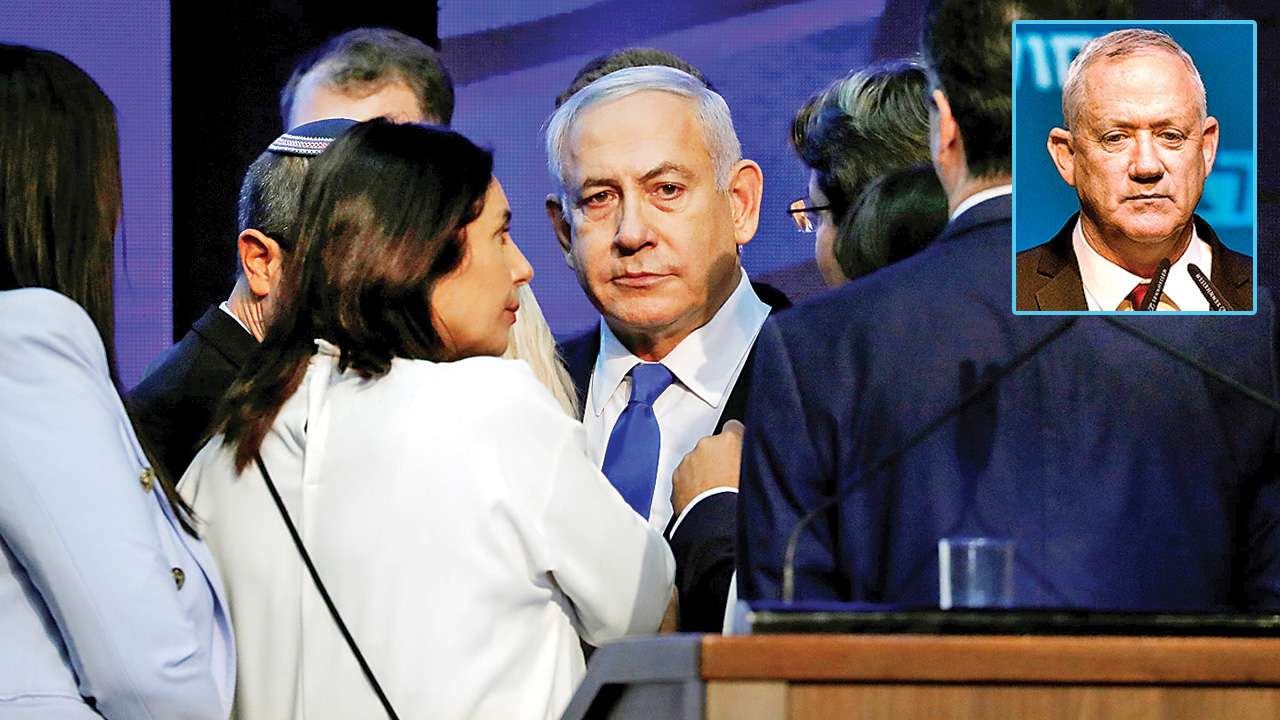 Israel…
As per October 21, 2019, Steve Hendrix of the Washington Post penned the following report, "Netanyahu fails to form new Israeli government; rival Gantz poised to take up the challenge"
Excerpts:
"Gantz's success is far from certain. Israel's complex political system all but ensures that the final outcome is not likely to be clear for weeks and that a third election in less than a year may be required."
"(But) This is new: This broadens the political imagination to include the possibility that someone not named Netanyahu could be the prime minister of the state of Israel," said Mordechai Kremnitzer, a senior fellow at the Israel Democracy Institute. "But I think Gantz will also find it extremely difficult to shape a coalition."
"Power-sharing talks between Netanyahu's Likud party and Gantz's Blue and White party — the two biggest factions in the Knesset — broke down almost immediately. The parties emerged from the September elections with a nearly identical number of seats, and neither was close to a controlling majority."
"The prime minister released a video Monday announcing an end to his efforts, two days before the deadline and on his 70th birthday, putting the blame squarely on Gantz for the lack of progress. "
Link to entire report: View on washingtonpost.com
Canada…
As per the October 22, 2019 Guardian report,  "Canada elections: Trudeau wins narrow victory to form minority government" by Leyland Cecco:
Excerpts:
"Justin Trudeau  has won a second term as Canada's prime minister after the country's federal election, but his narrow victory means he will lead a minority government that will be forced to depend on other parties to govern."
"Despite Trudeau's attempt to strike a conciliatory tone, Conservative leader Andrew Scheer issued a stark warning to the Liberals. "Mr Trudeau, when your government falls, Conservatives will be ready, and we will win," Scheer told supporters at his concession speech."
'Donald Trump was quick to congratulate Trudeau for "a wonderful and hard-fought victory". Although the 2 leaders have not had a warm relationship – Trump described Trudeau as "dishonest" at last year's disastrous G7 meeting in Quebec – the US president tweeted: "Canada is well served. I look forward to working with you toward the betterment of both of our countries!"
"Four years after the Liberal leader swept to power promising "sunny ways" after nearly a decade of Conservative rule, Trudeau struggled to inspire voters as he campaigned for re-election."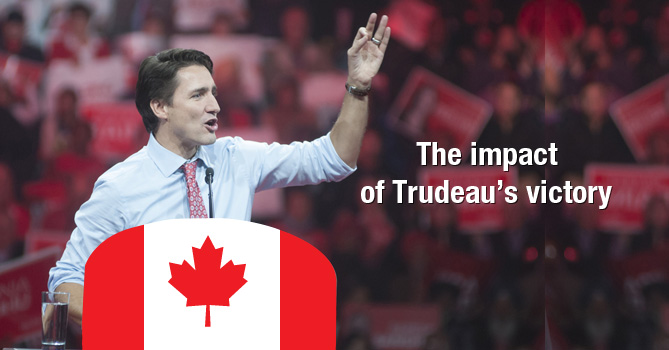 "Trudeau, 47, was endorsed by Barack Obama in the last days of the campaign, but his standing as one of the few remaining progressive leaders in a major democracy was undermined by the emergence of blackface images, and lingering criticism of his handling of a major corruption inquiry."
"Before the vote, polls showed him neck-and-neck with Scheer. But with neither of the main parties reaching the number of seats needed for a parliamentary majority, Canada is headed towards a minority government, and Trudeau will be forced to co-operate with smaller left-of-centre parties to govern."
See: /r/worldnews.