Sometime this past week of January 26, 2020,  Raw Story presented the possibility that the republican President Donald Trump had ordered the 1/3/2020 drone strike targeting the Iranian commander Qassem Soleimani, head of Iran's Revolutionary Guards' elite Quds force on Iraqi soil, in response to the White House being in receipt on 12/30 of Mr. John Bolton's tell all book regarding his experience in 2019 as its former National Security Adviser.
As per the 3/3/2020 Washington Post article by Tom Hamburger, "Release of John Bolton book pushed back until May amid National Security Council review"

Excerpts:

"The publication date for a long-anticipated book by President Trump's former national security adviser John Bolton has been pushed back to mid-May as the National Security Council continues its review of the manuscript."
"Originally, Bolton's memoir, "The Room Where it Happened: A White House Memoir," was to be released this month, but the vetting process has delayed publication. The book's publisher, Simon & Schuster, now lists May 12 as the publication date."
My initial thinking was that this theory went too far to where I discounted it.
Keep in mind that the GOP US Congressional legislators were caught off guard when they first heard about the White House being in receipt on 12/30 of Mr. Bolton's book via the January 26th New York Times blockbuster article which published leaked data from the tell-all book, countering the president's version of events regarding the Trump-Ukraine scandal despite the fact that the US Senate was in the middle of impeachment hearings where assertions were made that the book counters.
But with the above additional information I had to adjust my impulse to grant the benefit of the doubt to President Trump. I kept ruminating over Raw Story's thesis, with the reality that we are talking about President Trump where anything, no matter how self-serving and counter to US national security interests, is not only possible, but it's to be expected.
It's my opinion that the US Congress has an obligation to exercise its oversight duties regarding all the circumstances surrounding the president's order to kill Iran's General Soleimani.
Note that the White House took pains to leak to the press that the White Houses's plan to target Qassem Soleimani was placed into motion about 7 months ago, possibly to create the impression that President Trump was not acting on a whim.
As per  a NBC News report, "President Donald Trump authorized the killing of Iranian Maj. Gen. Qassem Soleimani seven months ago if Iran's increased aggression resulted in the death of an American, according to five current and former senior administration officials. The presidential directive in June came with the condition that Trump would have final sign-off on any specific operation to kill Soleimani, officials said."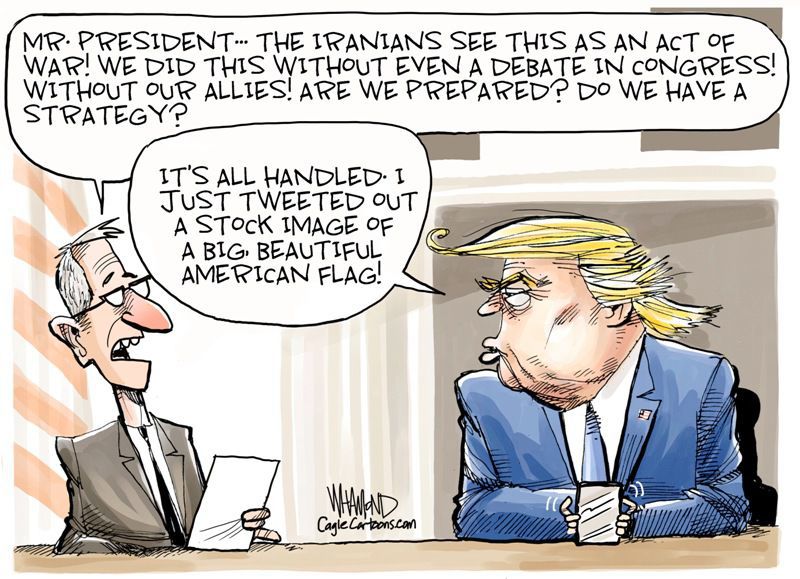 We all recall the White House's justification via President Trump on TV where he explained why he ordered the drone strike, killing the Iranian Commander Soleimani on 1/3/2020 based on extraordinary circumstances, the prevention of Iran's imminent planned attacks on 4 US embassies. This excuse has been shown to be questionable, at best.
For review, US blamed Iran for the killing of one American contractor in Iraq on 12/27/2019. Does this sound like a legitimate predicate for the US president ordering the killing of the Iranian military elite, Commander Soleimani?
But what about another intervening event like the White House being presented with a copy of Mr. Bolton's book on 12/30/2019? After all, it was after this event, that President Trump acted, possibly as a way to silence Mr. Bolton with the killing of Soleimani. Mr. Bolton is infamous for being a long time Iran hawk.
"After Iran shot down a U.S. drone in June, John Bolton, Trump's national security adviser at the time, urged Trump to retaliate by signing off on an operation to kill Soleimani, officials said. Secretary of State Mike Pompeo also wanted Trump to authorize the assassination, officials said.

But Trump rejected the idea, saying he'd take that step only if Iran crossed his red line: killing an American."
See: 1/11/2020 New York Times' report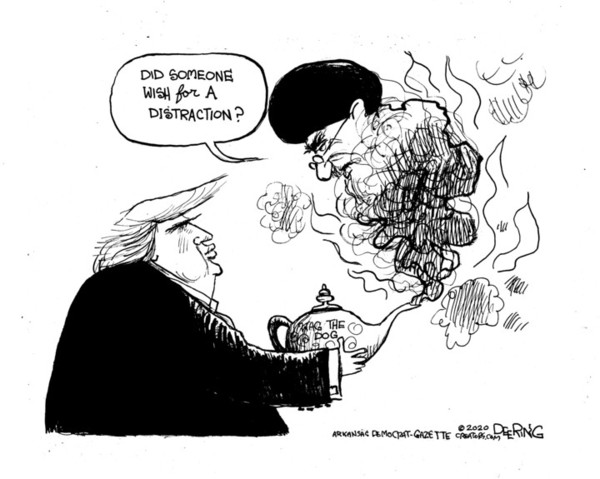 Here's the rest of the story…
As per the 1/6/2020 NY Magazine report by Eric Levitz, "Trump's Rationale for Killing Soleimani Makes No Sense:"
Excerpts:
"By our nation's own (lawless) standards, taking out a high-ranking military officer of an internationally recognized foreign government is beyond the pale: Last week's strike on Iranian general Qasem Soleimani marked the first time since the Second World War that the U.S. had "killed a major military leader in a foreign country," according to the New York Times."
"The Trump administration felt compelled to justify its extraordinary measure by invoking extraordinary circumstances. Officially, the president did not order the assassination of a foreign official to exact retribution for past attacks on U.S. soldiers, or deter Iranian aggression in the region in some generalized sense. Rather, according to the White House, the US dropped several missiles on the Iranian commander because doing so was the only possible means of averting an "imminent" attack on Americans abroad."
This "imminent" attack would have transpired in a matter of "days" and/or "weeks," and killed "dozens if not hundreds" of Americans, along with some unspecified number of Europeans. The intelligence informing these assessments is "clear and unambiguous" (but the supposedly sovereign public of our great democracy is not allowed to see it).
"Senate Democrats have asked the administration to declassify the rationale for the Soleimani killing that it had provided to Congress. "It is critical that national security matters of such import be shared with the American people in a timely manner," Senate Minority Leader Chuck Schumer and ranking member of the Senate Foreign Relations Committee Bob Menendez wrote in a letter. "An entirely classified notification is simply not appropriate in a democratic society, and there appears to be no legitimate justification for classifying this notification."
"There does, however, appear to be an illegitimate one. Contrary to the claims made by Joint Chiefs of Staff chairman Mark A. Milley, the classified intelligence supporting the administration's case is neither "clear" nor "unambiguous," according to just about every official and lawmaker who's been made privy to it. From the Washington Post:"
Lawmakers left classified briefings with U.S. intelligence officials on Friday saying they heard nothing to suggest that the threat posed by the proxy forces guided by Soleimani had changed substantially in recent months.

… Some defense officials said Pompeo's claims of an imminent and direct threat were overstated, and they would prefer that he make the case based on the killing of the American contractor and previous Iranian provocations.
Sources who spoke with the New York Times told a similar story:
"According to one United States official, the new intelligence indicated "a normal Monday in the Middle East" — Dec. 30 — and General Suleimani's travels amounted to "business as usual."

"That official described the intelligence as thin and said that General Suleimani's attack was not imminent because of communications the United States had between Iran's supreme leader, Ayatollah Ali Khamenei, and General Suleimani showing that the ayatollah had not yet approved any plans by the general for an attack. The ayatollah, according to the communications, had asked General Suleimani to come to Tehran for further discussions at least a week before his death."
The following is a review as per the 1/4/2020 NPR article by Elena Moore and  Roberta Rampton, "How The U.S. Came To Strike And Kill A Top Iranian General" regarding the timeline leading up to the killing of Qassem Soleimani on Iraqi soil on 1/3/ 2020.
Excerpts:
Friday, Dec. 27: Attack near Kirkuk
"Militia group Kataib Hezbollah attacks the K1 military base near the Iraqi city of Kirkuk with rockets, killing an American contractor and wounding several American and Iraqi personnel. Kataib Hezbollah has ties to Iran. It has denied orchestrating the attack."
Tuesday, Dec. 31: Embassy compound stormed
"On Tuesday morning, Iraqi supporters of Kataib Hezbollah begin storming the U.S. embassy in Baghdad. The violence escalates, with militia members attempting to enter the embassy, starting fires and damaging the outside and a reception area of the embassy."
Iran killed an American contractor, wounding many. We strongly responded, and always will. Now Iran is orchestrating an attack on the U.S. Embassy in Iraq. They will be held fully responsible. In addition, we expect Iraq to use its forces to protect the Embassy, and so notified!
"Trump has a meeting on the issue at his golf course, and speaks with the Iraqi prime minister. White House Press Secretary Stephanie Grisham says Trump is getting regular updates. "As the president said, Iran is orchestrating this attack and they will be held fully responsible."
"Sen. Lindsey Graham, R-S.C., said he met with Trump about the situation."
Just had a very good meeting with President @realDonaldTrump and his team regarding the situation in Iraq.

President Trump is determined to protect American personnel and expects our Iraqi partners to step up to the plate. No more Benghazis.

Later on Tuesday, Trump threatens Iran.
Donald J. Trump

✔@realDonaldTrump

The U.S. Embassy in Iraq is, & has been for hours, SAFE! Many of our great Warfighters, together with the most lethal military equipment in the world, was immediately rushed to the site. Thank you to the President & Prime Minister of Iraq for their rapid response upon request….
….Iran will be held fully responsible for lives lost, or damage incurred, at any of our facilities. They will pay a very BIG PRICE! This is not a Warning, it is a Threat. Happy New Year!
"Esper announces the U.S. will
deploy an infantry battalion
 from the 82nd Airborne Division to the U.S. Central Command area. The decision is described as a precaution; about 
750 soldiers 
at first and additional troops over the next several days."
Secretary of Defense Dr. Mark T. Esper

✔@EsperDoD

At the direction of the Commander in Chief

@

POTUS

, I have authorized the deployment of an infantry battalion from the Immediate Response Force (IRF) of the

@

82ndABNDiv

to the

@

CENTCOM

area of operations in response to recent events in Iraq.
"Later that night, Trump speaks to reporters before attending a New Year's Eve gala and is asked if he foresees going to war with Iran. "Do I want to? No. I want to have peace. I like peace," Trump told reporters. "And Iran should want peace more than anybody. So I don't see that happening."
Wednesday, Jan. 1: Pompeo cancels trip
"The secretary of state cancels his planned trip to Ukraine and four additional countries. He speaks with Israeli Prime Minister Benjamin Netanyahu, among other regional leaders."
Thursday, Jan. 2: Esper's warning; Soleimani killed
"Esper gives a statement emphasizing that the U.S. "will not accept continued attacks against our personnel & forces in the region." He also sends a message to U.S. allies to "stand together" against Iran."
Secretary of Defense Dr. Mark T. Esper

✔@EsperDoD

To Iran & its proxy militias: we will not accept continued attacks against our personnel & forces in the region. Attacks against us will be met w/ responses in the time, manner, & place of our choosing. We urge the Iranian regime to end malign activities.

https://

go.usa.gov/xpeNU

 

Statement by Secretary of Defense Dr. Mark T. Esper as Prepared

Defense Secretary Dr. Mark T. Esper said to partners and allies "we must stand together against the malign and destabilizing actions of Iran."

defense.gov
"Esper and Milley
hold a press gaggle
. Esper says there are some signs Iran may be planning additional attacks and delivers a warning. "If that happens, then we'll act, and by the way, if we get word of attacks or some type of indication, we will take preemptive action, as well to protect American forces, to protect American lives."
"So the game has changed and we're prepared to do what is necessary to defend our personnel, and our interests and our partners in the region."
"Later that night, there are reports of a strike near the Baghdad airport — and early reports Soleimani was killed."
"Eventually, the Pentagon confirms the events, writing that Soleimani was "actively developing plans to attack American diplomats and service members in Iraq."
"The statement also said Soleimani had orchestrated attacks on bases and approved the attack on the embassy, adding, "this strike was aimed at deterring future Iranian attack plans."
Friday, Jan. 3: Trump defends decision; world reacts
Trump first addresses Soleimani's killing by tweet, saying the general had been "plotting to kill many more" Americans.
General Qassem Soleimani has killed or badly wounded thousands of Americans over an extended period of time, and was plotting to kill more…but got caught! He was directly and indirectly responsible for the death of millions of people….