Finally, on April 1, 2020, the GOP Florida Governor Ron DeSantis issued a sweeping 'stay at home' order for the entire state of Florida to limit the spread of the US coronavirus COV-19 pandemic.
This occurred after almost 2 months of intense pressure by constituents from all walks of life, for him to take this drastic step, after he had not seen fit to close down Florida beaches which were wall to wall bodies of young peoples celebrating "Spring Break" during the month of March 2020.
The State of Florida is blessed with almost 20% of its population being over 65 years old and who are also the most susceptible to suffering serious consequences from this pandemic
Excerpts:
(Governor Ron DeSantis said) "I'm gonna be doing an executive order today directing all Floridians to limit movements and personal interactions outside the home to only those necessary to obtain or provide essential services or to conduct essential activities."
Those "essential activities" include going to the grocery store, gas station, health care facilities, pharmacies, child care centers, and more.
"The order, which will start Thursday (4/2/2020) at midnight, will be in effect for at least the next 30 days, DeSantis said."
Prior to 4/1, the Florida governor, an ardent sycophant of the republican President Donald J. Trump, had resisted any and all attempts to pressure him into implementing a state-wide 'stay at home' order. It was other local officials who imposed any restrictions despite the governor's stubborn intransigence.
Here's the rest of the story…
As per the 4/1/2020 Washington Post report by Fred Barbash, "Florida covid-19 cases surge to nearly 7,000 as Ron DeSantis resists statewide restrictions
Excerpts:
Indeed, on the covid-19 nationwide map maintained by the Centers for Disease Control and Prevention, the state of Florida just turned dark brown, the color signifying more than 5,000 cases. It's now in the company of California, New York, Illinois, Massachusetts, Michigan and New Jersey as of Monday 3/30/2020, the cutoff of CDC map data with Louisiana having crossed the 5,000 threshold Tuesday 3/31/2020.
Of those states, however, Florida is the only one that is not under a statewide "stay-at-home" order. DeSantis has urged people in Southeast Florida to remain at home and said this week he would issue a "safer at home" order codifying that advice."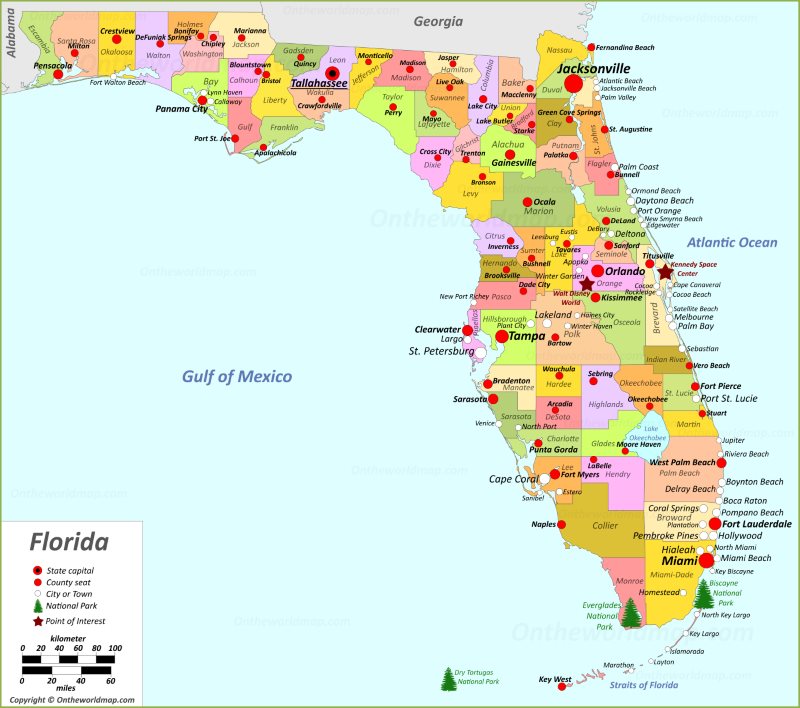 "The headlines in Florida leave no doubt that the state has become a coronavirus hot spot. The number of people testing positive for covid-19 has accelerated rapidly, nearly doubling in the past four days, with 3,274 new cases, bringing the statewide total to 6,741 as of Tuesday evening."
"The state reported 857 people hospitalized and 85 deaths as of Tuesday (3/31/2020), with the heaviest concentration of infection in Broward and Miami-Dade counties along the southeast coast and pockets in other areas like Tampa and Orange County, home of Walt Disney World. On Tuesday alone, 14 deaths
were reported
 in the state, according to the Miami Herald
."
"The daily reports from the Florida Department of Health drive the fact home."
"On Tuesday 3/31/2020, DeSantis said
 at a news conference 
that he had no plans to issue a statewide order because the White House had not told him to do so."
"I'm in contact" with the White House coronavirus task force, he said at a news conference, "and I've said, 'Are you recommending this?' The task force has not recommended that to me," he added. "If any of those task force folks tell me that we should do X, Y or Z, of course, we're going to consider it."