Update: On Tuesday, the 15th of November 2022, as the earlier US midterm election results were close to being finalized and it became clear that the Republican Party would win the majority position by a margin of 3- 5 seats in the US House Representatives, the GOP MAGA Rep Kevin McCarthy of California wasted no time in setting up closed door meetings where he resoundingly won his long-sought dream of being nominated for speaker. He simply needed to be selected via secret ballots by a majority of his GOP colleagues, but this is just the first step. With only a slim majority, he faces a potentially rough fight ahead of him to secure this job at the start of the new Congress.
Incidentally, in the US Senate, the GOP MAGA Floridian Senator Rick Scott has already announced plans to seek the KY Minority Leader Mitch McConnell's job. The sharpened knives are out.
My fantasy of Rep Liz Cheney winning this speakership role, as described below, is simply a fun whimsical pipedream.
On the evening of 11/14/2022, I was watching MSNBC TV host Ari Melber interview the Democratic Party's political guru, James Carville. He mentioned that legally, the future elected leader of the US House doesn't have to be a congressional member. The discussion revolved around the reality that the current GOP MAGA minority House leader, Kevin McCarthy may not have enough votes to win the speakership role when the Republican Party becomes the majority in the US House with a projected margin of 3 to 5 members.
I started fantasizing, what if it were possible for the newly elected moderate GOP US House representatives from New York and California to form a coalition with their Democratic Party colleagues to block Rep McCarthy from become the next majority speaker while somehow garnering enough votes to elect the WY GOP Congressional Representative Liz Cheney, who's courageously fought hard against GOP MAGA election deniers? What better way is there to triage the power and influence of the Freedom Caucus election denying MAGA members than by electing her to be the next speaker?
The Republican Party US House Majority Speaker Rep Liz Cheney would have to be nominated by one of the moderate republican representatives behind closed doors with secret ballots. Then she would have to win at least 218 votes which is a majority of members in the US House. If there're are protracted lengthy wranglings over this selection, why not go for it?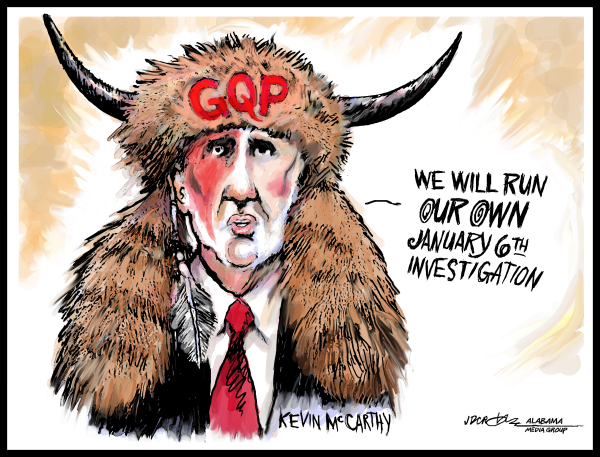 After all it was the GOP MAGA US House Minority Speaker Kevin McCarthy who ousted Liz Cheney from her previously held leadership position in the US house and replaced her with an "election denier, Rep Elise Stefanik." Incidentally, I'm speculating that Rep Elise Stefanik could be the next speaker.
Isn't it time to reward the embattled Republican Party US House Representative Liz Cheney for her bravery in confronting the election deniers while withstanding threats from GOP MAGAs for daring to tell the truth that the GOP MAGA defeated ex-president lost the 2020 election, fair and square, and that the serious historical nature of 1/6/2021 insurrection was not to be rewritten, according to the GOP MAGA ex-president's version?
As per her website, "Liz Cheney serves as Wyoming's lone member of Congress in the U.S. House of Representatives. She was first elected in 2016, on a platform of pursuing conservative solutions… Cheney sits on the House Armed Services Committee and also serves as the Vice Chair for the House Select Committee to Investigate the January 6th Attack on the United States Capitol."
As per the 5/14/2021 updated New York Times report, "McCarthy Officially Backs Stefanik to Replace Cheney in House Leadership" by Luke Broadwater and Chris Cameron:
The move (to remove Rep Liz Cheney from leadership) made clear that fealty to Mr. Trump and willingness to embrace his false claims of election fraud have become the ultimate litmus tests among Republicans for holding a leadership position in the House. Ms. Cheney, who represents Wyoming and was once considered a future speaker, has a more conservative voting record than Ms. Stefanik. But Ms. Stefanik, a fourth-term congresswoman from New York, has joined in Mr. Trump's efforts to cast doubt on the legitimacy of President Biden's victory in the 2020 election.
Representative Jim Banks of Indiana, the chairman of the conservative Republican Study Committee, made the case against Ms. Cheney on "Fox News Sunday."
"Right now it's clear that she doesn't represent the views of the majority of our conference," Mr. Banks, who has co-sponsored legislation with Ms. Cheney opposing troop reductions in Afghanistan, told the show's host, Chris Wallace.
Mr. Banks — who like Mr. McCarthy and Mr. Scalise joined in objections to certifying Mr. Biden's victory — added that his split from Ms. Cheney came after she criticized a memo he had written outlining a strategy for winning working-class voters."
Representative Kevin McCarthy, the minority leader, (May 2021) officially endorsed Representative Elise Stefanik in her bid to oust the No. 3 House Republican, Representative Liz Cheney, who has hemorrhaged support over her repudiation of former President Donald Trump's lies about election fraud.
See: McCarthy Officially Backs Stefanik to Replace Cheney in House
This blog was updated on 11/15/2022.