The GOP MAGA FL US Senator Rick Scott, acting in line with other Floridian election deniers by trafficking in the "big lie, culture war issues, lib trolling, etc. to please the GOP MAGA base of voters, is the wealthiest lawmaker in the US Senate. He has managed to maintain this status despite having used $64 million dollars of his own monies to finance his last campaign operation.
Senator Rick Scott can be said to truly reflect how those GOP dark money/ ALEC type corporate donors, think. He has consistently backed the reduction of taxes on corporations and millionaires, the dismantling of government oversight agencies over business practices and the elimination of social safety net programs like social security, Medicare and Obamacare. There's that sense of entitlement that these GOP ALEC type money men permeate via their Mitt Romney 47% attitudes, that he exemplifies in spades.
In 2012, Yale Law School released its seventh annual list of the year's most notable quotations and coming in at number one was Romney's infamous 47 percent comment.
Mother Jones had published a secretly recorded video of Romney at a May fundraiser, declaring that 47 percent of the population is made up of people who believe they are "victims," and are "dependent on government."
But this time in November 2022, Senator Rick Scott can't be MAGA or rich enough to take on the likes of the current long serving, powerful KY US Senate Minority Leader Mitch McConnell. Of course, he did lose this fight.

For all those GOP MAGA Koch/ ALEC type corporate dark money donors who covertly back pushing the US democracy towards an autocracy, save your monies on backing the likes of Senator Scott, as he makes for a lousy trojan horse.
After all, he's the same one who in April 2021, became the chairman of the National Republican Senatorial Committee (NRSC) which was supposed to help elect Republican incumbents and challengers primarily through fundraising. He was in charge of ensuring an increase in GOP senate seats, post the 2022 election cycle, and he failed, bigtime.
As the NRSC chairman and a known buddy of the defeated ex-president, Senator Scott conferred upon the ex-president, the inaugural Champion for Freedom Award.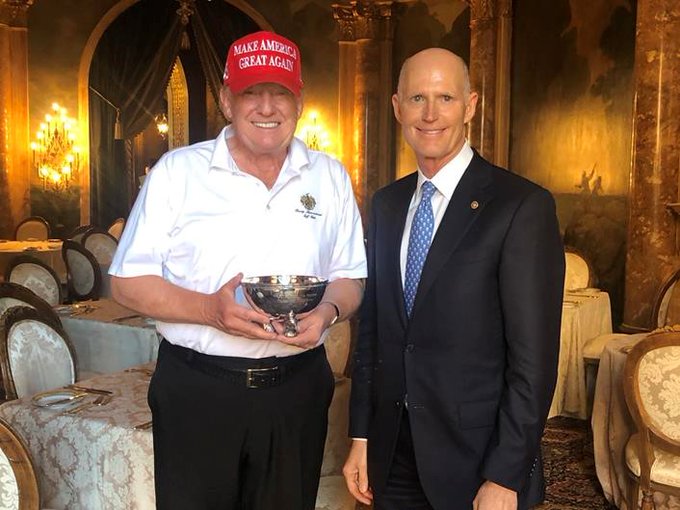 Let's not forget his 2022 senate election platform that GOP MAGA candidates couldn't run away from, fast enough. His plan would have subjected all federal legislation to sunset reviews within 5 years which included programs like social security and Medicare.
See: How Trump, Infighting And Flawed Candidates Limited Republican Gains/ WP…
See: Rick Scott's Fraud Settlement Resurfaces as Senate GOP …https://www.newsweek.com/

Some Wikipedia highlights regarding Senator Scott:
"Scott is pro-life. He supported the overturning of Roe v. Wade in June 2022, saying that Roe v. Wade was "flawed legal reasoning" and that the Supreme Court had defended "human dignity" and federalism."
"Scott rejects the scientific consensus on climate change, saying "I'm not a scientist." The quote or paraphrases thereof became talking points for some Republican political candidates in the 2014 election campaigns…Scott cut $700 million from Florida's water management districts over his tenure as governor. The cuts stirred controversy in 2018 when Florida faced a water contamination crisis."
"As of February 2018, Scott had an A+ rating from the National Rifle Association (NRA), indicating a record of supporting gun rights. The NRA stated in 2014 that Scott "signed more pro-gun bills into law–in one term–than any other governor in Florida history."
"On June 9, 2017, Scott signed an expanded version of Florida's stand-your-ground law into law."
"Scott has been accused of having fueled an HIV epidemic while governor, by ensuring that Florida returned $54 million in unspent federal HIV-prevention grants and blocking $16 million in CDC grants to Miami-Dade and Broward counties. The effect of this rejection of federal funds combined with Scott's stance on Medicaid expansion has been described as "helping explain why the state's HIV epidemic became almost peerlessly severe during Scott's time in office", with the state accounting for 13% of the country's HIV diagnoses in 2017."
"An investigation by WFOR-TV found that after Hurricane Irma, Scott ignored existing debris removal contracts and instead issued emergency contracts for hurricane clean-up efforts. Florida state officials sent an email to several companies on September 11 inviting them to hand in bids for debris clean-up by the next day. State officials believed new contracts were needed to speed up the removal process given the severity of Hurricane Irma. On September 13, state officials decided to use the services of MCM and Community Asphalt, firms owned by contributors to the Republican Party and Scott's campaigns. According to the television station, the emergency contracts cost $28 to $30 million more than the existing contracts."
On March 10, 2022, Scott was one of 31 Republicans to vote against a $1.5 trillion spending bill that included $13.6 billion in military assistance for Ukraine's defense, arguing that it was filled with lawmakers' "pet" projects. On March 17, he was one of more than two dozen Senate Republicans who demanded that President Biden send Ukraine more support.
"In August 2022, Scott published an open letter encouraging job seekers not to apply for newly funded positions at the IRS, vowing that Republicans, if they took control of Congress in January 2023, would quickly "defund" those jobs. The letter to job seekers included the statement, "The IRS is making it very clear that you not only need to be ready to audit and investigate your fellow hardworking Americans, your neighbors and friends, you need to be ready and, to use the IRS's words, willing, to kill them."
As per Wikipedia, "Scott won the 2018 US Senate election, defeating Democratic incumbent Bill Nelson. The initial election results were so close that they triggered a mandatory recount. The recount showed that Scott had won by 10,033 votes. Scott took office following the expiration of his (8 years) as governor of Florida on January 8, 2019."
Dems, this is the perfect time/ political environment to start a search for a political star who can take on the likes of Senator Rick Scott from Florida when he runs for reelection in 2024.

Dear Dems, please do not allow for the extension of the 2017 GOP tax cuts. As per Thinkadvisor.com, "Vern Buchanan, R-Fla., has introduced the TCJA Permanency Act, H.R. 8913, legislation to make permanent tax cuts for individuals and small businesses originally enacted as part of the Tax Cuts and Jobs Act (TCJA) of 2017. Without congressional action, 23 different provisions of the sweeping tax overhaul are set to expire after 2025, Buchanan said."

The nonpartisan Urban Institute-Brookings Institution Tax Policy Center found that by 2027, the 2017 GOP tax cuts bill would deliver 82.8% of its benefits to the top 1% of the income bracket.

See: Rick Scott hates inflation, but wants Trump tax cuts to remain…https://floridapolitics.com/archives
I can't resist asking the question, who's paying Senator Scott from Florida to promote unpopular policies or is he simply tone deaf regarding what the majority of voters have just said with their November 2022 votes?
As per opensecrets.org, the GOP MAGA FL Senator Rick Scott, he has accumulated funds from 2015-2020 to the tune of $1,722,386. Here are the top 20 contributors.
Opensecrets.org's caveat for the top 20 contributors listed below: The organizations themselves did not donate, rather the money came from the organizations' PACs, their individual members or employees or owners, and those individuals' immediate families. Organization totals include subsidiaries and affiliates.
| Rank | Contributor | Total | Individuals | PACs |
| --- | --- | --- | --- | --- |
| 1 | Shutts & Bowen | $35,031 | $35,031 | $0 |
| 2 | US Senate | $26,622 | $26,622 | $0 |
| 3 | Select Medical Holdings | $17,500 | $7,500 | $10,000 |
| 4 | Bank of America | $16,375 | $16,375 | $0 |
| 5 | L3Harris Technologies | $15,136 | $5,136 | $10,000 |
| 6 | Welsh, Carson et al | $13,000 | $13,000 | $0 |
| 7 | Heartland Dental Care | $11,240 | $11,240 | $0 |
| 8 | Great Point Partners | $11,200 | $11,200 | $0 |
| 9 | Miller Strategies | $11,200 | $11,200 | $0 |
| 10 | Amscot Financial | $11,200 | $11,200 | $0 |
| 11 | Beasley Media Group | $11,200 | $11,200 | $0 |
| 12 | Banknote Capital | $11,200 | $11,200 | $0 |
| 13 | Sj Lockwood & Co | $11,200 | $11,200 | $0 |
| 14 | Patrick P Lee Foundation | $11,200 | $11,200 | $0 |
| 15 | Weathertech | $11,200 | $11,200 | $0 |
| 16 | Cassidy Organization | $10,600 | $10,600 | $0 |
| 17 | Pf Inc | $10,600 | $10,600 | $0 |
| 18 | US Acute Care Solutions | $10,078 | $5,078 | $5,000 |
| 19 | Ryan LLC | $10,000 | $0 | $10,000 |
| 20 | Sterling Equities | $9,757 | $9,757 | $0 |
See: Sen. Rick Scott – Campaign Finance Summary • …https://www.opensecrets.org
See: Rick Scott, the nations richest senator, gets millions of dollars richer https://www.floridabulldog.org/2021/07