Update: On Saturday, the 19th of November 2022, Elon Musk announces that the GOP MAGA defeated ex-president's Twitter account has been reinstated. It looks like Mr. Musk's intent with the purchase of Twitter has been to turn it into a chat room for the right-wing extremists of the Republican Party.

See: After Two Weeks, Elon Musk's Twitter Is Already in a Right-wing Death Spiral/ them.us …
My problem is that, based on Elon Musk's recent mercurial hardline management of Twitter, one can't tell what had been truly motivating him in his purchase of it in October 2022. Did he want ownership to fulfill his dream of creating a social platform where his version of free speech is put into practice? Afterall he's been a prolific user and a longtime critic of Twitter, and its current content moderation practices. Even when he had a 9.2% of share ownership in Twitter, he had little power to influence changes.
As per the 11/1/2022 Android Authority report, "A leaked transcript of Musk's town hall meeting with Twitter staff revealed that he at least considers WeChat a source of inspiration for the future of the platform. According to his pitch deck, Musk hopes to have over 100 million X users by 2028."(WeChat is China's most popular messaging app with a monthly user base of more than 1 billion people.)
Or did Mr. Musk become caught up in an insular world of far right-wing techies who had visions of witnessing the demise of Twitter or of turning it into a refuse station for right-wing extremists.
And why aren't more business analysts asking questions, like is Elon Musk deliberately trying to ruin Twitter? Why did a self-described savvy businessman buy Twitter at an inflated price of $44bn versus its true value of about $25bn? He must have known that Twitter hasn't been a consistent cash cow, as it derives most of its revenues from advertising dollars and that it had been losing active accounts long before he arrived on the scene.
See: Is Elon Musk Trying To Destroy Twitter? – forbes.com
His ideas of increasing revenues via massive firings plus charging subscription rates via gimmicky plans have been backfiring. Now if he borrows more monies during Twitter's management transition in addition to the $13bn that he borrowed to purchase Twitter, he'll be subject to higher interest rates. Meanwhile advertisers are fleeing in droves, and closures of active accounts have increased.
With Elon Musk's reinstatement of the GOP MAGA defeated ex-president's Twitter account, his ordering of massive firings make sense. He's obviously not worried about content moderation where right-wing extremists can have free reign.
See: Resignations Roil Twitter as Elon Musk Tries Persuading Some Workers to Stay…
and I Was the Head of Trust and Safety at Twitter. This Is What It Could Be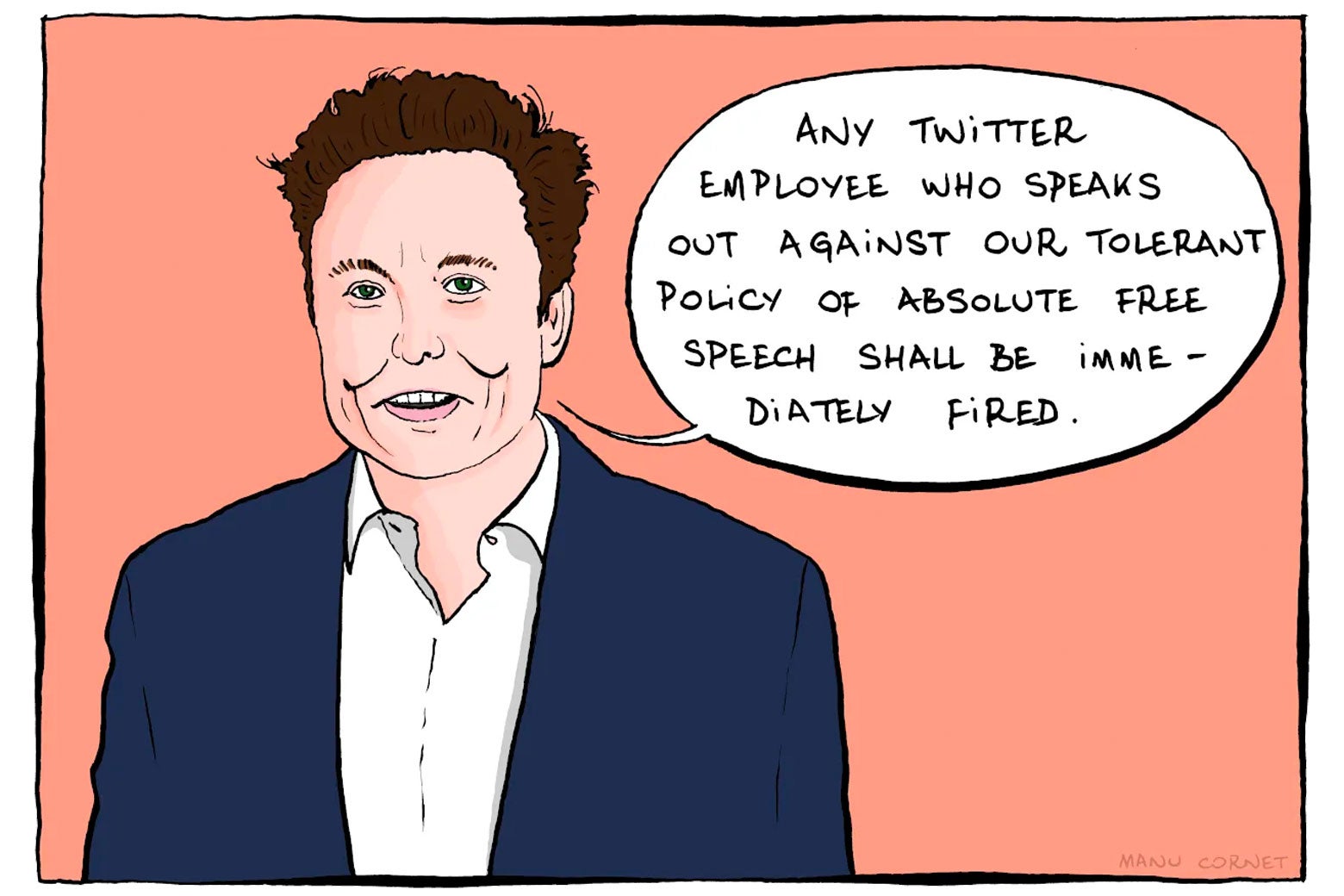 The following articles detail how Elon Musk financed its purchase, its value as a business and recent developments:
As per 11/12/2022 NPR report, "Elon Musk says Twitter bankruptcy is possible, but is that likely?"  by Bobby Allyn:
"Before Elon Musk took over Twitter, it was hardly a gangbusters business. The company is only occasionally profitable. Its userbase and advertising revenue is puny compared to social media rivals like Facebook and TikTok."
"Yet the possibility of a looming Twitter bankruptcy wasn't a fate anyone ever seriously discussed."
"In taking the company private in his $44 billion purchase of Twitter, Musk cashed in some of his Tesla stock and also saddled the social platform with $13 billion in debt, which is a massive obligation for a company the size of Twitter."
"For context, the debt equals about seven times the company's projected earnings for 2022."
"It's essentially a huge credit card, and the annual payment is $1 billion."
"And that's a problem for Twitter, considering that its cash flow last year to pay for things like debt payments was just $632 million."
"Since Musk closed the deal to buy Twitter, financial analysts have pointed out that he vastly overpaid. Musk's attempts to wriggle out of the deal shows that he had misgivings about the $44 billion price."
"Investment firm Wedbush Securities said the deal represented "one of the most overpaid tech acquisitions in history," pegging Twitter's fair value at closer to $25 billion."
"Knowing this, pushing Twitter into bankruptcy could at least help Musk restructure the debt in a way that is more favorable to him."
"Adding even more pressure on the company is the mayhem unfolding internally, with the departure of a slew of top executives, some of whom were responsible for things like the safety of the platform and complying with federal regulations."
"The personnel turmoil, plus the fact that major advertisers like General Motors, Pfizer and United Airlines have paused advertising in the midst of the chaos has heaped additional stress onto the company. This despite Musk's assurances to companies that he would not let Twitter morph into a "free-for-all hellscape." About 90% of Twitter's revenue comes from advertising."
"Questions about Twitter's long-term financial viability are real. Musk has previously estimated that the company is losing $3 million a day."
"Musk has gone to drastic lengths to make Twitter a cheaper place to run, like laying off half of the company's staff, or about 3,700 jobs."
"But that did not change what Musk sees as a core problem at the company, which is that it has just one primary way of making money: online advertising."
"It is an unfortunate reality for the company right now, considering it is a miserable time to be in the online advertising business. A substantial pullback in ad spending has convulsed the tech industry."
"So Musk's solution is revamping a service called Twitter Blue by charging $8 a month for the once-coveted blue check. This way, Musk has argued, being "verified" on Twitter is no longer reserved for the elite and more people using the service will be authenticated."
"So far, the program's launch has had the exact opposite effect. A flurry of accounts impersonating star athletes like Lebron James, former President Trump and companies including Eli Lilly and Pepsi, put a spotlight on just how quickly the blue-check-for-sale option could be used to spread deception."
"In an effort to tame the proliferation of impersonators, Twitter appears to have paused Twitter Blue. "
See: Elon Musk says Twitter bankruptcy is possible, but is that likely?
As per a 10/29/2022 Independent report, "Twitter was losing users long before this deal. Has Elon Musk bought a lemon?" by Benedict Cosgrove:
"Beyond the head-scratching about what Twitter under Musk will look and sound like, there's also the fiscal questions about the $44bn acquisition. Specifically, did Elon Musk buy a lemon? Well before the deal even went through, Twitter was losing many of its most prominent users. According to a recent report from Reuters, citing internal company research, "Twitter is struggling to keep its most active users – who are vital to the business – engaged … These 'heavy tweeters' account for less than 10% of monthly overall users but generate 90% of all tweets and half of global revenue."
"There's also the very real, persistent challenge of having to compete with other social leviathans like Instagram and Tiktok, both of which boast more users."
See: Twitter was losing users long before this deal. Has Elon …https://www.independent.co.uk
As per the 10/7/2022 Reuters report, "Factbox: Who is financing Elon Musk's $44 billion deal to buy Twitter by Hyunjoo Jin in San Francisco and Chibuike Oguh in New York; Edited by Anirban Sen and Sam Holmes:
…Elon Musk has pledged to provide $46.5 billion in equity and debt financing for his acquisition of Twitter (<TSLA.O>), which covers the $44 billion price tag and closing costs.
While Musk will provide much of the funding after selling down his stake in electric vehicle maker Tesla Inc (<TSLA.O>) and by leaning on equity financing from large investors, major banks have committed to provide $13 billion.
Below are details regarding the Twitter deal:
Joint loan arrangers

$13 billion debt financing package

Bank of America
Barclays
BNP Paribas
Mizuho
Morgan Stanley
MUFG
Societe Generale

$6.5 billion term loan facility
$500 million revolving loan facility
$3 billion secured bridge loans
$3 billion unsecured bridge loans
Equity Investor

Description

Equity Commitment

A.M. Management & Consulting

–

$25 million

AH Capital Management

VC firm founded by Marc Andreessen and Ben Horowitz

$400 million

Aliya Capital Partners

SpaceX investor

$360 million

BAMCO

Investment adviser

$100 million

Binance

Cryptocurrency firm

$500 million

Brookfield

Canadian investment firm with over $690 billion assets under management

$250 million

DFJ Growth IV Partners

Tesla, SolarCity, SpaceX and The Boring Company investor

$100 million

Fidelity Management & Research Company

Acts as the investment advisor to Fidelity's family of mutual funds

$316 million

Honeycomb Asset Management

Private investment firm led by Chief Investment Officer David Fiszel

$5 million

Key Wealth Advisors

$30 million

Lawrence J. Ellison Revocable Trust

Oracle co-founder Larry Ellison's trust

$1 billion

Litani Ventures

Chicago-based VC firm

$25 million

Qatar Holding

Investment house founded by Qatar Investment Authority

$375 million

Sequoia Capital Fund

Invested in The Boring Company

$800 million

Strauss Capital LLC

–

$150 million

Tresser Blvd 402 LLC (Cartenna)

–

$8.5 million

VyCapital

Invested in The Boring Company

$700 million

Witkoff Capital

New York-based real estate tycoon Steven Witkoff's firm

$100 million

Saudi Arabian investor Prince Alwaleed bin Talal

Twitter investor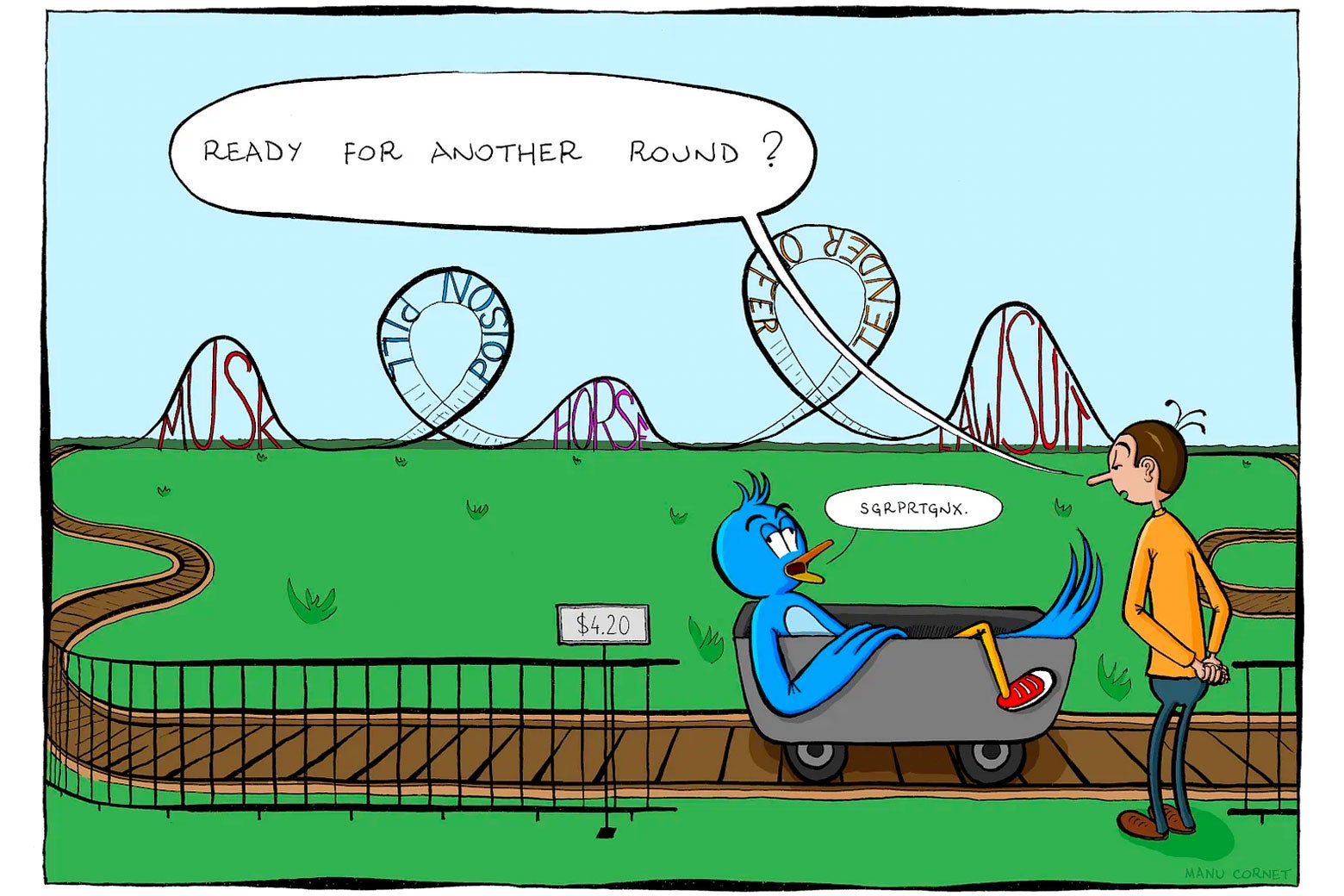 As per 11/3/2022 MIT Technology Review report, "Twitter may have lost more than a million users since Elon Musk Took Over" by Chris Stokel-Walker:
"In the days after Elon Musk's October 27 purchase of Twitter was confirmed by his tweet saying "the bird is freed," many Twitter users have threatened to leave, unhappy about the new ownership."
"People always threaten to leave Twitter and then often fail to follow through—but new data suggests that a significant number of users really are abandoning the platform this time."
"The firm Bot Sentinel, which tracks inauthentic behavior on Twitter by analyzing more than 3.1 million accounts and their activity daily, believes that around 877,000 accounts were deactivated and a further 497,000 were suspended between October 27 and November 1. That's more than double the usual number."
"We've observed an uptick in people deactivating their accounts" says Christopher Bouzy, Bot Sentinel's founder."
Note: This blog was last updated on 11/20/2022.