On the 15th of February 2019, there have been major revelations of key data in the form of court filings by the FBI's Special Counsel Robert Mueller III regarding its Trump-Russia probe. Two of the court filings were related to President Trump's long time friends, his former campaign manager Paul Manafort and Roger Stone who acted behind the scene of the President Trump's 2015-2016 US presidential campaign.
See:  muller documents
It is important to note that the friendships among Roger Stone, Paul Manafort and the republican President Donald Trump go back for decades. Roger Stone and Paul Manafort used to be business partners in a a very successful GOP political consulting business.
See: Roger Stone, Paul Manafort And Donald Trump Go Way Back
A trip back in time…
As per a 4/18/ 2016 Slate report, "Manafort and Stone pioneered a new style of firm, what K Street would come to call a double-breasted operation. One wing of the shop managed campaigns, electing a generation of Republicans, from Phil Gramm to Arlen Spector. The other wing lobbied the officials they helped to victory on behalf of its corporate clients. Over the course of their early years, they amassed a raft of blue-chip benefactors, including Salomon Brothers and Rupert Murdoch's News Corp."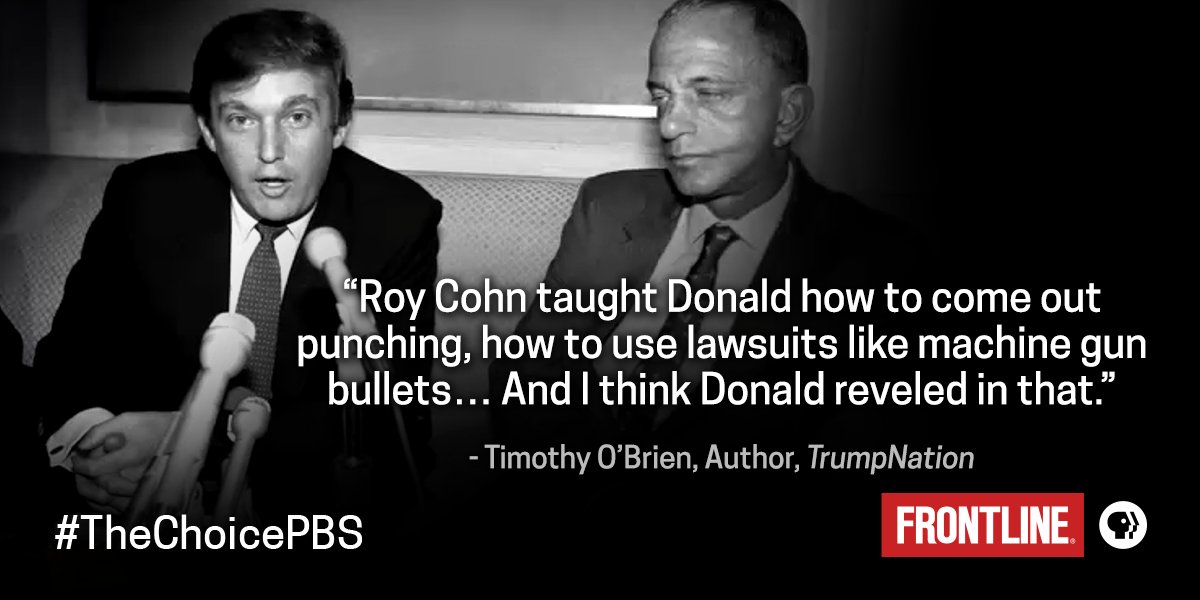 After 1981, "Another early client was Donald  Trump. What Trump wanted was help fending off potential rivals to his Atlantic City casino business. He especially feared the rise of Indian gaming. As the 2016 campaign has graphically illustrated, Trump doesn't treat rivals gently."
"Trump poured money into a shell group called the NY Institute for Law and Society. The group existed solely to publish ads smearing his potential Indian competition. Under dark photos of needles and other junkie paraphernalia, the group asserted,  "The St. Regis Mohawk Indian record of criminal activity is well documented." (It wasn't.) "Are these the new neighbors we want?" We know that Trump and Stone were behind the New York Institute because Gov. George Pataki investigated its doings. He slapped Trump and Stone with a $250,000 fine and required them to publicly apologize for running the ads."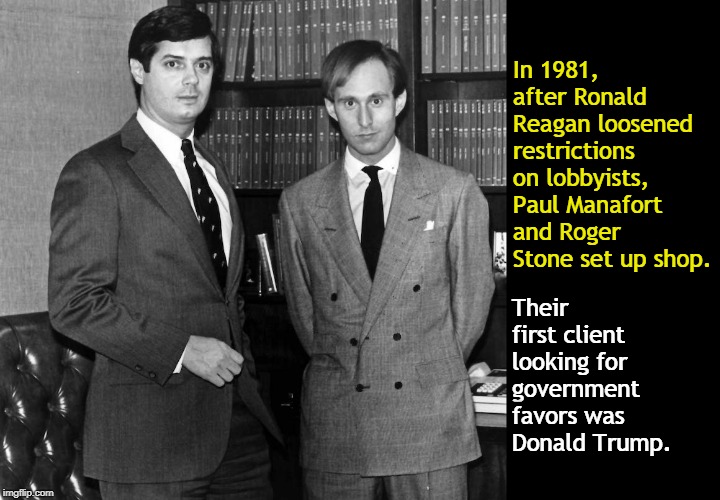 Back to the future…
On 2/15/19, Paul Manafort was nailed by the FBI for fabricating material data which voided his previous plea agreement that was extremely lenient. Mr. Manafort stepped in it because he had no idea of the extensive Intelligence information that Mr. Mueller had in his possession; and in his hubris, he thought he could outfox law enforcement officials. What Mr. Manafort failed to share with the FBI, included the number of times that he met with a Russian operative, Konstantin Kilimnik to discuss campaign issues. Mr. Manafort will be sentenced to jail time, anywhere from 19 to 24 years.
Roger Stone, a media enthusiast had been spouting for months that he did not have any direct communications regarding President Trump and his 2016 campaign with Julian Assange of WikiLeaks and Gucifer 2.0, a Russian operative. Mr. Mueller has Intelligence that specifically puts the lie to these past assertions.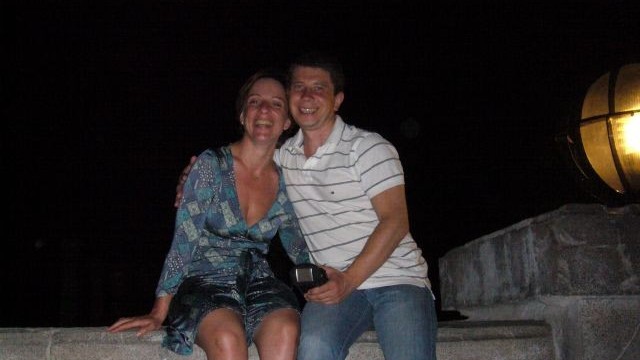 Here's the rest of the story…
On February 16, 2019, the BBC news  staff penned the following report, "Paul Manafort should be jailed for 19-24 years – Mueller"
Excerpts:
"US President Donald Trump's former election campaign chief Paul Manafort should be jailed for up to 24 years, special counsel Robert Mueller says."
"Manafort was convicted of financial fraud on charges relating to his work as a political consultant in Ukraine."
"He accepted a plea deal on the charges in return for co-operating with Mr Mueller's probe into Russian meddling in the 2016 US election campaign."
"But he was found guilty earlier this week of breaching his plea deal."
"On Thursday (2/14/19), US District Court Judge Amy Berman Jackson ruled that Manafort had "made multiple false statements" to the FBI, Mr Mueller's office and a grand jury.
"On Friday (2/15/19), a court document filed by Mr Mueller's office said it agreed with a US Department of Justice calculation that Manafort should face between 19 and 24 years in prison and a fine of between $50,000 (£39,000) and $24m."
"While some of these offences are commonly prosecuted, there was nothing ordinary about the millions of dollars involved in the defendant's crimes, the duration of his criminal conduct or the sophistication of his schemes."
"In her ruling on Wednesday, Judge Berman Jackson said there was evidence that showed Manafort had lied about three different topics, including his contacts with Konstantin Kilimnik, a Russian political consultant. Prosecutors claim Mr Kilimnik had ties to Russian intelligence."
See entire BBC report: Paul Manafort should be jailed for 19-24 years – Mueller
On February 15, 2019, Katelyn Polantz of CNN Politics penned the following report, "Special Counsel prosecutors say they have communications of Stone with Wikileaks" 
Excerpts:
"Prosecutors said for the first time that they have evidence of Roger Stone communicating with WikiLeaks, according to a new court filing from special counsel prosecutors.
"During its investigation of the Russian hack of the Democrats, "the government obtained and executed dozens of search warrants on various accounts used to facilitate the transfer of stolen documents for release, as well as to discuss the timing and promotion of their release," the prosecutors wrote Friday to a federal judge."
"Several of those search warrants were executed on accounts that contained Stone's communications with Guccifer 2.0 and with Organization 1," which is WikiLeaks.
Previously, the prosecutors had only outlined how Stone attempted to get in touch with WikiLeaks' Julian Assange through intermediaries. Stone sought to learn about what the hackers had stolen from the Democratic Party and how he hoped for its release so it could help Donald Trump's campaign, prosecutors have said."