According to the 6/21/2019 Politico report, "Pro-impeachment ranks grow — and backers see more coming" by Heather Caygle and John Bresnahan, "There're about 200 House Democrats who favor an impeachment inquiry but they've not yet gone public, out of deference to the House Speaker Nancy Pelosi."
Link:   "Pro-impeachment ranks grow — and backers see more coming"
The House Speaker Pelosi has been fretting over protecting about 26 House Dems who hail from Trump country and who're up for reelection in 2020. The GOP only need to flip 18 seats to regain a majority position in the House of Representatives. The speaker is paralyzed by the thought that Democrats could lose their hard won majority position in 2020 and so, she's resisting taking any unnecessary risk like the House commencing an impeachment inquiry against the republican President Donald Trump.
What she hasn't figured out is, that while it's risky for the House to start an impeachment inquiry/ investigation against a lawless president, it's a lot riskier not to commence it.
See: the political costs of not impeaching President Trump
The reality is that President Trump could win in 2020 via the electoral college map. If that happens, and Speaker Pelosi didn't do everything possible to take down this wanna be tyrant, she and the Democratic Party will be toast. She'll have lost her majority.
In addition, if the House speaker does not initiate impeachment proceedings by September 2020, she can count on President Trump touting the claim that the House didn't act to impeach because he's not guilty of any of the accusations being lodged against him and the proof, is the fact that the House took no action to impeach him. That'll make Speaker Pelosi's worry, moot, about President Trump making that same assertion when the GOP led US Senate doesn't end up convicting him, as the 3rd separate and final step in the impeachment process.
Jed Shugerman tweeted following on 7/18/2019:
"If Trump wins a second term, the statute of limitations will run out by 2024 on all of these charges so far – obstruction, campaign crimes. The OLC opinion is wrong: no such thing as equitable tolling for crimes. And Mueller should have known this, but put Trump above the law."

@glennkirschner2
"SDNY prosecutors aren't permitted to indict Trump at this time based on the ill-advised DOJ/OLC opinion that you can't indict a sitting president. But they CAN indict him the minute he leaves office. I can't speak for them but as a former fed prosecutor, I would indict Trump." (This is true if he doesn't win reelection in 2020.)
In conclusion, Speaker Pelosi hasn't faced the reality that she doesn't have a choice but to commence the I-word.
See: Dems Need To Face Reality That Trump Can Pull Another Upset Win In 2020 
Hill report: Trump's 2020 Electoral College math: Searching for 10 votes
Washington Post report: If the latest polls are right, Trump is favored to win reelection
Newsweek report: Trump, Biden Nearly Tied for 2020 Presidential Election Support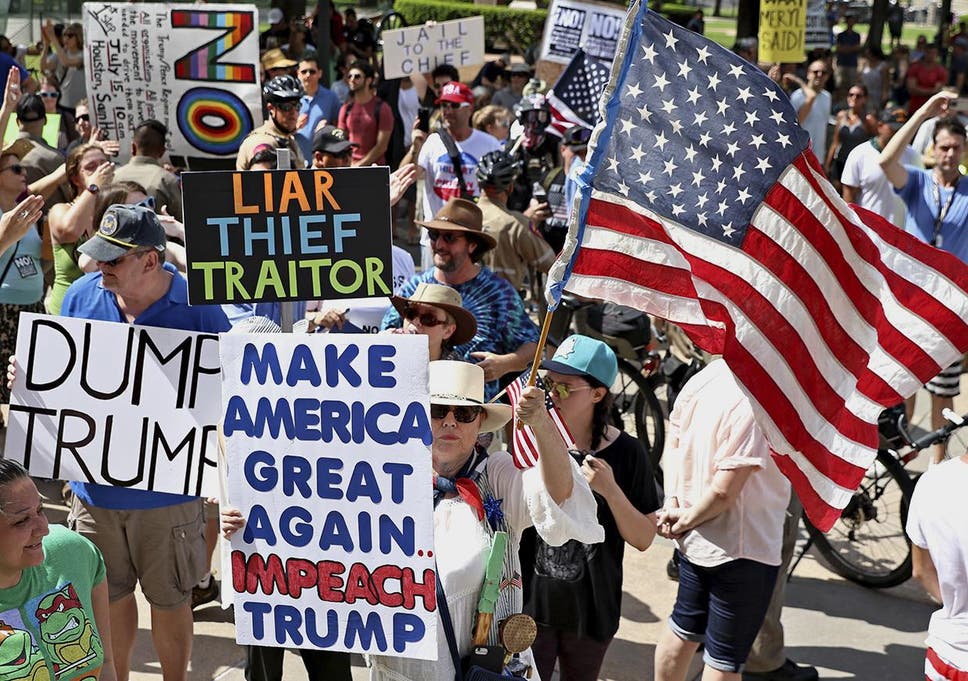 In addition, she needs to help lift up people's faith in their US government. As per the 4/11/2019 Pew Research report, "Public Trust in Government: 1958-2019:"
"Public trust in the government remains near historic lows. Only 17% of Americans today say they can trust the government in Washington to do what is right "just about always" (3%) or "most of the time" (14%)."
See: Impeachment Can Restore American People's Faith/ Trust In 'Rule of Law' and US Government
On the 16th of July, 2019, the House Speaker Nancy Pelosi showed her courage when she led the House of Representatives to pass a resolution condemning Donald Trump's racist tweets directing 4 congresswomen of color, knows as the Squad to "go home" to their countries, along mostly partisan-line vote of 240 to 187. The 4 Republicans who joined the Democrats to vote in favor of the resolution are Reps. Fred Upton (Mich.), Susan Brooks (Ind.),  Will Hurd (Texas) and Brian Fitzpatrick (Pa.). The former GOP member, Rep Justin Amash of Michigan, the one member who has been pro-impeachment against the republican President Donald Trump also voted, yes..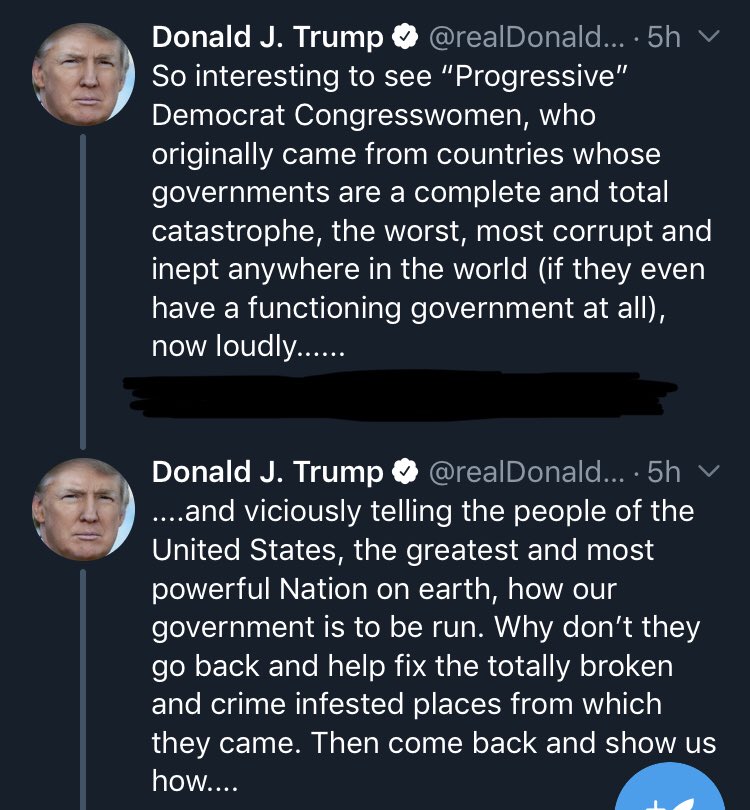 With this move, the speaker and the Democratic Party Squad of 4, which includes Reps. Alexandria Ocasio-Cortez of New York, Ilhan Omar of Minnesota, Ayanna Pressley of Massachusetts, and Rashida Tlaib of Michigan were able to call a truce to the all too public family infighting between the younger, exuberant, social media savvy, progressive House freshmen and the elder members who comprise the House's leadership team and who encourage a more moderate, cautious approach to governing.
See: Parkland HS Activists Would Likely Side With House Freshmen Squad Of 4 Young Lawmakers
Here's what I wish Speaker Pelosi would do from here…
If I had a magic wand where I could direct Speaker Pelosi, I would want her to base her political calculations/ tactical decisions on the fact that it's possible for President Trump to win reelection in 2020.
Then the following are the steps, I would want her to take:
1.) I would have her face the inevitable, that she has no choice but to have the House commence an impeachment inquiry against President Trump for all of his criminal wrong doings and abuses of power, as per the 3/22/2019 FBI's final report regarding its 22 months long Trump-Russia probe, led by the Special Counsel Robert Mueller III and other collected evidence.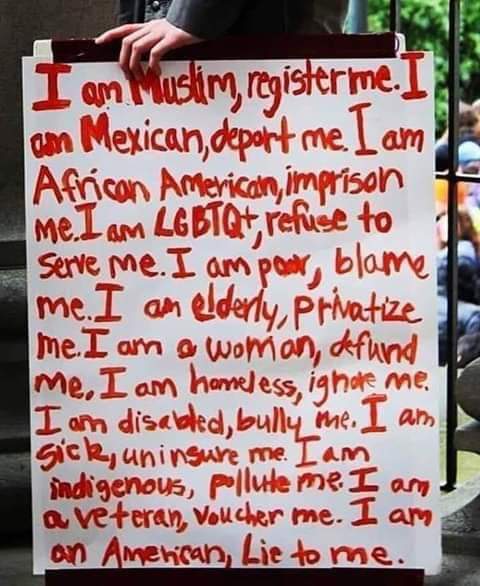 2.) Then I would have her call a meeting between the House's more progressive members including the Squad of 4 and her. I would lay out the plan for the House to initiate the impeachment inquiry/ investigation in exchange for an agreement that they would inform her of any of their plans for future activities where she would have the power to nix anything she deems too controversial, at least for the next year.
3.) I would enlist their support  to use their social media skills to excite/ motivate their mostly younger supporters to register to vote and to get them out to vote in November 2020.
4.) I would get out a marketing/ war campaign to highlight the GOP version of socialism, their shout out to White nationals' racists as the House progressive lawmakers will need protection against President Trump's predicable plan to assassinate their characters and reputations.  He's been showcasing his 2020 campaign strategy, to link his base's antipathy towards the hot button word "socialism" while inflaming the base's leanings towards racism as he portrays the Squad of 4, House members of color, as being anti-American, pro-socialism, pro-communism and there even being some kind of an association with Al-Qaeda.
Incidentally, the reference to Democrats being socialists is an old tried and true GOP talking point. For example, President Harry Truman in 1952,  denounced GOP's use of the word "socialism" as a "scare word … for almost anything that helps people.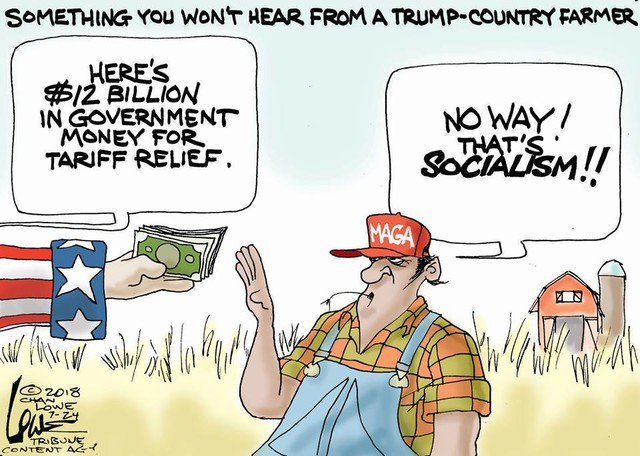 5.) I suspect that Speaker Pelosi has the votes that she needs for the House to commence an impeachment inquiry against President Trump, as required by the US Constitution. There are 235 House Democrats and for a majority vote, she needs a count of 218. The DCCC has identified 26 House Democrats from Trump districts who will be vulnerable in 2020. She can give 17 of them a pass, while crafting an agenda to provide extra assistance for the remaining 9.
6.) Then all the factions need to be in sync with their one goal for 2020, which is to oust President Trump from the White House, with an overwhelming record breaking voter turnout in 2020, who'll chose Democratic candidates by huuuge margins, across the USA.