For years "We the People" have heard the republican President Donald Trump uttering the misleading phrases ad nauseam of, "witch hunt," "no collusion," "I had no business with Russia," "fake news," "the press is the enemy of the peoples."
Meanwhile this same president went on the attack against his perceived enemies, including: Attorney General Jeff Sessions who dared to recuse himself from taking part in the FBI's Trump Russia probe; the FBI Director James Comey who declined to pledge his loyalty to President Trump while he had been heading the FBI's Trump-Russia probe; the FBI Deputy Director Andrew McCabe who had dared to open the FBI's counter-intelligence case against President Trump; the FBI's Special Counsel Robert Mueller who took over Director Comey's job to lead the FBI' Trump-Russia probe which determined as per Page 1 on its 3/22/2019 final report: "The Russian government interfered in the 2016 presidential election in sweeping and systematic fashion;" the Secretary of State Rex Tillerson who dared to call the president a moron during a high level meeting; DNI Director Dan Coats who refused to repeat the president's talking point that there was no definitive proof that Russia was the culprit of having interfered with 2016 US elections to effect the outcome in President Trump's favor, for starters.
All left under less than gentlemanly circumstances with the exception of the FBI's Special Counsel Mueller who took his departure after completing the FBI's 3/22/2019 final report regarding its 22 months long Trump-Russia inquiry.
The author Cliff Sims who worked in the White House in earlier times as an aide tells about the president's mind-set when it came to dealing with his perceived enemies. He had been in a private huddle with the president and Keith Schiller, his personal bodyguard and longtime aide when they helped Trump write an enemies list using a Sharpie and White House stationery. President Trump said, "We're going to get rid of all the snakes, even the bottom-feeders."
As per a 8/16/ 2018 AP report, other officials who earned the president's ire include:
JOHN BRENNAN
In a written statement, Trump cited "erratic conduct and behavior" by President Barack Obama's CIA director as justification for revoking Brennan's security clearance. Trump also accused Brennan of "lying" and "wild outbursts." At a news conference last month in Finland, Trump stood alongside Russian President Vladimir Putin and openly questioned U.S. intelligence agencies' conclusions that Moscow tried to influence the 2016 election in his favor. Afterward, Brennan criticized Trump's performance as "nothing short of treasonous" and accused him of being "wholly in the pocket of Putin."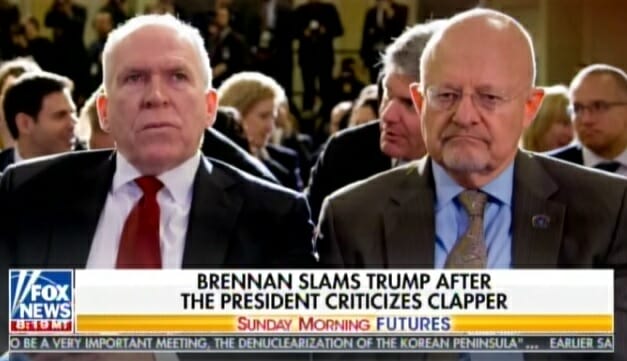 JAMES CLAPPER
Clapper served Obama as director of national intelligence and has held key positions in the U.S. intelligence community. He has been critical of Trump and told CNN on Wednesday that he has no plans to stop speaking out when he's asked for his views on the Trump administration.
"If they're saying that the only way I can speak is to be in an adulation mode of this president, I'm sorry. I don't think I can sign up to that," Clapper said.
MICHAEL HAYDEN
The veteran U.S. intelligence official is a former director of the National Security Agency, principal deputy director of national intelligence and a past CIA director. He's also been critical of the president. Hayden said last month when the White House first issued the security clearance threat that losing it wouldn't affect what he says or writes.
He published a book this year called "The Assault on Intelligence: American National Security in an Age of Lies."
SALLY YATES
Trump fired Yates early in 2017 after she refused to enforce the new president's ban on travel to the U.S. by residents of several mostly Muslim countries. Yates served in the Obama administration and had agreed to stay in the job under Trump. She also had informed the White House that Michael Flynn, Trump's first national security adviser, was potentially compromised because of his contacts with Russian officials."
Referring to Trump's summit with Putin, Yates tweeted, "Our President today not only chose a tyrant over his own Intel community, he chose Russia's interests over the country he is sworn to protect."
SUSAN RICE
Rice was national security adviser during Obama's second term and has criticized Trump policies. She wrote an op-ed for The New York Times in July, saying the U.S. had "so much to lose and so little to gain" from the Trump-Putin summit."
PETER STRZOK
The longtime FBI agent was recently fired from the bureau, his lawyer said this week. Strzok had worked on the Mueller investigation but was removed after anti-Trump text messages that Strzok exchanged with an FBI lawyer became public. Trump has used the text messages to buttress his claims that the FBI is biased against him.
Strzok's lawyer, Aitan Goelman, said in a statement Wednesday that security clearances shouldn't be taken away as a means of "punishing people who have criticized the President, or coercing others into silence."
LISA PAGE
Page is the former FBI lawyer who exchanged anti-Trump text messages with Strzok. Trump has begun referring to Page as the "lovely Lisa Page" in his tweets about the Russia investigation.
BRUCE OHR
The Justice Department official has come under Republican scrutiny for his contacts with Glenn Simpson, co-founder of Fusion GPS. The opposition research firm hired former British spy Christopher Steele during the 2016 U.S. presidential campaign to compile a dossier of information on Trump and his ties to Russia. Ohr's wife, Nellie, worked for Fusion GPS during the campaign — a fact Trump has tweeted about in recent days to highlight his assertions of political bias as motivation for the Russia investigation.
From the start in January 2017, the president's administration has allegedly focused any foreign policies on catering to Russia's interests which included its goal of permanently taking over Ukraine; and then the plan was to end the sanctions against Russia imposed by US and allies after 2014 because Russia had invaded Ukraine without provocation and then President Putin proceeded to illegally annex parts of Ukraine to Russia which included Crimea.
Then there's the 2012 Magnitsky Act, a U.S. law advocated for by none other than the GOP Senator John McCain that barred Russian officials suspected of human rights abuses from travel to US,  while their assets were frozen by U.S. banks, plus the named suspects were banned from any future use of U.S. banks. The act was expanded in 2016, to apply to 44 suspected human rights abusers worldwide.
As per the 7/14/2017 Washington Post report by Alex Horton, "The law is named after Sergei Magnitsky, a Russian lawyer and auditor who in 2008 untangled a dense web of tax fraud and graft involving 23 companies and a total of $230 million linked to the Kremlin and individuals close to the government. Magnitsky was the target of investigations, arrested by authorities and kept in jail without charges. He was beaten and later died under mysterious circumstances in jail just days before his possible release…Bill Browder, an American hedge fund manager who hired Magnitsky for the corruption investigation that eventually led to his death, was a central figure in the bill's passage."
Two weeks after the Magnitsky Act was passed into law, Russian President Vladimir Putin signed a bill that blocked adoption of Russian children by parents in the United States. Russia then also imposed sanctions on Mr. Browder and found Sergei Magnitsky posthumously guilty of crimes.
Remember the Russian attorney Natalia Veselnitskaya, who attended the June 9, 2016, meeting at Trump Tower with Donald Trump Jr. She had for years been working to overturn the Magnitsky Act which is what she talked about during that infamous get-together.
The current 2019 Ukraingate scandal over the whistleblower's complaint about President Trump contacting the newly elected Ukrainian leader, Volodymyr Zelenskiy to request assistance with Mr. Trump's 2020 election campaign by gathering dirt on a political opponent, is simply an extension of the Trump-Russia saga.
See: WHAT IS PRESIDENT PUTIN UP TO IN SYRIA?
Remember that Ukraine hadn't become an independent state until 1991, around the time when old Soviet Union. Russia's had been dissolved. President Putin's fury over his appointed pro-Russian president of Ukraine (managed by Paul Manafort)  being run out of town by major protests in 2014, prompted him to take retaliatory action with Russia's unprovoked invasion into Ukraine.
In addition, Russia has been pushing to figure out a way to blame interference in 2016 US elections on other foreign actors, so that President Trump can use this new reality to lift sanctions against Russia imposed on it as a penalty for having attacked US elections systems.
Today the Attorney General who heads the (DOJ) US Department of Justice is William Barr; the FBI Director is Chris Wray; the Secretary of State is Mike Pompeo; and the acting Director of the US Department of National Intelligence Joseph Maguire.
The 2 who are solidly in the President's camp are the Attorney General Barr and the State Secretary Mike Pompeo along with the president's personal attorney Rudy Giuliani who claims to have been directed by the US State Department, which makes all 3 complicit in the President's planned support of Russia's interests which are definitely not in sync with US national security interests.
One can say that President Donald Trump never gives up. All those who support him are complicit with President Trump's primary allegiance and support of Russia's President Putin's objectives which include the annexation of Crimea in Ukraine versus US officials working solely in the US national security interests.
See: There's No Way That President Trump Can Be Credited With Being Tough On Russia